On an especially cold day in February 2020, over 4,000 janitors, security workers and youth climate strikers marched through downtown Minneapolis. In less than 24 hours, they won demands workers had been making for over a decade, including raises and benefits.
There was also a new set of demands on the table – climate justice for these workers and their communities.
In 2020, SEIU Local 26 boosted their bargaining power by asking unlikely allies – the popular and powerful youth climate strikers – to bring their people, media attention, and transformative demands to the picket line. In the past, unions have primarily been seen as vehicles to win better wages and benefits for workers. That strike was the first youth climate AND labor strike in U.S. history – and it happened here in Minnesota.
Let's make history again. Rise up with young people and Amazon workers on December 8 to make Amazon pay for worker safety, fair wages, and a just transition in Minnesota. Sign up now.
During the 2020 strike, Local 26 workers and youth climate strikers were clear about their shared interest. Many of the workers were immigrants and many of the youth climate strikers were children of immigrants. Collectively, they'd seen the impacts of the climate crisis and corporate exploitation in the U.S. and around the world – and on people of color in particular.
Local 26 members and youth strikers decided to use a framework called "Bargaining for the Common Good" to negotiate for workers AND incorporate demands that would benefit their broader lives, families, and communities. Teachers striking in Chicago and L.A. popularized this approach in 2019. They showed what it looks like to negotiate for an entire city at the bargaining table and win transformative demands around climate and immigrant justice for their schools and the surrounding communities.
In 2020, the youth climate strikers and Local 26 won:
🥽The removal of toxic cleaning supplies from the workplace
👷‍♀️ A fund to begin training workers in new sustainability skills and transition Local 26 members to higher-paying work
🌱 A commitment to reduce carbon emissions from buildings cleaned by Local 26 members
In 2022, let's show again the power of youth and workers rising up together. Join me at the Workers Rising action on December 8 to demand the present and future we deserve.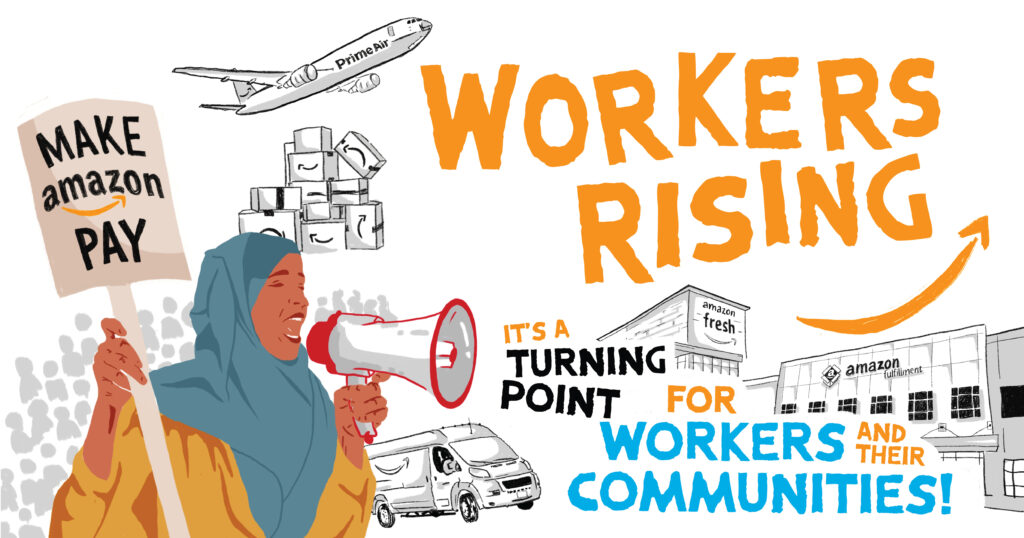 Amazon is one of the biggest and richest employers, transporters, and sellers in Minnesota. As it threatens to grow its reach into the Midwest, we're organizing to demand the corporate giant pay and treat people well – and take responsibility for its impact on our state.
In solidarity,
Jesse Meisenhelter (they/she)
Senior Climate Organizer
P.S. Read more about why the December 8 action is a turning point for Amazon workers and our communities.