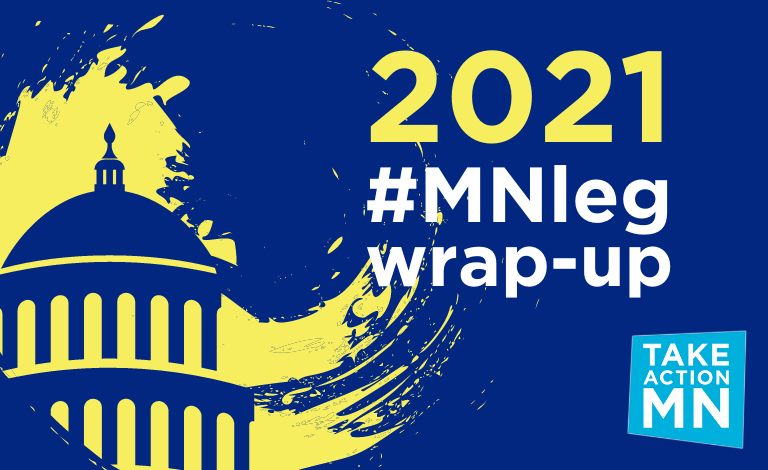 After nearly 3 weeks of special session, the Minnesota legislature passed a $52 billion two-year budget last week, narrowly avoiding a government shutdown.
While the budget doesn't take us backward — in fact, there are several long-overdue provisions to celebrate — it doesn't do enough to address police violence against Black and Brown Minnesotans and create safety for all, mitigate climate change, ensure affordable healthcare for every Minnesotan, and share the wealth to fund our futures.
Our divided legislature
The contrast between the DFL House and GOP-controlled Senate was stark this session. While progressives passed provisions to ramp up accountability for police, lower prescription drug costs, and ensure access to Paid Family & Medical Leave and Earned Sick and Safe Time statewide, corporate-backed Republicans focused on playing games to divide us, attempting to restrict voting rights and throwing tantrums rather than doing the work to make our state fairer and freer.
Republicans also rejected opportunities to make bold investments for the future with federal American Rescue Plan Act funding and Minnesota's budget surplus. Instead, they choose to leave pressing problems—such as a just COVID recovery, swift climate action, and racist policing—insufficiently addressed.
When the House adjourned, the Senate chose to stay in session, threatening to fire Walz-appointed commissioners who have been in their jobs for three years now, yet another tactic to divide us and distract from the real work at hand. This situation is still unfolding.
The contrast makes our path forward clear. We'll keep organizing to elect leaders who care for us and create the policy change our communities deserve. While gridlock continues at the state Capitol, we see progress happening at the local level. Minneapolis is on its way to establishing a new department of public safety with the Yes 4 Minneapolis campaign, Bloomington is on track to be the next Minnestoa city to pass paid sick time, and St. Paul is ready to pass rent control on the ballot this year.  
Make no mistake: change is possible.
Here's a run-down of what made it into the final budget and what didn't:
Public safety
The legislature passed 13 budget bills. The Public Safety, Criminal Justice Reform, and Judiciary bill was the most contentious. During regular session, the House, in turn led by the People of Color and Indigenous (POCI) Caucus, passed dozens of bills to hold law enforcement accountable. Of those, only a few were eventually included in the final bill.
The final public safety bill:
Prohibits no-knock warrants if the only underlying crime suspected is personal drug use;
Requires police chiefs to report to the Peace Officers Standards and Training Board all disciplinary actions taken against police officers so that officials can identify patterns that suggest an officer is more likely to violate certain policies;
Requires "sign and release" warrants for certain infractions, such as missing a court appearance. (This bill was in response to the murder of Daunte Wright.)
Under this law, when a police officer discovers a person has missed a scheduled court date, the officer would ask the person to sign a citation describing the need to appear in court and then let the person go;
Prohibits corrections officers from using chokeholds or prone restraint on inmates in most circumstances.
The public safety bill also included provisions that will help victim survivors. It
Closes the voluntary intoxication loophole;
Creates a crime for sexual extortion;
Requires the Bureau of Criminal Apprehension to investigate allegations of sexual assault in the National Guard;
Eliminates the statute of limitations in sexual assault cases;
Prevents the prosecution of underage consumption or controlled substance use for victims of sexual assault and those who help them.
These basic measures should have been passed long ago, and we're grateful to TakeAction-endorsed champions like Rep. Cedrick Frazier and others in the POCI Caucus who made sure they finally did. We have a bigger vision for real public safety, and we won't let up until it's realized: public safety should be based in community, care, and investing in what we need to thrive – not state-sanctioned violence.
Care
This year, TakeAction Minnesota continued to push for nation-leading health care policies including a public option and expansion of MinnesotaCare to more Minnesotans regardless of immigration status, and bills to lower prescription drug costs. The state House passed one of the strongest prescription drug affordability board bills in the nation, though it was blocked by Big Pharma in the Senate. The House also passed Earned Sick and Safe Time statewide. Ultimately, the Minnesota Chamber of Commerce blocked the bill in the Senate.
In the end, lawmakers did pass a bill to fix the MinnesotaCare 'family glitch.' Under the old law, Minnesotans who don't qualify for MinnesotaCare (because their spouse's employer offers insurance) are not allowed to access the public program, even if they employer's plan is unaffordable. This change will expand MinnesotaCare to thousands of low-income Minnesotans. The Legislature also passed critical legislation to improve maternal health outcomes for Black women and women of color. TakeAction members have testified in support of both these policy changes in recent years.
We're disappointed, but we won't let up. We'll continue to demand earned sick and safe time, paid family & medical leave, and affordable, accessible healthcare and medicine for everyone, no exceptions – and there are plenty of reasons to be hopeful. Colorado just passed their own prescription drug affordability board, and more and more Americans support public healthcare over private healthcare monopolies. The will of the people is clear: our lives and health are not for sale.
Climate
While many meaningful climate provisions were excluded from the final agreement, the climate budget does make strides towards deploying clean energy, climate adaptation, and supporting workers. For example, more than $100 million will be available for public transportation investments, and an additional $103 million will be disbursed to develop renewable energy sources. Check out this thread from 100 Percent Campaign for a summary and some jazzy graphics.
COVID
Big businesses, hospitals, and insurance providers got hundreds of millions of dollars from taxpayers via COVID relief and the state budget. Several champions, including Sen. Erin Murphy and Rep. Cedrick Frazier, fought instead to ensure relief for working families over big business, securing $250 million in backpay for the frontline workers who kept our state running during the pandemic. A task force will be appointed to determine who will receive those dollars and how much each worker will receive. Task force recommendations are due by early September, when another special session will likely be necessary to get that funding out the door.
We made our values clear
Across race and place, Minnesotans took over 1,300 actions with us during the 2021 session. We made our values clear: Minnesota is abundant. We have the resources, care, and wisdom to keep each other safe, care for each other, and invest in our futures. We see through the tactics of division and distraction driven by corporate-interests and we'll continue to elect leaders who care for us and organize for the future we deserve.