Hey, y'all! Laura here. To wrap up our Week of Care in Action, my colleagues and I wanted to share something special with you: a few of our favorite recipes.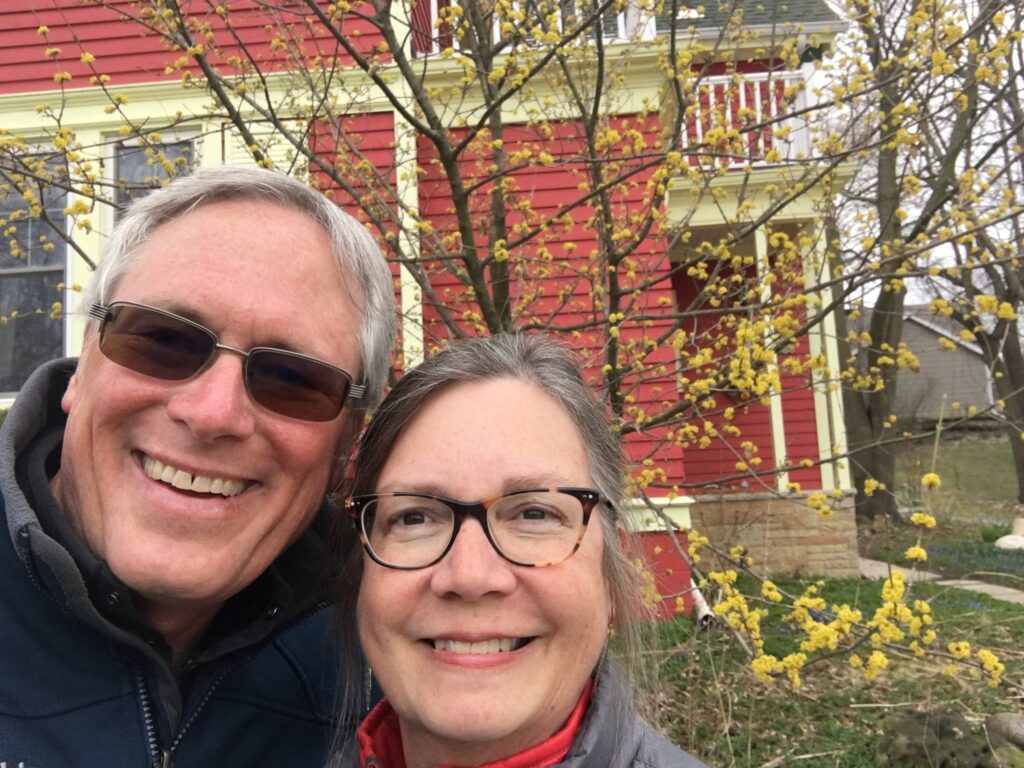 Whipping up a comforting dish or baking something sweet is one way to care for ourselves or our loved ones. Eating food that nourishes our bodies and souls helps us stay "fit for the fight," as my friend Marge likes to say. The world we deserve starts with us – our bodies, our families, our friends. There is no action without care.
Because of the pandemic, it's been a long time since I've seen my parents, both of whom crush it in the kitchen. My mom makes the best pies I've ever tasted, and my dad has perfected homemade pizza crust (recipe below!). Some of my favorite childhood memories are huddling around our kitchen island with a rainbow of pizza ingredients, talking about our days and sharing the latest scoop about our small Wisconsin town. When I smell hot cheese, tomato, and olive oil, it feels like home.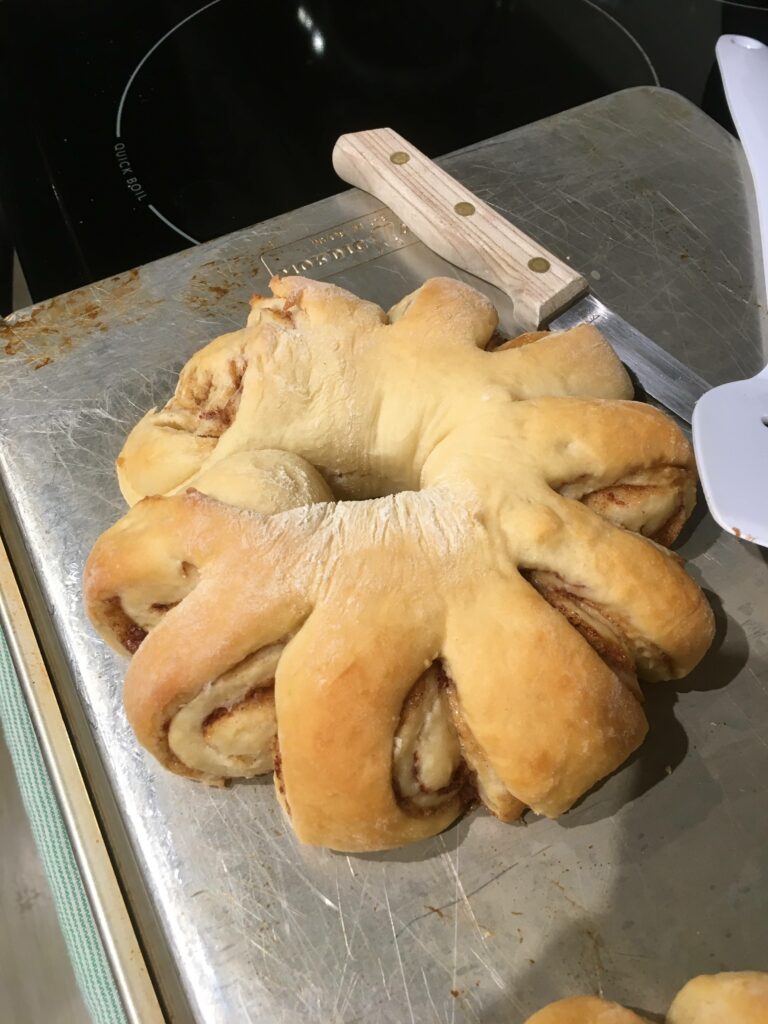 COVID-19 meant that this Christmas was the first one I spent away from my family. I missed them deeply. I conjured their presence by learning how to bake an old family recipe: coffee cakes shaped like Christmas wreaths. As I rolled out the dough, I felt a new gratitude for my parents and all they'd done to care for me through the years. They took so many actions – small and large – to make holidays, and the everyday, special for me and my sister, Anne. Their actions made our worlds just a little better every day.
The actions you took this week were special, too. By calling your federal representatives to tell them to #StopLine3, emailing your state legislators about high prescription drug costs, or texting friends to invite them into the movement, you put your heart out there. You took your care and transformed it into action for people you know and people you haven't met yet. We see you, and we appreciate you.
Now, it's time to take a break and care for yourself. As you're thinking about what to make this weekend, consider some of these favorites from the TakeAction Minnesota staff.
I'd love to hear from you about your favorite comfort food recipes! Please email me the instructions and a couple sentences about why you like it or why it's special. If I get enough in my inbox, I'll share them next week! 
Warmly,
Laura
TakeAction Minnesota Digital Strategist
---
Recipes
From Britton (she/her), St. Cloud and Lead Organizer
Nebraska buns
Britton knows this recipe by heart. She writes: Nebraska buns are also called "Runzas" because of a popular Nebraska fast-food chain. This recipe is ok, too, and can be a good guide (but don't use cabbage). Ultimately, Nebraska buns are a taste as you go (and listen to your Midwestern ancestors) kind of deal.
Directions:
Preheat the oven to 375 degrees.
Roll premade frozen bread dough into a flat circle.
Put in a mixture of about 2 lbs of cooked beef (Britton likes to use vegetarian crumbles), 1 onion, 2 cans of sauerkraut, salt, pepper and butter. Britton usually also adds garlic and dried onion flakes and caraway seed (if you have it). Finish with a splash of Worcestershire sauce.
Close up the dough into a ball or bun. Some folks like to form them like long john doughnuts but Britton prefers dinner bun shape.
Cook them at 375 for about 35 mins or until brown.
Chili and cinnamon rolls
Make chili and Pillsbury cinnamon rolls. You can either have the roll on the side, dip it in, or put it directly in your bowl.
From LyLy (she/her), Cultural Strategy Manager
LyLy writes: My mom has perfected this chicken and rice soup with garlicky chili oil (Bon Appetit) and Khao Poon (Red Curry Noodle Soup with Chicken) (East Side Table). I haven't been able to see her much because of COVID. When I cook these dishes, I feel like I'm at her house and fully feeling her love and warmth!
From Trisha (she/her), Communications Director
Trisha writes: This is my mom's apple crisp. Best with vanilla ice cream. Wish I had some right now. 💞
Apple crisp
Directions:
Preheat oven to 350 degrees.
Peel and chop 8-10 apples. Mix with 1 tsp cinnamon and ½ cup sugar. Squeeze 1 lemon over apples, set aside.
Mix 1 ½ cups granola, ¾ cup each brown sugar, flour, and butter chunks.
Put apples in a greased 9×13 pan, crumble granola mixture over and bake 45 minutes at 350 degrees.
From Elianne (she/her), Executive Director
Elianne recommends this Three Sisters Soup (Seward Community Co-op) (she likes the recommendation to add sausage!). Elianne also can't get enough of this wild rice soup with coconut milk (Gimme Some Oven), and has been digging congee as a comfort food dish! Try the pork and shiitake congee (Bon Appetit) or, if you have an Instant Pot, the Instant Pot Congee (Budget Bytes).
From Nat (they/them), Finance Coordinator for Black Visions Collective
Nat writes: My partner and I have been really into gnocchi this winter! We like cheeseburger gnocchi (Peter's Food Adventures) (which we've made vegan by doing 1:1 substitutions) and this quick chicken and dumplings (New York Times).
From Laura (she/her), Digital Strategist
Pizza crust ala Kral (adapted from Charles Van Over)
Notes from Laura: Here's the full run-down from my dad, Carl, on how to make his delish pizza crust. He's an engineer, so he likes to weigh everything out for efficiency's sake. 🤷🏻‍♀️
Carl writes: We like to prepare pizza shells ahead of time for use for large parties or for a quick dinner. When the crusts are already done, it simplifies preparation of the final pizza pie! This batch will make 6 thin crusts that are about 12" in diameter. The dough can be prepared a day or two in advance of par-baking the crust. By mixing up the dough early, you can take advantage of some proofing, or fermenting, of the dough, which adds slightly to the flavor. It is not a critical step if you have a time crunch, but it is an option.
Directions:
For a few seconds, blend the following dry ingredients in a food processor:
600 grams unbleached, all-purpose flour
12 grams sugar
10 grams salt (sea salt is preferred)
1 tsp instant yeast
In another container, weigh out and combine:
360 grams water
40 grams olive oil
While running the food processor, pour in the liquid ingredients and blend for 30 to 45 seconds. Turn dough out into a large bowl and cover with plastic wrap. If you have the time, allow dough to ferment at room temperature for 2 to 3 hours, then refrigerate for 1 to 2 overnights. In total, the dough should increase in volume by about 50 to 100%.
Par-Baking: Place a baking stone in the oven, set to 500°F, and start the preheating process. Once your dough is properly aged, turn it out onto a floured surface and divide, as desired. We have found that it works well to divide a batch into six parts. Then start forming into disks using your fingers, a rolling pin, or any other means you would like to use. Place each disk on a piece of parchment paper with a little flour. Once you have all the disks formed, you can go back through each crust and reroll or form once the dough has relaxed a bit.
Let the dough rest in this form for about an hour, then start baking. Slide each crust in one-at-a-time, and bake for about 2 minutes. This will not completely bake the crust, but will set the form. Allow the crusts to cool, and then they can be used in the pizza assembly, or bagged up and frozen for future use. How you make the final pizza is up to you and your creativity! Bon Appétit!