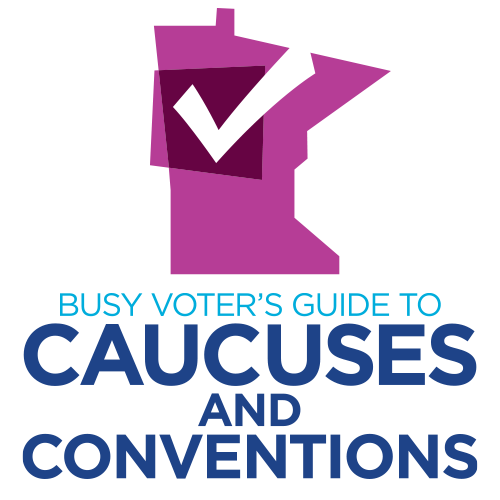 What is a caucus?
Caucuses are community gatherings where neighbors come together to decide who they want their party to endorse and the issues they want the party to focus on in an upcoming election.
The purpose of a caucus is to elect delegates from each precinct to attend the party's endorsing convention and vote for the candidates who best represent our vision and values.
Caucuses and conventions are an opportunity for us to push for political progress at the most grassroots level by showing up together to move the conversation left and win the party endorsement for progressive, people-centered candidates.
Why is it important?
From Park Board to Mayor to the halls of Congress, crucial decisions about our communities, our democracy, and our future begin with caucuses.
There's a lot at stake in 2021. We are fighting for communities free from police violence and neighborhoods with strong public schools, housing for everyone, and food security. This year in Minneapolis, all 13 City Council seats and the Mayor are up for election, in addition to ballot initiatives that could have major community safety and public health impacts.
Going to your caucuses and becoming a convention delegate are critically important steps to electing candidates who are ready to take on the status quo and co-govern with us for the just, joyful future we know is possible.
Here's how it works:
2021 DFL caucuses and conventions are 100% virtual. That's exciting because attending lengthy in-person caucuses wasn't an option for many people in previous years. This year, voters can join their caucus by phone or over Zoom, on their own schedule – so everyone has a chance to participate and make sure their voice is heard!
April 1 – April 30: Minneapolis Caucuses open. Register to participate, share your candidate preferences if you have one, and sign up to be a convention delegate. There are three ways to register:
💻 Fill out the form at caucus.dfl.org. It takes about ten minutes.
☎️ Call 612-552-4215 and leave a detailed message or request a call back at a specific time.
💬 Text: "2021" to 612-712-7461 to chat with a volunteer.
May 12 – 18: Caucus attendees will vote by email or text message to choose convention delegates.
June 2 – 8: Ward convention delegates will vote on City Council endorsements. Results will be announced on June 11.
June 9 – 15: City Convention Delegates will vote on endorsements for Mayor, Park Board, and Board of Estimate and Taxation. Results will be announced on June 19.
More information about DFL caucuses and conventions is available here. Still have questions? Send us an email so we can help you sort it out!