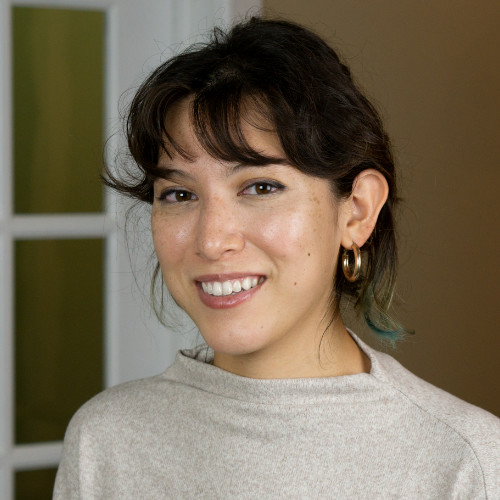 Hello! My name is Jessie (she/her), TakeAction Minnesota's new Communications Manager.
I'm thrilled to dig into this meaningful work alongside such an inspiring team. I know that our voices and stories are our most powerful tools to connect and spark change, and I'm so excited to work with our communities to hear and center your experiences.
Care has been large and heavy on my mind this year. I lived alone for the first six months of the pandemic and spent a lot of that time thinking about how we can show up for each other, and what to do when showing up feels impossible. This year is still so difficult; I try to understand how I feel and sometimes think: a scooped-out pumpkin, or a melted Jell-O mold. But my communities have also shown abundant love, and I've learned that caring for myself is essential if I want to love them back.
This year, mutual care also means that I am spending the holiday season alone. Last night my roommates and I picked out a short, sparse Christmas tree – one that we'll enjoy together until they return home to their families for the holidays. Owning my first adult Christmas tree this year, of all years, is weird. Watching my friends go home as I stay put is also weird, but navigating the responsibility put on individuals to prevent a national pandemic (worsened by poor policy and unresponsive leadership) is even weirder.
It can feel like there isn't a lot to look towards for guidance or comfort. Trying to remember how we first collectively reached for resilience in the early weeks of the pandemic, I rediscovered this video (CW: adult language), which resonates differently now. It's been months since we've played music from our windows or rooftops or felt grateful for pausing, because pausing isn't possible without resources, as so many of us instead (still) struggle to survive.
Maybe because of this, every act of care this year has felt like it's happened simultaneously despite and because of something else. It can be hard to feel comfortable seeking out joy as all of the negligence and violence of the world continues to be laid barer.
Writing this now, I still think: how can I talk about care when over 3,000 Americans died yesterday? When another Black man was murdered by police in Ohio last week? When we still need urgent action to stop Line 3? But then I remember that it is care that tells us – and sustains us – to confront these injustices in the first place.
At first, I felt silly about buying the tree, and silly for the ornaments that I plan on making and hanging from it; I was barely raised to celebrate Christmas in the first place. But I'm trying to embrace that silliness, which now feels more like earnestness. Like those gently dancing lizards, I still enjoy my golden hours, good music, and my friends and communities – whether from near or far away. It's those moments that ground me and remind me how badly I want the future we're working to build together.
I would love to know what care for yourself, for loved ones, and for your broader communities has looked like this year. Have your loved ones found new ways of showing up for you? How are you staying connected and grounded this holiday season and through the dark months of winter? Send me an email. I would be thrilled to hear from you!
In solidarity,
Jessie