In the wake of George Floyd's death, we asked Minneapolis residents about their support for the City Council's work to disband MPD
TakeAction Minnesota is a grassroots, multi-racial grassroots organization working to build a democracy and economy that works for all of us. In the weeks following George Floyd's murder, TakeAction Minnesota reached out to tens of thousands of Minnesotans to check in, gauge their feelings about organizing work happening in Minneapolis, and hear what visions and ideas Minnesotans have for community safety.
---
On June 26, the Minneapolis City Council voted unanimously to forward an amendment to the City Charter Commission that would repeal the charter-mandated police department and establish a new Department of Community Safety and Violence Prevention through a ballot initiative.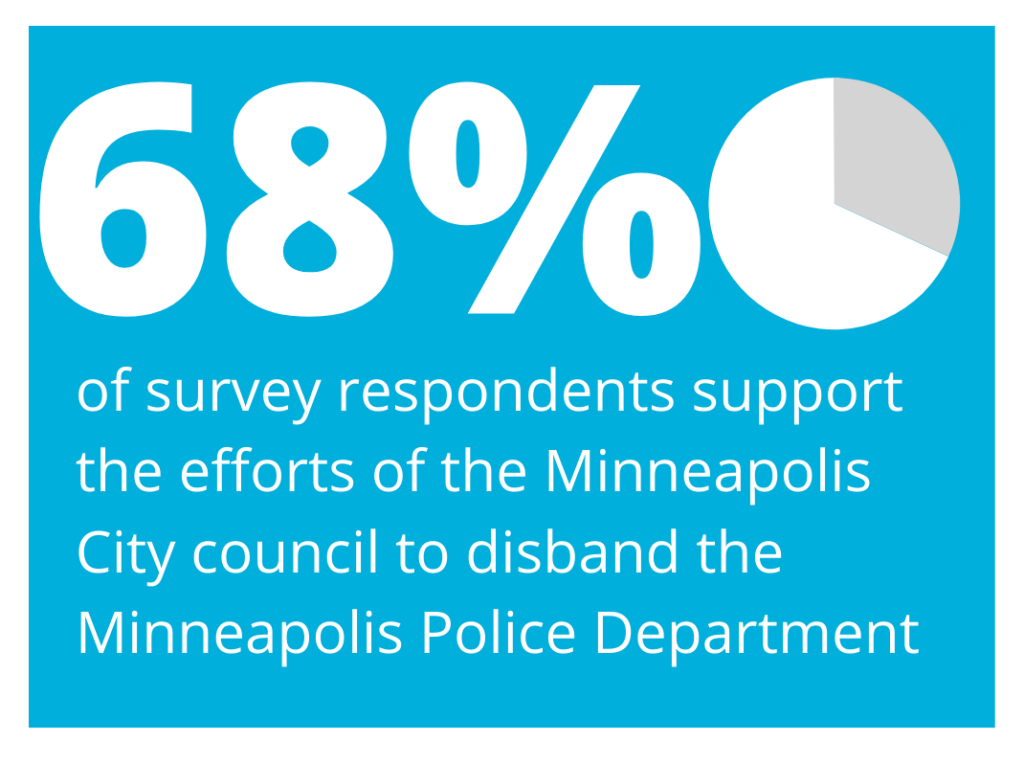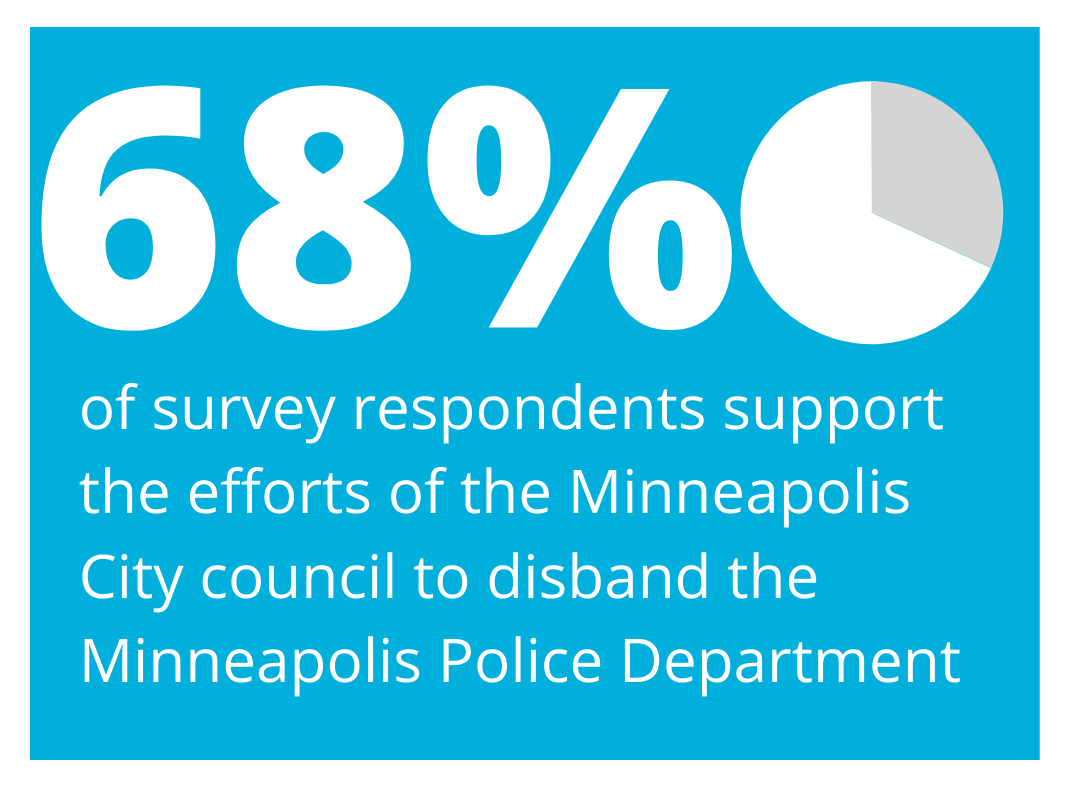 In mid-June, following the community meeting in which nine Minneapolis City Councilors stated their support for disbanding MPD, TakeAction Minnesota and Resistance Labs reached out to over 114,000 community members in Minneapolis and the surrounding area. Through a text message survey we got a sense of how our community feels about the direction of the City Council.
Over 5,000 people responded to the survey – a huge number. Thousands of people also shared their thoughts, feelings, and questions.

We asked: On a scale of 1-5, how supportive are you of the Minneapolis City Council announcement to work towards disbanding the Minneapolis Police Department?
68% of survey respondents support the Minneapolis City Council's work to disband the Minneapolis Police Department (MPD); 52% indicated strong support.
Minneapolis residents and their neighbors know that the Minneapolis Police Department isn't working. It's a crisis 150 years in the making.
Here's what community members are saying:
"I experienced police trauma when I should have received mental healthcare and a safe place to stay. I'm certain I would be more traumatized had I been a person of color, and I would be less traumatized had I been straight. Images of police violence alone are re-traumatizing to so many. The police trauma must stop now." – Anders M., Minneapolis
"Police divestment is important to me because I want my tax dollars to be put towards positive and constructive goals that are aimed at empowering people to achieve their potential, rather than subtractive punitive goals like broken window policing, the criminalization of poverty and feeding the disturbing trend of mass incarceration." – Kurt H., Minneapolis
"Racism in America has taken the form of looting in so many ways – from the looting of black lives and bodies through slavery to the looting of black and brown communities through redlining, disinvestment, and freeway construction. Policing in its current form plays a key role in perpetuating white supremacy in our communities. We are far too late in taking action, but now is the time to start listening to what communities, especially communities of color, are telling you about what actually keeps us safe. Policing doesn't address the root causes of poverty and crime, but investment in historically disinvested and discriminated communities can." – Tram H., St. Paul
"It is important to me because I want to build a community where all of its members feel safe and secure to pursue their human rights and personal joy. It is clear that police presence has never been apart of fostering that within black and brown communities that are equally important to the wellness of our city as a whole. On top of being the morally right thing to do, research supports lifting people out of poverty and providing community spaces and good education to stop crime." – Eliza S., Minneapolis
"The most important thing to me is how they interact with people suffering from mental health issues. My personal experiences with them regarding that specific subject has been dramatizing on many levels. The carelessness and lack of empathy was the worst. Its like they only have one too and its aggressiveness and threats. I personally have zero faith in the police to act with care in any type of situation. A second thing is how they treat poor people and minorities as sub human. I have a black son and that whole aspect I find terrifying. I have had to interact with policy specifically while dealing with mental health issues and the result has always been pretty horrible." – Patrick F., MN
Learn more: www.takeactionminnesota.org/changethecharter