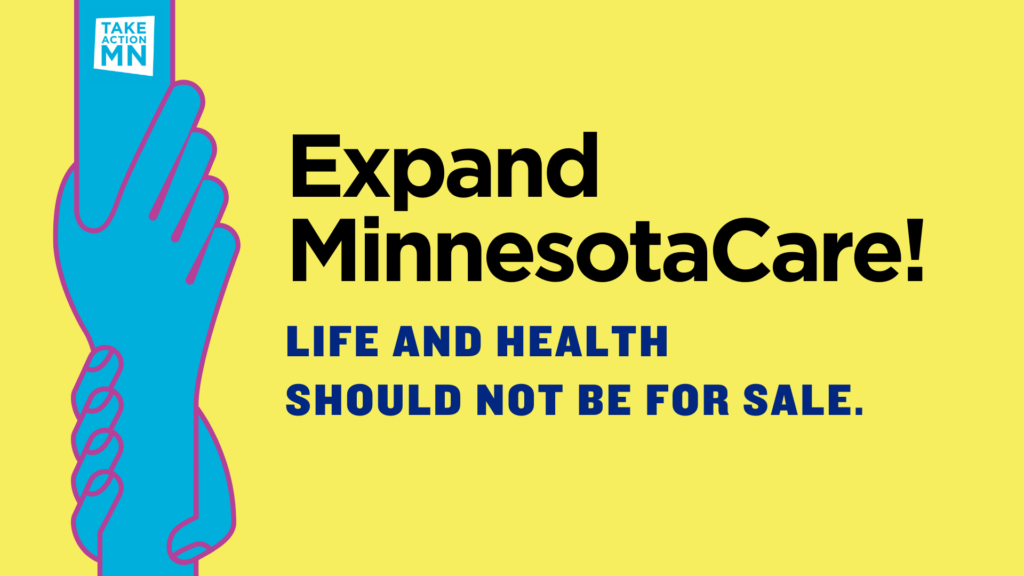 MinnesotaCare (MNCare) was created by bipartisan leadership in 1992 to provide health insurance to low-income, working Minnesotans. In 2020, approximately 92,000 Minnesotans are enrolled in MNCare for high-quality, lower-cost health coverage. However, many Minnesotans in need of health insurance are currently ineligible for MNCare coverage. Across race, income, gender, and geography, we all experience medical emergencies. Everybody deserves access to healthcare.
A newly released study revealed that 76% of Minnesotans are "worried" or "very worried" about healthcare affordability, and 91% of Minnesotans agreed that "the government should expand health insurance options so that everyone can afford quality coverage."
Expanding MNCare will give more Minnesotans a choice of affordable and high-quality healthcare funded through state, federal, and enrollee contributions. Under the expansion, current MNCare coverage would remain intact, but individuals currently above the federal income level for eligibility would be allowed to opt into MNCare – or continue their private market coverage. Individuals who are currently prohibited from accessing public health care plans due to immigration or an offer of unaffordable family coverage would also become eligible.
Here's how it would work:
Eligibility expansion: Currently, Minnesotans are eligible for MNCare coverage if their household income is less than 200% of the federal poverty level (FPL). For an individual, 200 percent FPL is an annual income of $25,520; for a family of four, 200 percent FPL is $52,400. The MNCare expansion would eliminate the eligibility limit, allowing Minnesotans of all income levels to obtain quality, affordable coverage.
Increasing affordability: MNCare already offers provisions for affordability. This bill maintains and expands those provisions so that more Minnesotans can receive affordable, comprehensive coverage.
Small Business Group Coverage: Under the MNCare expansion, small businesses with no more than 50 employees would be able to offer coverage through MNCare and contribute towards the employee's MNCare premium.
Expanding Federal Funding and Protections: Under this bill, the Human Services Commissioner would be instructed to seek all relevant federal waivers and approvals necessary to implement a MNCare expansion and receive all applicable federal funding. This program is scalable and could be amended to work with or without state dollars.
Closing Coverage Gaps: This MNCare expansion bill closes coverage gaps for many who are currently shut out of affordable health coverage. Many families are currently caught in the "family glitch," whereby they are ineligible for MNCare or subsidized coverage on MNsure because they have access to employer coverage through a family member, even though the coverage is unaffordable. Under this bill, they would be eligible for MNCare, as would undocumented immigrants, who are currently precluded from purchasing affordable coverage through MNCare, Medicaid, and MNsure.
A MNCare expansion would position Minnesota to lead the way to true universal healthcare coverage. This bill builds upon what is working now while offering a path forward toward delivery transformation, greater racial and geographic equity, and cost savings for the state. It puts federal dollars to work for Minnesotans while offering comprehensive coverage as an alternative to high deductible plans and narrow networks. Passing this legislation will result in access to truly affordable, truly high-quality healthcare for every Minnesotan.
Here's how you can get involved and advocate to #ExpandMNCare:
Raise your voice – tweet at and tag your representatives on social media with hashtags #MNleg, #ExpandMNCare, #MNCares, and #WeCare4Us
Your story has power –

share your healthcare experience here

.
Contant your legislators now. Ask them to support the MinnesotaCare Public Option bill. Click here to send them an email. Don't forget to customize your message to make the most impact!