This Sunday, May 1 is International Workers' Day – a.k.a. May Day. In honor of the occasion, we, the TakeAction Minnesota Union, have put together this list of 8 reasons to celebrate organized workers. Read it and then join us to march with worker and immigrant rights organizations this Sunday.
It's an exciting moment in the movement for worker power – in Minnesota and across the country. From Minneapolis educators and central Minnesota bus builders to Amazon workers and Starbucks baristas, workers are organizing together for the world we deserve – from fair pay to racial, gender, and economic justice. The power of organized workers is undeniable, and recent mobilizations have built upon decades of organizing across race, gender, and generation. We're grateful for all the ways that organized workers have made more possible for all of us. Solidarity forever!
8 reasons to celebrate worker power
Organized workers have made – and continue to make – life better for ALL workers, union members or not! From TakeAction union member, Max: "Everything that makes working life bearable – weekends, sick days, overtime pay, health and retirement benefits, child labor laws, the 8-hour workday – is all owed to unions!"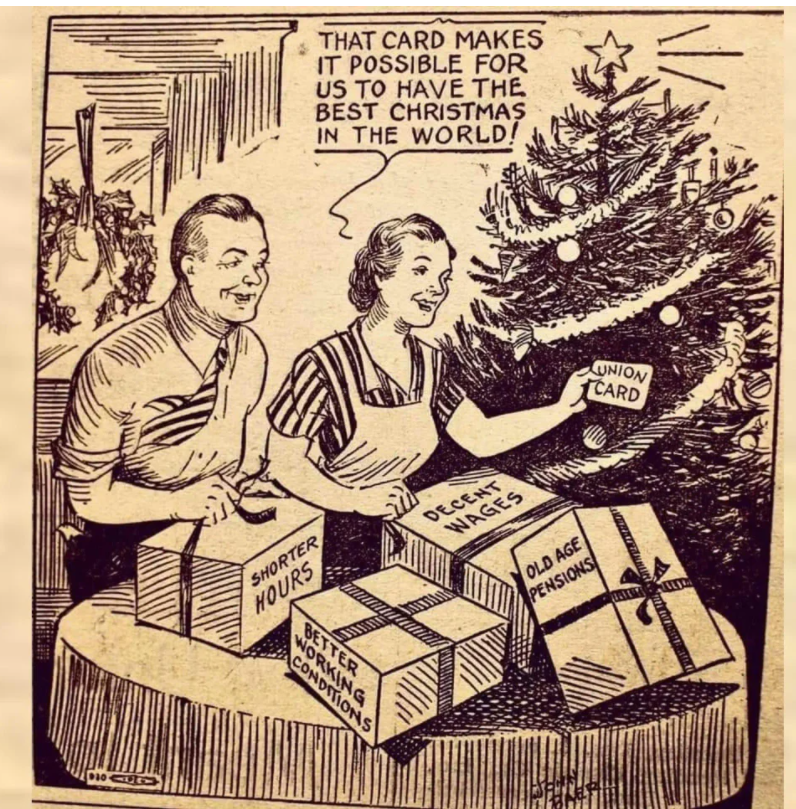 Organized workers are fighting back against growing wealth inequality. From TakeAction union member, Nadine: "Labor unions use people power to demand better benefits and higher wages for workers. They protect the interests of the working class in a society where the gap between the ultra-wealthy and working-class people is increasing." Read this New York Times piece on how unions have reduced income inequality.
Organized workers have the most adorable mascots. Our favorite is Unionion the union onion, the mascot for the Japanese Trade Union Confederation. We're also big fans of Jorts the Cat and Scabby the Rat, Piken-kun (a peanut-slash-dog repping construction workers union in Chiba, Japan), and IWW's Sabbo-Tabby (a black cat unafraid to engage in a little sabotage).
The benefits of worker organizing extend well beyond the workplace. Organized workers are essential to a thriving, multiracial democracy. Research from the Economic Policy Institute finds "high unionization levels are associated with positive outcomes across multiple indicators of economic, personal, and democratic well-being."
Organized workers understand the power of music. Elise Bryant, the executive director of the Labor Heritage Foundation (a cool resource for labor movement art and culture), says "Music unites all labor movements," and "When you sing, you organize twice." Chris Smalls and other leaders of the Amazon Labor Union understood that when they spent night after night singing with Amazon workers at the bus stop. Listen to him talk about it in this episode of The Daily from the New York Times. Listen to this Spotify playlist of union and protest songs.
Organized workers are coming together in cross-racial solidarity to fight for justice on all fronts – not just class and income equality. This piece in Jacobin argues, "Collective struggle anchored in shared interests, not individual salvation and self-help, has historically been the most effective means of combating racial inequality." From TakeAction union member, Max, read this deep dive on Black leadership in labor organizing and how addressing racism in the labor movement is essential to winning.
Organized workers understand the power of art. Check out this incredible collection of artwork from the labor movement, this May Day collection from Labor Arts, and these beautiful posters depicting worker solidarity from Minneapolis-based artist Ricardo Levins Morales.
Organizing with other workers connects us to a bigger, ongoing movement for the world we deserve. From TakeAction union member, Lindsay: "Union membership = connection to collective support and struggle. It's bonkers to be alive right now. We're living in a robber-baron era with a mass extinction twist, and I know that I'm best able to beat back feelings of despair when I connect deeply with other human beings. Connections that involve shared purpose, vulnerability, trust, compassion are both healing and galvanizing – and unions are powerful avenues to foster those connections!"
March with us worker and immigrant rights organizations this Sunday!