This Primary Election, we have a choice between politics as usual, and politics as it should be. Between candidates who will organize for the bold change we need in the face of compounding social, economic and climate crises, and politicians who have proven they won't.
At TakeAction Minnesota we believe in a politics that puts care for people and our planet first. This primary election season, voters across the state will decide which candidates will be on the November ballot. What happens between now and August 9th matters not only for our local communities, but for the country.
Now is the time for YOU to act and make your voice heard this primary election season.
Make your plan to vote by August 9th. Check out our Busy Voter's Guide to the 2022 Primary Election for the info you need.
Spread the word about TakeAction's picks for progressive candidates. Share endorsed primary candidates on social media and with your friends and family.
Hit the doors and the phones for candidates running in competitive primary elections. Sign up right now to join us.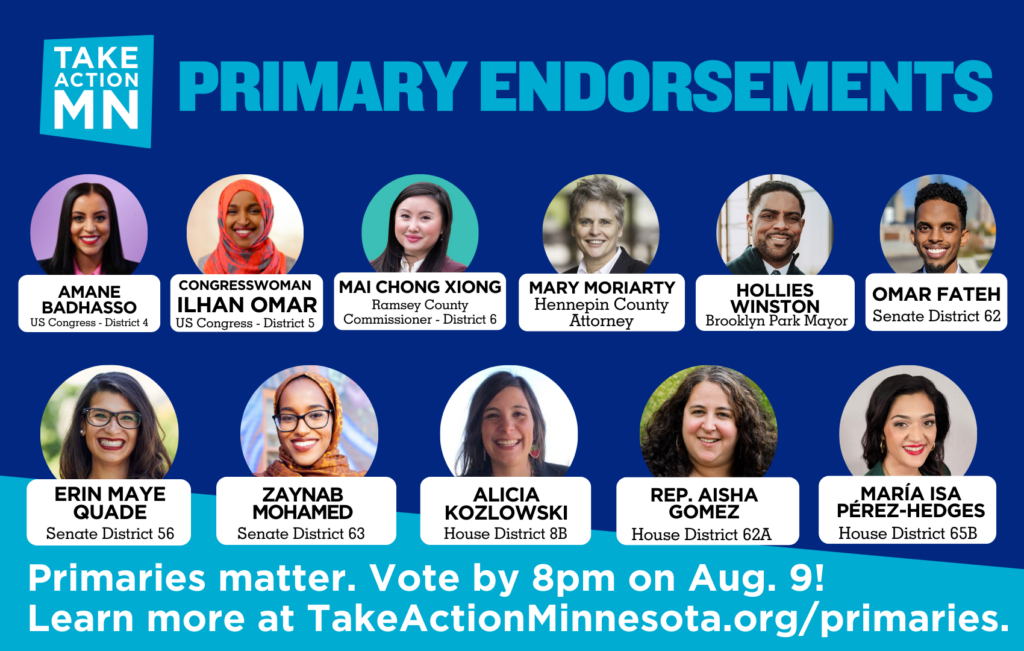 So far, we've talked to thousands of voters. While many Minnesotans are clear on their candidates and ready to vote, others did not know primary elections were happening (we get it!).
Every day—and every action—counts between now and August 9th.
Before you head to the polls, see a sample ballot for your district on the Secretary of State's website.
Have questions? Send an email to info@takeactionminnesota.org. We're here to help!