Hello, my name is Maya Rogers, and I am a Data and Digital intern at TakeAction this summer. I am an incoming junior and psychology major at Carleton College in Northfield, MN, and I am excited to be working with TAMN!
I was raised in Tulsa, Oklahoma, which means I feel particularly connected to what is going on in the U.S. right now. I am Black-white biracial and have worked on social justice initiatives both in Oklahoma and Minnesota. My father was the project manager for the Black Wall Street mural, where each of the 15 letters represents a central aspect of Black history and culture in Tulsa, including Juneteenth. I remember learning about the 1921 Tulsa Race Massacre when I was a student at my historically Black high school, the top-ranked public high school in the state, and the final T in the mural, a hornet.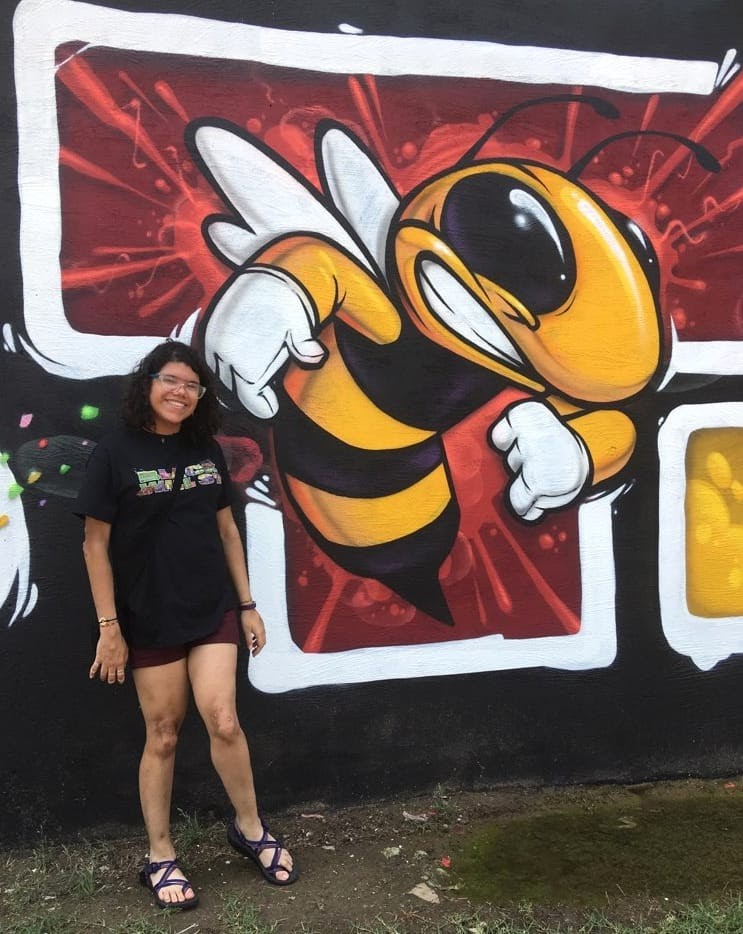 Tulsa has a long history of tense race relations, which I have spent years studying. A documentary about my high school, Booker T Washington Tulsa, highlights the school and community involvement in integrating Tulsa in the 1970s, when my parents were growing up, as well as the decades of racial struggles from the 1940s onwards. And while recently, Tulsa has made efforts to address racial disparities, systemic oppression, and the racism of the city and Oklahoma in general, this wasn't the case for most of the now 99 years since the 1921 Race Massacre. For decades, the formerly-named Race Riots were covered up and this rich history was forgotten. The Greenwood neighborhood – the site of the massacre – itself was cut up to the point that Black Tulsans were never able to rebuild their community, leaving only two blocks of buildings where the historic, thriving district once stood.
Since coming to Minnesota, I have realized how similar Tulsa is to Minneapolis, and Oklahoma is to Minnesota. Only recently have I learned about Minneapolis' "long hot summer" of race riots in 1967 and the destruction of the Rondo neighborhood in St. Paul, which – similar to Greenwood – had a broad highway bisect the flourishing community, forcing more than 600 Black families out of their homes.
Much like Tulsa's decades of historical suppression, it seems that only very recently have Minnesotans come to a reckoning of the vast systemic inequalities present in the state. Since moving here, I have looked up to Minnesota as a progressive state with a diverse population and high achievement markers. Still, the reality is that while white Minnesotans do seem to be better off than white Oklahomans, people of color in Minnesota – particularly Black people – continue to struggle in a system that is designed to work against them.
Today is Juneteenth, a holiday that is celebrated in much of the South, including Tulsa. It is a holiday that reminds us that our liberation is tied up with everyone else's, and no one is free until we are all free. I believe an essential step in gaining that freedom is recognizing the ways it has been forcefully limited.
Tulsa and the Twin Cities are making progress. At the center of that progress, we must focus on and recognize that the system is designed to be unequal.
As Tulsa prepares for a Trump rally this Saturday made more dangerous by COVID-19, many in my community are turning to strategies similar to those employed by protesters in Minnesota – hoping that nothing will become violent, but preparing for the worst.
Black people in Tulsa still face systemic oppression, but more and more people are joining the fight. We are living in a critical point in history, and our collective actions right now will define the country for years to come. Tulsans are ready and fighting for what they believe is right, just as those in Minneapolis and Minnesota are doing. I am part of that fight. So is TakeAction.
We need you in this fight, too. The movement to dismantle the racist system that exists and rebuild it into something better for everyone requires all of us, working together.
In the coming weeks, I hope you'll join us in standing up for Black lives, showing up for our communities, and creating the world we all deserve – a world where everyone is safe, cared for, and has what they need to thrive.
Start here: find a local Juneteenth event to participate in today or over the weekend. Then, make a video about your dreams for the future we're building together. Don't forget to tag TakeAction on Facebook, Twitter and Instagram. We can't wait to see and share your vision.