Every year at our People's Celebration, we honor organizations and people who are transforming the social movement landscape and whose work inspires us to action.
This year, we will be honoring two incredible movements: the resistance to the Line 3 pipeline and the Yes 4 Minneapolis coalition to transform public safety. Our honorees have been at the frontlines working to build a safer and more thriving Minnesota – now and for future generations. Today, I'm thrilled to introduce our Water Protector honorees.
I'm excited to celebrate them with all of you, in virtual-but-no-less-loving community, on Saturday, December 11. Get your tickets now.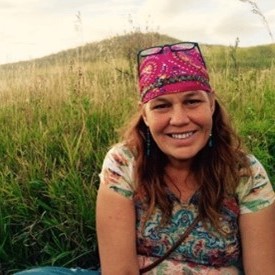 Nancy Beaulieu
MN350, RISE Coalition
Nancy is an enrolled member of the L6eech Lake reservation and lives just east of Bemidji. She currently serves as the Northern Minnesota Organizer at MN350 where she helped found the Resilient Indigenous Sisters Engaging (RISE) Coalition. RISE works to protect land and water, treaties, and the rights of Native people.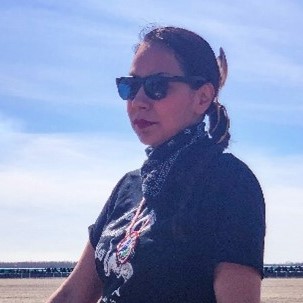 Sasha Beaulieu
Red Lake Treaty Camp
Sasha Beaulieu is Anishinaabe from Red Lake, Minnesota. She founded Red Lake Treaty Camp in the effort to stop Line 3 from being constructed on her homelands and is actively engaging in community outreach and education of local people on this issue.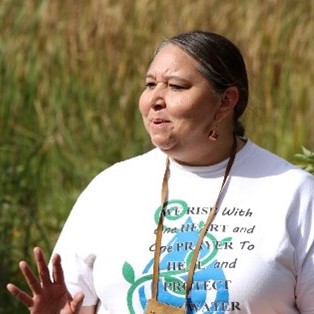 Dawn Goodwin
Fire Light Camp, Indigenous Environmental Network, RISE Coalition
Dawn Goodwin is a member of the White Earth Tribe and co-founder of the RISE Coalition. She is also a member of the Indigenous Environmental Network, an environmental justice organization focused on Indigenous communities, their water, land, and sacred spaces. She also co-founded the Fire Light treaty camp.

Tara Houska
Giniw Collective
Tara Houska is Anishinaabe of Couchiching First Nation, a tribal attorney, a land defender, a Mide, a sundancer and a former advisor on Native American affairs to Bernie Sanders. She advocates on behalf of tribal nations at the local and federal levels on a range of issues impacting Indigenous peoples. She is a co-founder of Not Your Mascots, a nonprofit committed to educating the public about the harms of stereotyping and promoting positive representation of Native Americans in the public sphere. Tara is also the founder of the Giniw Collective, an Indigenous-women, two-spirit led frontline resistance to protect Mother Earth, defend the sacred and live in balance.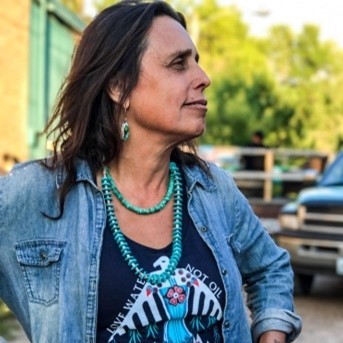 Winona LaDuke
Honor the Earth
Winona LaDuke is a rural development economist and author working on issues of Indigenous economics and policies around food and energy. She currently serves as the executive director of Honor the Earth. Winona co-founded Honor the Earth with the Indigo Girls as a platform to raise awareness of and money for Indigenous struggles for environmental justice. She is known as a leader on the issues of cultural-based sustainable development strategies, renewable energy, and sustainable food systems. Winona also works to protect Indigenous plants and heritage foods from patenting and genetic engineering.

Taysha Martineau
Camp Migizi
Taysha is a two-spirit Indigenous organizer from the Fond du Lac tribe and co-founder of Camp Migizi and Gichigumi Scouts. She founded Camp Migizi on a piece of land (part of the Fond du Lac reservation) that she helped purchase immediately next to one of the Enbridge Line 3 worksites. She and other Water Protectors staged direct actions from the camp and worked to learn traditional Ojibwe ways there.  
Our annual People's Celebration brings together hundreds of grassroots leaders, activists, and organizations to celebrate people-powered movements with dinner and dancing. The event fuels TakeAction's work and is an opportunity to be in community at the end of the year.  
While we can't host 800 people in a ballroom this year, we invite our members and allies to gather with loved ones in your COVID pods or neighborhood groups, throw on an outfit that makes you feel fabulous, and prepare some favorite food and drink. Because whether we're in-person or online, The People's Celebration is our time to celebrate all we've done. Together.  
Join us (online!) in lifting up the work of our incredible honorees on Saturday, December 11 at 6:00pm.
With joy,
Elianne Farhat (she/her)
Executive Director