I am devastated and heartbroken by the violent murders of Asian women in Atlanta yesterday. White supremacy grows violence in our communities. White supremacy hurts all of us. At the same time, I hold the pain of xenophobia, racism, sexual violence, gender-based violence, and gun violence that exists in our community. These work together to create unsafe communities.
When one person is unsafe, we are all unsafe. Let us use this moment to center the most impacted, listen to them, and educate ourselves on the complicated history of Asian America. Let this be a moment to recommit ourselves towards building a future where we are all safe, seen, heard, held, and loved.
This morning, I called my mom to check in. We both kept repeating, "We got this." Our conversation was around money, a stressor for both of us. In times of financial abundance, we've always shared money with each other. When we don't have enough money, we also share money with each other. We always take care of each other. You've probably heard us at TakeAction Minnesota say it too: we got this. We got this, we got this, we got this.
This past year showed me how true that is. Through pandemic, uprising, election, insurrection, and so much more, we had each other. We moved through. Not without devastating losses. But, we had each other. We shared what we had enough or more of. We listened patiently and educated each other. We held each other with love and rigor.
Moments like today make me believe in our bright future even more. I woke up to texts of love, warmth, rage, and solidarity around the murders in Atlanta. I've had offers of space holding, food sharing, text exchanges of deep care. Every single day, I see all the ways in which we're practicing a more loving, abundant, and fiercely caring world. I love that about us.
It's bittersweet to share with you that I'm leaving TakeAction Minnesota to run a Minneapolis City Council campaign. Next week, you'll get your last email from me. Katie, TakeAction Minnesota's movement building director, Katie, said it best: cry/hurray/cry.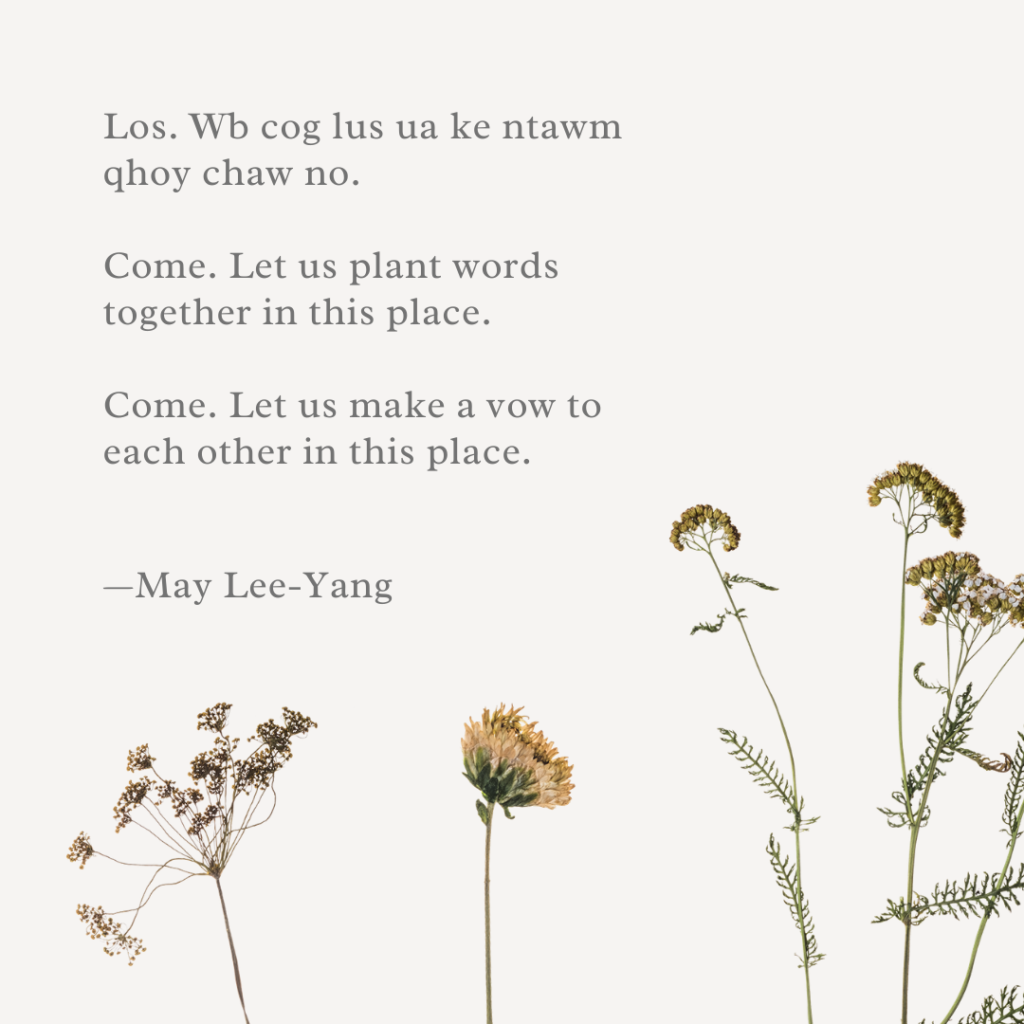 This is a poem from the Saint Paul Sidewalk Poetry project. When I think about it, I think of the seeds of new worlds we've planted and are growing together. I think of each of you, and the vow you've made to each other and our movement. I'm so deeply grateful for the conversations, emails, and care you've shown me. My experience at TakeAction Minnesota makes me know that we've got this.
You'll be in good company. This will still be a space where stories are shared, where our values are made explicit, and where we can wrestle with big stuff together. Check back next week to meet the new author.
May we meet ourselves and each other with gentleness, grace, and tenderness. May we tend to our sadness and surrender to our grief. May our rage allow us to powerfully rise together. I believe in you, in me, and us. I believe in the future we're building together.
Big love,
LyLy