#OurTimeNow
We've made it to Inauguration Day. This day isn't about political parties, candidates, or a single elected official. It's about us – our people, our nation, and our democracy.
Building on decades of organizing by our ancestors in multi-racial, working-class movements, together, we organized our butts off this election season to elect new leaders who care for us. We made it to this moment, and that proves we are powerful. It's #OurTimeNow.
On this historic day, let's look up at the sky and survey where we are right now. The constellations that depict our vision for a just and joyful future are forming. Each star that emerges is a glimmer of hope.
The stars
We see many bright lights in the historic turnout and results of the recent Georgia runoff, powered by relentless organizing led by Black women. Gen Z'ers of color cast their ballots in record numbers, and for the first time in nearly a decade, Democrats control both the House and Senate.
We see light in the people President Biden is choosing to lead alongside him. For a people-centered democracy to work, and to build systems that provide for everyone and ensure justice for all, our leaders must reflect the diversity of our country – from race and gender to class and ability. We have a long way to go, but these hard-won nominations represent important milestones.
The Senate has already confirmed the first openly-gay cabinet member. Pending confirmation, we could see our nation's first openly transgender federal official and our first Native American cabinet secretary. Women of color could hold leadership positions on key economic issues, and the first Black men could serve as leaders of the Departments of Defense and the Treasury, and the EPA. Read more about Biden's historic picks.
We see hope in the Biden Administration's plans for COVID-19 relief, student debt forgiveness, and the reversal of harmful executive orders such as the Muslim travel ban.
These stars help light up a dark sky. We've made it here, to Inauguration Day, despite a pandemic that sickened and killed our loved ones, an economic crisis, ongoing voter suppression, and countless other manifestations of the violent, destructive systems rooted in racism, classism, and gender oppression that contributed to these compounding crises.
#ForwardTogether
As we reflect on our power and resilience, we're still reeling from the January 6th insurrection by an armed mob of white right-wing militants, incited by Trump and enabled by GOP elected leaders and officials who spread misinformation and lies. Read our statement. We are horrified and saddened by what happened. Yet, we know that the failed coup was a desperate attempt to hold on to power. Our people-centered movement threatens those who want to put themselves first.
To move #ForwardTogether, and to protect and strengthen our democracy, we must hold GOP officials accountable. Precedent matters. Sign our petition to remove complicit Republicans from office.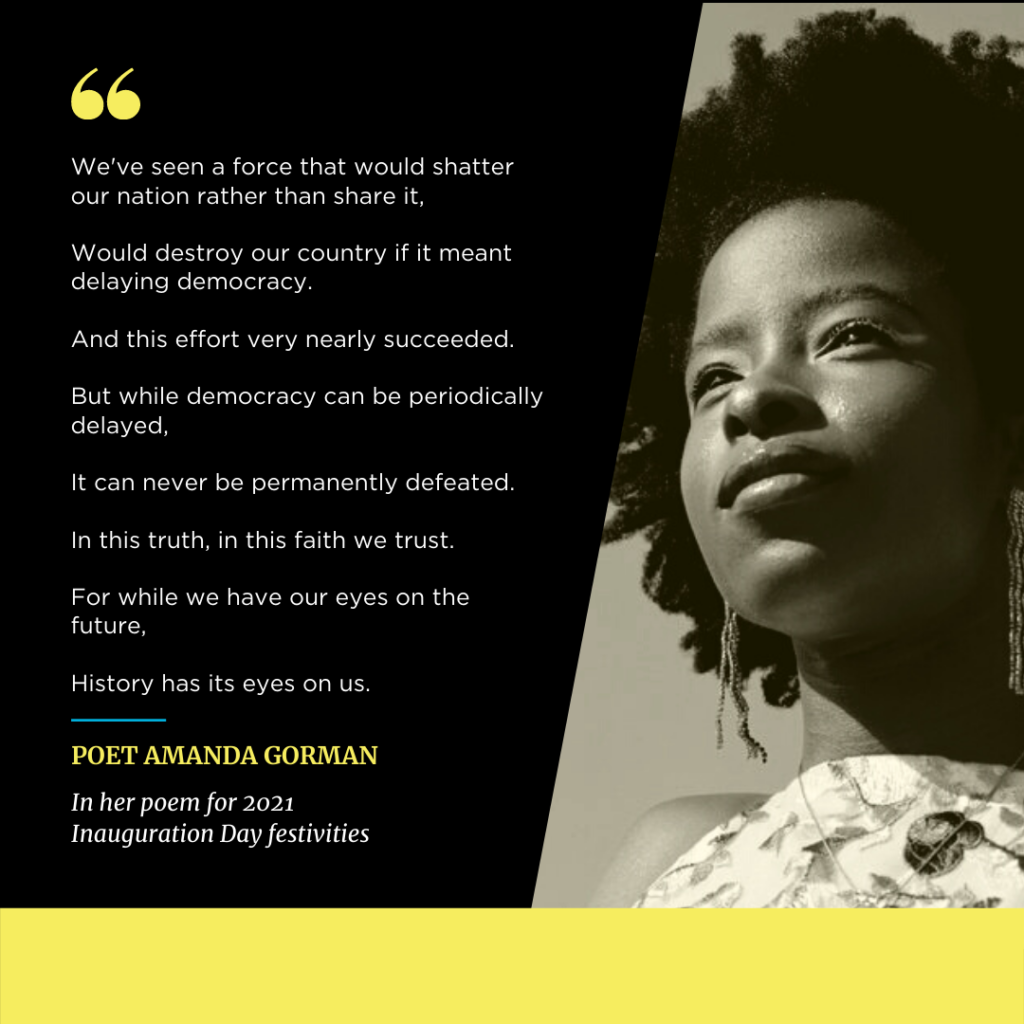 The words of 22-year-old poet Amanda Gorman, in her poem for today's Inauguration festivities, aptly capture the weight and possibility of this moment:
We've seen a force that would shatter our nation rather than share it,
Would destroy our country if it meant delaying democracy.
And this effort very nearly succeeded.
But while democracy can be periodically delayed,
It can never be permanently defeated.
In this truth, in this faith we trust.
For while we have our eyes on the future,
History has its eyes on us.
#OurTimeNow
Gorman's words reveal another reason why Inauguration Day is about us. After we celebrate and reflect, it's #OurTimeNow to put the pressure on the Biden administration and Congress to deliver substantive COVID-19 relief, healthcare for all, voter protections, swift climate action, and more.
We must make it clear to leaders that we expect them to address racism, put people before profit, and pass policies that uphold our values of fairness and justice.
TakeAction Minnesota will continue to do all we can to build the independent political power that drives our movement. That includes sharing opportunities to make your voice heard and creating spaces to organize together.
On February 7, join our care campaign organizers to strategize around creating a 21st century care infrastructure. That means passing policies at the state and federal level that ensure healthcare for all, earned sick and safe time, paid family and medical leave, long-term public care insurance, and childcare. Register here for the Zoom link.
Our power lies in each other. Together, we'll make the sky a little brighter.