When Kissy Coakley was denied a job at Target Corporation after a criminal background check, she didn't give up. Instead, she decided to take on the massive corporation and fight for equitable policies.

She worked to Ban the Box at Target Corporation in 2012, becoming an active leader in TakeAction Minnesota's Justice 4 All program. Together, we won that campaign.
It was that same determination and organizing that Kissy brought to the campaign trail when she decided to run for Minnetonka City Council. We knew Kissy had the grassroots game needed to mobilize Minnetonka voters, one door at a time. And that's exactly what she did.
TakeAction Minnesota members and community leaders reflect on what Kissy's campaign has meant to them.
---
Fatu Magassouba
I met Kissy over three years ago when we both worked with survivors of domestic violence and sexual assault at a local nonprofit organization. I saw her leadership firsthand and over the years watched as she fought for survivors in courtrooms and helped them navigate the system to attain housing and other necessities to rebuild their lives."
One of the challenging aspects of that work was working with prosecutors to prevent victims from being criminalized in the criminal justice system. Kissy was able to cultivate great working relationships with prosecutors to advocate for her clients while challenging and changing negative narratives about survivors along the way. I know now, as I knew then, that Kissy cannot and will not give up on people or back down when things get difficult.
I admire her leadership, her determination, values, and her commitment to stand up and work to implement the change she wants to see. When she told me she was considering running to represent Minnetonka Ward 4, I immediately knew it was the right decision and that I would support her campaign. She will challenge the status quo in a manner that centers the residents in Minnetonka while being her full authentic self.
---
Amity Foster
I met Kissy Coakley about seven years ago, when Justice 4 All was in the Ban the Box campaign. Kissy stood up, told her story to lots of different people – Target executives, legislators, community groups and leaders, allies, and other people who shared her experiences. That last group of people is one I remember the most, because that's where change started to happen. When you see yourself reflected in people in leadership, you start to see yourself as a leader.
That's what Kissy will do for Minnetonka. She'll bring new voices with her, new experiences, ones that maybe haven't been heard at the Minnetonka City Council.
---
Jamila Mame
I got the opportunity to meet Kissy during the summer. I was not directly involved, but I was following her campaign. During our meeting, I was so impressed by her strength, commitment to her family and community, and her deep self-interest in the empowerment of women of color. I was ready to help her in whatever way possible. Although I was hesitant about door knocking in Minnetonka, I went and my first experience was nothing short of amazing. I had a powerful conversation with a constituent about white privilege based on the hunger to understand each other's lived experiences and an appreciation for each other's differences.
Our conversation ended with us exchanging contact information and his appreciation and support for Kissy.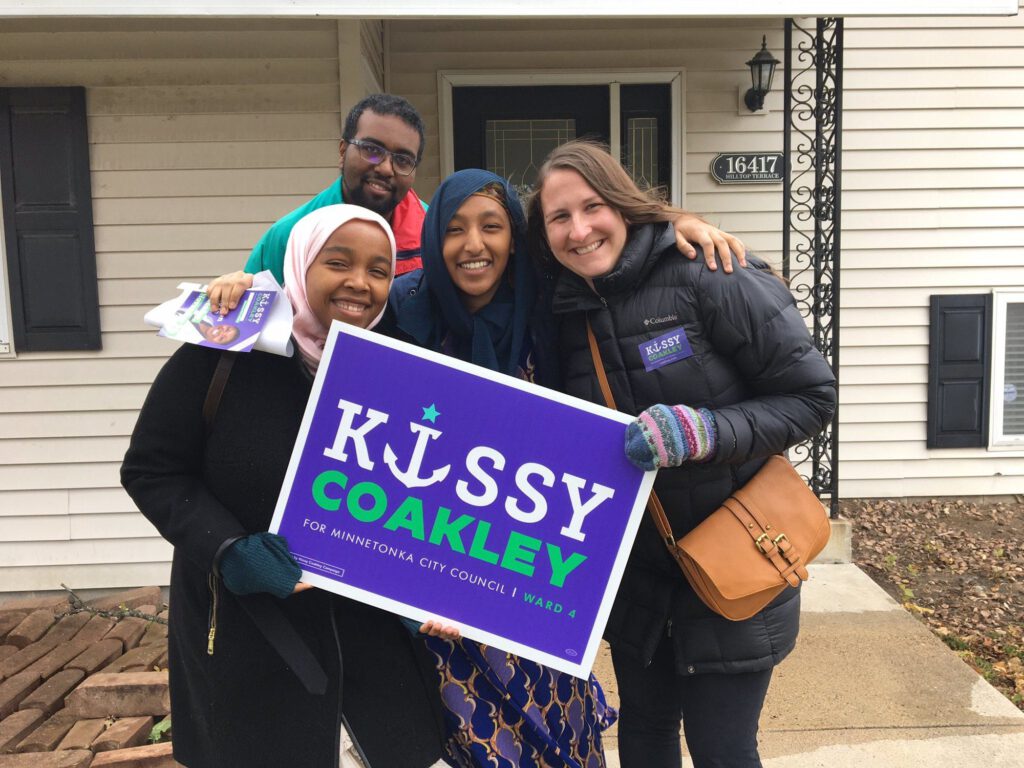 Most of my friends are community organizers. Seeing another organizer like Kissy run for office is inspiring. That is why my friends joined me on the doors and phones, because they, too, believed in Kissy and her vision for Minnetonka.
I believe in the impossible because I have seen what collective power can do. Collective power looks like Kissy's victory, Nelsie's victory, and the victory of other women of color who have been told time and again: it's not your place, it's not your seat, and it's not your time.
Kissy's victory showed that anything is possibly when we are organized, and when mine becomes ours.
Our place. Our seat. Our time.