On July 3rd, an original-cast recorded performance of the acclaimed Broadway musical Hamilton written by Lin-Manuel Miranda came to the streaming service Disney+. I have loved this musical since 2016, when I first started memorizing the 46-song soundtrack. In the four years since then, I have successfully memorized 35 songs, attended a live performance of Hamilton at a theatre in Tulsa, and sung these songs together with friends countless times.
To me, Hamilton is important for more than just its creativity. Its intentionally (almost) all-POC cast, with the founding fathers played by Black and Latinx men, does something I've never seen before: tell the story of America then by America now. Hamilton showed me, for the first time, people like me representing the founding of America, acknowledging the contributions of people of color — especially the Black people — who built this country.
Hamilton is not without its criticisms, which add to the conversation. It portrays many of the founding fathers in a positive light, when in reality, almost all of them knowingly supported slavery and did awful things.
Another important criticism: while the Broadway musical felt revolutionary in its use of a POC cast, in the five years since its premier, the world of theatre has not changed significantly and is still largely inaccessible to people of color. (Even as Hamilton itself made strides to correct this issue.)
Even though the world in 2015 was significantly different from the world in 2020, many aspects of Hamilton still resonate today.
As I have been working at TakeAction, I've come across the term "Movement Politics" a lot, and every single time I see it a line from Hamilton jumps to my mind – This is not the moment/ it's the movement – from my favorite song in the musical, "My Shot."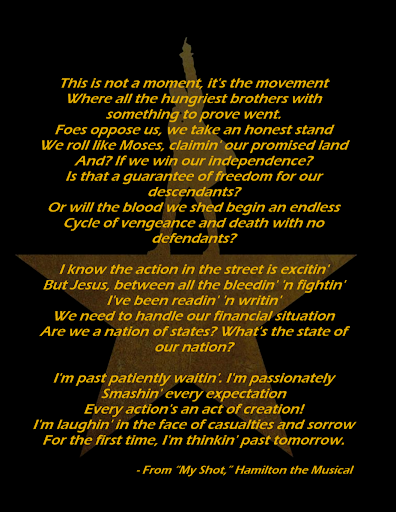 What the country is reckoning with now is not a moment, and it requires our collective effort to turn this into a sustained movement where as many people as possible are involved. We cannot let what is going on fade or have only a few people carry on the fight.
This sentiment is more important than ever as we collectively fight for racial justice. It is essential that we collectively DO NOT stop talking about or sharing resources, stories, and actions related to Black Lives Matter, racial justice, and dismantling systemic racism and inequality, both nationally and closer to home in conversations and on social media.
Every person in America, has been shaped by, hurt by, or aided by racism. We can't just educate ourselves about that fact. We also have to act. As Desmond Tutu said, "if you are neutral in times of injustice, you have chosen the side of the oppressor."
As people enjoy the joy, creativity, and lyrical fun that is Hamilton while it is available to stream, I hope we all reflect on how to make sure we remain active in anti-racist work, and do our part to make sure that this is not a moment, but a movement.