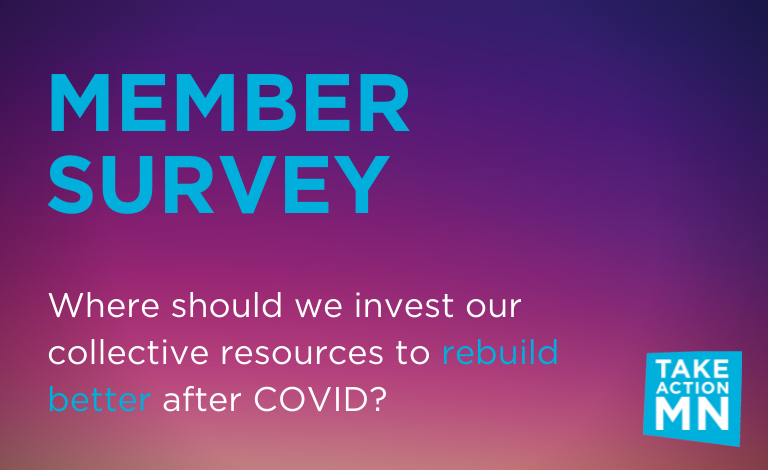 This month, the federal government announced how states can spend billions of dollars passed in the American Rescue Package Act. 
As more people are vaccinated, COVID rates decline, and Minnesota reopens, we're still coming to terms with what we've just been through and how the pandemic will impact our collective future.
One thing is certain: we are abundant and we have enough for all.
The fallout from the pandemic didn't hit all Minnesotans equally.
Black, Indigenous, Asian, Latinx, and immigrants in Minnesota were hit the hardest – from disproportionately high death rates to more intense mental health impacts and economic hardships. Women were more likely to fill risky frontline jobs or lose work entirely, while being more likely to take on caregiving responsibilities.
Who decides and who benefits from this historic federal funding will shape the future of our state. We need investments in the multiracial working class, not corporations. We have that opportunity right now, and we need your voices and imagination as TakeAction members.
Minnesota is getting $2.8 billion in flexible funding via the American Rescue Plan (ARP), which Congress passed in March. (You've already likely gotten your economic stimulus payment and heard about the historic investments in the Child Tax Credit, for example.) Funding decisions will be made in by state leaders over the next two years.
The Treasury Department says there are six ways states can use this funding. They include:
Responding to public health needs (for example, fighting COVID-19 or providing mental health treatment) 
Addressing negative economic impacts of the pandemic (for example, delivering assistance to families or small businesses) 
Serving the hardest hit (for example, providing housing support and addressing health inequities) 
Provide "premium pay" for essential workers (for example, providing retroactive hazard pay to staff at nursing homes, hospitals, educators, grocery stories, and restaurants) 
Select infrastructure investments including water, sewer, and broadband 
Replacing the revenues state and local governments lost due to economic fallout from the pandemic 
Where do you think this money should go? Take our survey to share your thoughts. We're bringing what we hear to state leaders. 
Questions? Contact Yolanda.