FOR IMMEDIATE RELEASE
January 15, 2020
Contact: Kenza Hadj-Moussa, 612-386-9556, kenza@takeactionminnesota.org
NEWS RELEASE
BREAKING: TakeAction Minnesota Endorses Bernie Sanders for President and the Movement for a People-Centered Democracy
St. Paul, MN—TakeAction Minnesota announced its endorsement for Bernie Sanders for President today. This is the first time TakeAction Minnesota, a multiracial people's organization, has endorsed a candidate for President of the United States. The endorsement of Bernie Sanders unleashes the power of a 50,000 person progressive network in a Super Tuesday state.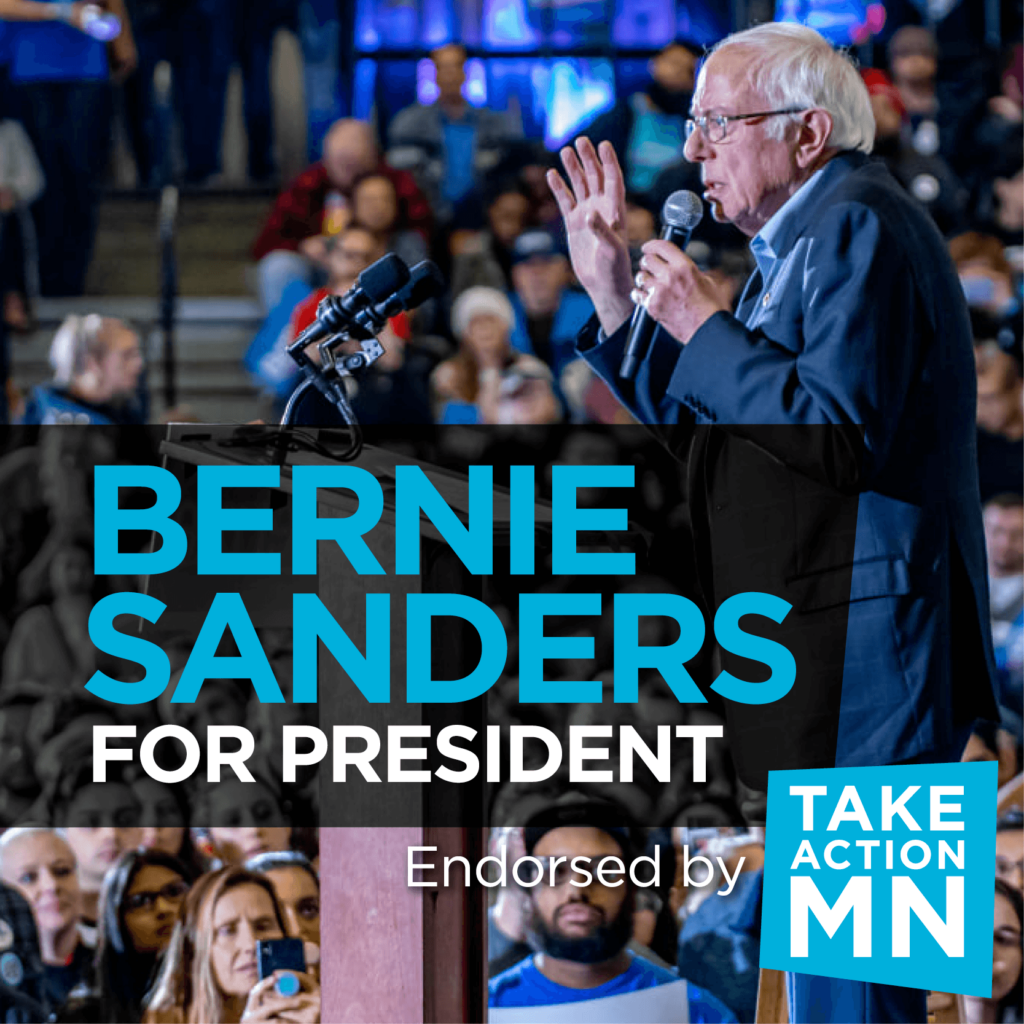 "We're proud to endorse Bernie Sanders for President. In Bernie's campaign, we see a reflection of ourselves – our hopes, dreams and struggle. We are excited to build with a candidate who is already investing in our multiracial, working class movement to take on corporate power in our democracy and do politics better," said Elianne Farhat, Executive Director of TakeAction Minnesota. "Bernie's politics are rooted in human dignity and justice. Not only has he walked alongside people's movements, but his political leadership has pushed all of us to imagine a country that fully lives into our values of liberty, justice and happiness for all—and to believe that country is within our grasp when we join together.
"Bernie Sanders is the clear choice," said Mai Chong Xiong, Board Chair of TakeAction Minnesota. "Bernie has built a bold, powerful movement because he listens to the people and knows our power. When working people organize and rise up together, we win elections and build a democracy, government and economy that works for all of us. The momentum keeps growing because families, communities, and climate can't wait for action. We are ready to get to work."
"From fighting to guarantee health care for all people, to championing a living wage for workers, TakeAction Minnesota is driving progressive change across the state," said Senator Sanders. "We are proud to work together with this incredible organization as we build a diverse, working class movement to achieve economic, racial, social and environmental justice for every American."
TakeAction Minnesota's member-led Leadership Assembly voted to endorse Bernie Sanders after a five-month process engaging in the presidential primary with the organization's national affiliates, People's Action and CPD Action, and with presidential campaigns in the state.
The Board-approved endorsement unlocks grassroots organizing power across the state for Bernie Sanders ahead of Minnesota's presidential primary election on March 3, 2020. Early voting in Minnesota's presidential primary election starts Friday, January 17, the earliest in the country.
###
TakeAction Minnesota is a statewide, multiracial people's organization working to advance democracy and equity through organizing, political action, and campaigns. The organization has offices in St. Paul, St. Cloud, and Duluth.