Happy New Year! I'm glad you're here. First, take a deep breath. Let's ease into the new year together. There's a lot that's urgent and there's a lot a stake right now, but we must pace ourselves so we can do work for the long haul. Grab a snack or glass of water, settle into your seat, and take the time you need to recenter. I'll still be here and so will this blog.
There are lots of moving parts to our democracy, but I'm focusing on our 2021 legislative session today. I've seen policy change at the city level, when organizers and activists pushed for a $15 minimum wage and renter protections in Saint Paul. And, I know we need change like that at every level of government.

In my time at TakeAction Minnesota, I've been lucky to watch members rise up together for action, supporting each other with testifying, birddogging elected officials, and sharing their stories. Things are different this year, but I believe it means we have an opportunity to do legislative session in a way that's more accessible and open.
I'm excited to share TakeAction Minnesota's 2021 state and federal policies. Our priorities fall into three categories: COVID-19 relief, care, and climate. We're also supporting initiatives that advance justice and democracy. Check out Kenza, our public affairs director's blog on the 2021 legislative session. It gives more information on some of the specific policies we're supporting this session.
There is no policy without people. Let's not forget that.
I've learned so much from our Greater Minnesota organizer, DyAnna, on urban-rural solidarity. She's a dear friend of mine, and it broke my heart to hear about her family's experience with COVID-19. Read it. Across place, race, gender, and class, we all do better when we all do better. There's abundance in our communities. Let's make sure to remind our elected officials of that as they advocate for us at the Capitol for COVID-19 relief.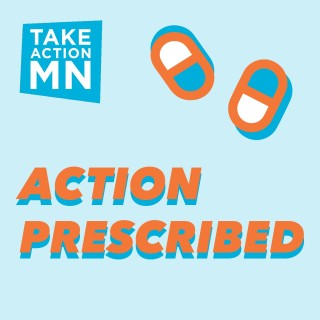 Join me in giving a warm welcome to Laura, our new digital strategist. I really enjoyed reading her blog on why we must ensure access to affordable medication. There's important information of how big corporations have come to have so much power around this – in text and podcast form. If you have a story around accessing affordable medication, let us know. Again, there's isn't policy without people, and your stories are so important for our work at the Capitol this legislative session.
Laura said it best: "Despite the deep exhaustion I feel after a wild year, I'm ready to go for it this session."
What 2020 has taught me is that everyone has a role in the movement. We hold our roles, and when we need to step back, others are ready to care for us, and step up. There's more possible than ever before – more than we've ever imagined. Take a deep breath. Let's go together. We got this.
In Solidarity,
LyLy