Remember in November is a strategy that centers the Political Healers analysis in the 2020 elections. It centers on the voices, votes and power of womxn of color and queer, trans and gender non-binary people of color, leaving none of us behind. These are the people whose lives are on the line in this election. They are also the same voters we need to turn out in this election to elect progressive leaders – and the same people who must show up the day after election day to hold leaders accountable and protect our communities. But they're also the most disenfranchised and alienated from the electoral process.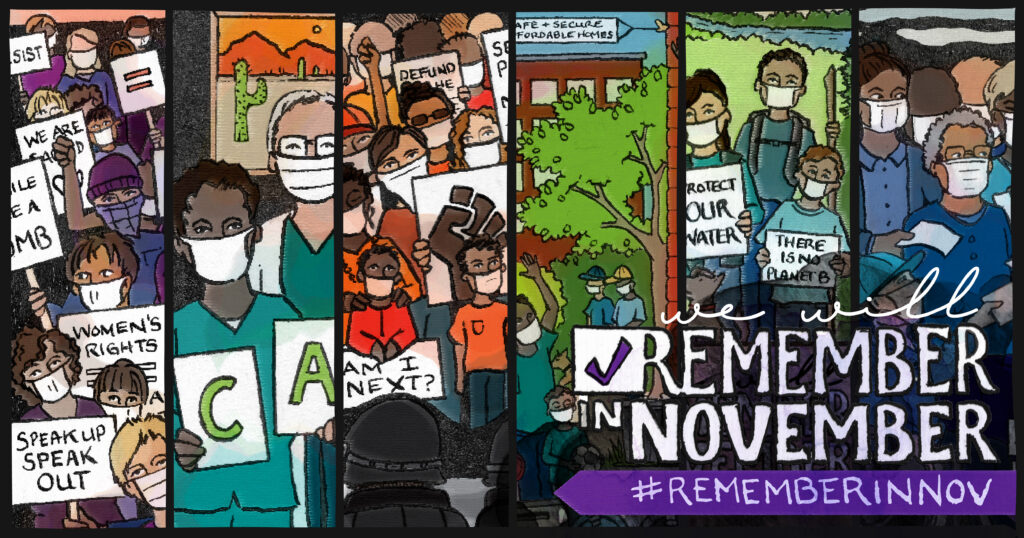 Political healers are community builders. The Remember in November strategy gives political healers across the country a chance to speak their truth into public memory, to galvanize their communities and give everyone around them a place to engage in this election with love, healing and community power. It is a strategy that centers both our struggles and our demands for long-term, transformative change.
Together we can transform voting from what often feels like an empty, symbolic gesture into a sacred ritual. By infusing our electoral work with the love, anger, and hope of our stories and communities, we're taking our first steps toward building a pathway from this world to the next one- the world we need to win.
WE WILL REMEMBER IN NOVEMBER
WE REMEMBER who put their greed before everyday people's health and safety.
WE REMEMBER who sent cops into communities with tanks, tear gas and rubber bullets, to terrorize community members & to criminalize blackness.
WE REMEMBER who ignored our pleas for rent and mortgage freezes, for adequate PPE and fair wages for frontline workers, for our elders to be released from prisons and detention centers.
WE REMEMBER who used the COVID pandemic as an opportunity to suppress people's right to vote.
WE REMEMBER & WE WILL VOTE.
TAKE ACTION WITH US: What are you remembering in November?
Send a digital or physical postcard about what you're remembering and ask five loved ones to be a voter with you this election season. You can order postcards yourself to physically mail or you can download the postcards to send via email or post on social media. Tag @PoliticalHealer and @TakeActionMN so we can amplify what you're remembering.
Join us to reach BIPOC voters across the state of Minnesota. We'll do a mix of calling, texting, and relational organizing work. Never connected with voters before? Don't worry. We'll get you trained up to have powerful conversations. Sign up here.
Host a voter hype party where you can register your loved ones to vote, fill out your ballots together, share stories, and build community. We'll support you in creating the agenda for the night, turning out your friends and family, and virtual hosting best practices. Email LyLy and lyly@takeactionminnesota.org and she'll get you started.