Line 3 is a tar sands pipeline being built by the Canadian corporation Enbridge through beautiful and sacred Northern Minnesota. The pipeline threatens to poison pristine waterways, violate indigenous treaties, lock Minnesota's economy into a dying industry, and emit more greenhouse gases than we could ever hope to offset.
We need to make sure everyone knows about this devastating pipeline and how to join the movement to stop Line 3. TakeAction Minnesota is working to call, text, and connect with as many Minnesotans as possible on this life and death issue. And we need your help. Join us.
For racial justice, economic justice, climate justice, gender justice: Together, we will #StopLine3. Together, we will build a world where people and the planet come first.
We need you in the fight to #StopLine3! Email Magda to get involved in our climate organizing.
///
La línea 3 es un oleoducto de arenas bituminosas que está construyendo la corporación canadiense Enbridge a través del hermoso y sagrado norte de Minnesota. El oleoducto amenaza con envenenar agua, violar los tratados indígenas, atrapar a la economía de Minnesota en una industria muerta y emitir más gases de efecto invernadero de los que podríamos esperar compensar.
Necesitamos asegurarnos de que todos sepan sobre este devastador oleoducto y cómo unirse al movimiento para detener la Línea 3. TakeAction Minnesota está llamando, texteando y conectandose con Minnesotanos de todas partes sobre este tema de vida o muerte. Y necesitamos su ayuda. Únese a nosotros.
Por la justicia racial, la justicia económica, la justicia climática, y la justicia de género: Juntxs, detendremos la Línea 3. Juntxs, construiremos un mundo donde las personas y el planeta sean lo primero.
Necesitamos a todxs en la lucha contra este oleoducto! Ponganse en contacto con Magda para unirse a la lucha.
///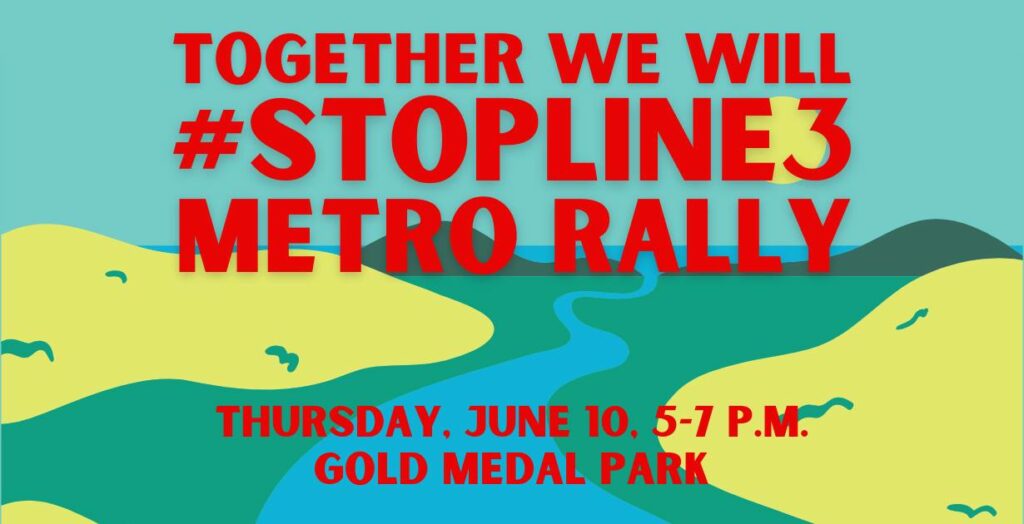 Join us June 10 for our Metro Rally to #StopLine3
December 11
Saturday
6:00 pm – 7:00 pm
The People's Celebration 2021
The People's Celebration is our annual progressive dinner, a beloved tradition that brings together a thousand people from across Minnesota to celebrate our victories
Virtual Event