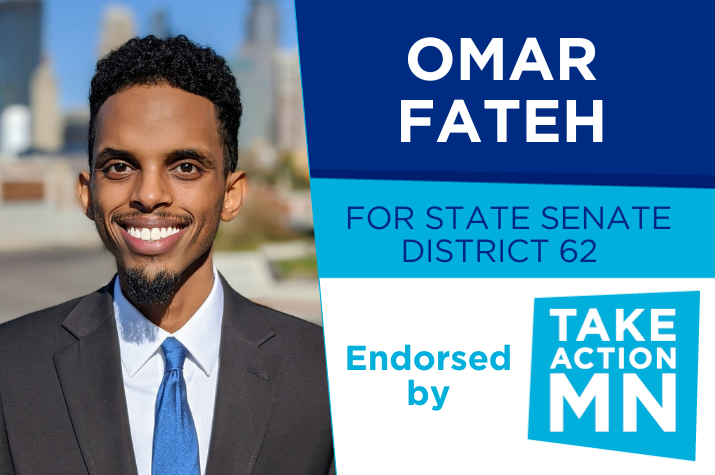 TakeAction Minnesota is proud to endorse Senator Omar Fateh for reelection in Senate District 62.
A distinguished community organizer and advocate, Senator Fateh is a progressive champion for the people of South Minneapolis, and we're ready to throw down to elect him again in 2022. It starts with voting in Minnesota's Primary Election by August 9.
Primaries matter. They provide an opportunity to build progressive power by supporting candidates who aren't afraid to take on and disrupt the status quo in order to create more just, inclusive, and people-centered democracy.
In his first term as a State Senator, Fateh has been a progressive champion for the people – fighting to lower prescription drug and health care costs; improve our public schools; defend our democracy and protect our reproductive rights. He has a proven record of standing up to big money interests and corporate politicians, and he is committed to building a future that is safe, just, and joyful for all Minnesotans.
Endorsed by TakeAction's member-led political committee, Senator Fateh shares our vision for a future where all of us can thrive: protections for our basic human rights; clean water and air; and access to the care and services we need – from housing, to health care, to community-centered public safety.
Get the word out now. Share TakeAction's endorsement for Senator Fateh on your Facebook and Twitter pages. Don't forget to tag us so we can amplify your voice!
Have questions about our endorsements or how to vote? Email us at info@takeactionminnesota.org. We're here to help!