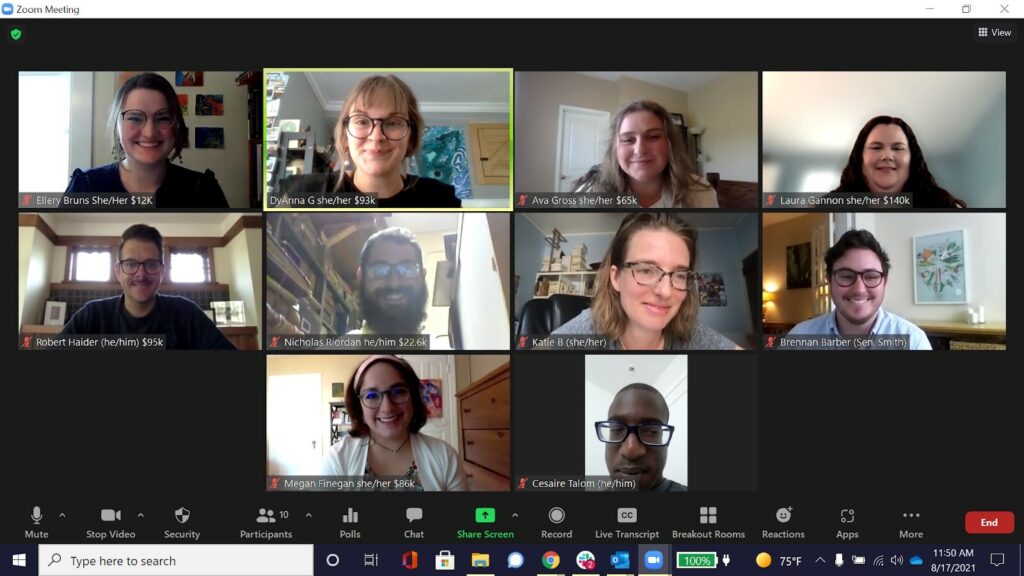 On Tuesday, our Student Debt Cancellation crew of TakeAction leaders from across Minnesota met with Senator Tina Smith's office to share our powerful stories and urge the Senator to take action.
We explained why we need full student debt cancellation – and we got a clear commitment that Senator Smith supports pushing Biden to cancel $50,000 of student debt. On the Zoom call, we made the stakes of student debt cancellation very clear. We listed our student debt amounts next to our names. Between us, there was more than $500,000 of collective student debt in that meeting.
We also made it clear that Senator Smith can count on us to hold her to her commitment to pressure Biden to cancel $50,000 in student debt.
I'm proud of our crew. Join us. Text CancelDebt to 87843.
---
Check out these stories from crew members about how student debt has impacted them:
Laura Gannon (she/her), Circle Pines, MN
Growing up, I never imagined that I would have to make enough money to pay three mortgages plus the basic expenses of living – and I did not anticipate that when I signed my student loan contract at 18. I'm being squeezed at every financial angle, and I wouldn't wish this feeling on my worst enemy (who also probably has a gargantuan student loan).
Before heading off to college, I met with student loan officers who assured me that I could pay back my student loans within ten years with my salary as an engineer. By the time I graduated from Cal Poly Pomona in 2008 with my Masters of Electrical Engineering, I had accumulated six figures in student debt.
When I moved back to Minnesota from California, I thought that maybe I could begin paying back my student loans. However, my second child was born with Trisomy X. I had to use my student loan payment to pay for daycare, as well as worry about more medical expenses.

Will, Duluth, MN
I was a first-generation college student. Both my parents had two-year degrees, and no experience navigating the four-year college system. I learned the financial system of higher ed as I went through college and racked up a large amount of debt.
The nonprofit I work for serves homeless and at-risk youth, who are stuck in cycles of poverty. For many of our youth, there is a fear of pursuing education because the cost has risen so high.
My work is stressful, yet rewarding. On top of that, making student loan payments and covering rent, utilities, healthcare costs, and putting food on the table makes me feel stretched thin. Having these feelings makes it a constant struggle for me to do my best work with the youth and maintain my own well-being.
If student loan debt were cancelled, it would greatly affect my capacity and ability to serve my community and take care of myself.

Megan, Duluth MN 
I was the first person in my family to attend a four-year college and graduate with a bachelor's degree.

As I was growing up, family, teachers, and community members always gave us the notion that secondary education would enable us to live a happy life. "If you went to college," then you would be able to pay rent and get groceries without worries. "If you went to college," you could afford the heat to be set at 70 degrees in the winter. "If you went to college" you could afford that large $5 iced coffee once a week as a treat.
With that mantra in mind, I attended the College of Saint Scholastica in Duluth, MN. Before I graduated in 2019, I already had a job waiting for me as a Pediatric and Adolescent Mental and Behavioral Health RN and I felt like everything was aligning.

As my grace period was ending and my first payment date for my student loans approached, I realized that paying over $700 a month for the next 10-20 years was my new reality, and very much not possible.

Lending institutions knowingly take advantage and prey on those of us who know we can't afford the $20,000 tuition rates, but need secondary education to obtain a job that pays a living wage. They loan us money with high interest rates, and lure us with the promise of an obtainable future they don't plan on allowing us to have.
We shouldn't have to make the choice of being engulfed by the life-altering financial burden of student debt so that we can have a better life.
Join the crew to Cancel Student Debt. Text CancelDebt to 87843.