This Week in Action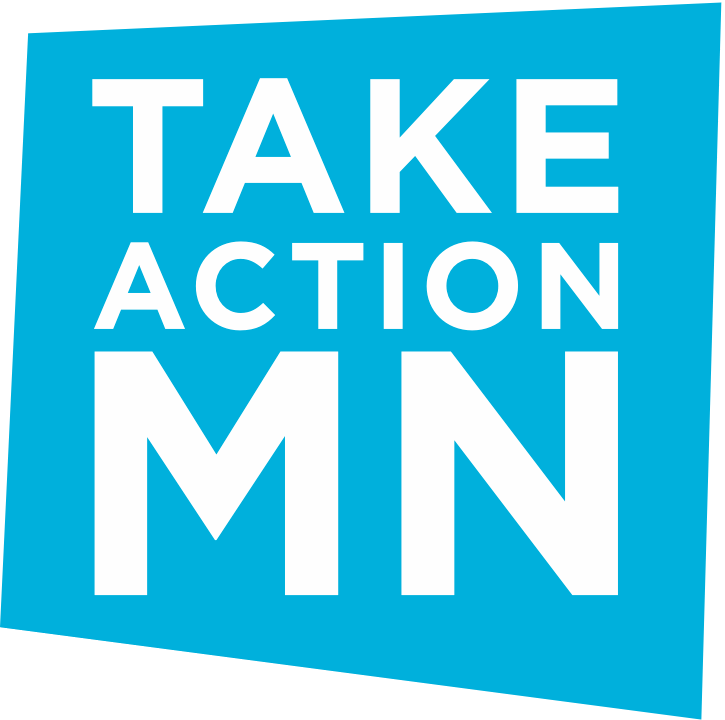 Originally published in TakeAction Minnesota's Friday news digest This Week in Action on Sept. 11, 2020. Subscribe today.
Dear Friends,
President Trump isn't trying to win the election. He's trying to stay in power. 
What's the difference? To win an election, he needs a majority of the votes. To stay in power, a militant minority (and a willingness to break the rules) will do.
It's scary stuff.  But our fear is counterproductive. It demobilizes us. It adds to our doubts & cynicism.  Our project, then, for the next seven weeks, every Friday, is to turn fear into power and focus on the future.
That means once, just this week, let's visit the dark side. Let's get it all right out in the open. Let's stare it down together.
How bad could it get?  Let's start with what's already here: negative ads, dog whistle racism & sexism, xenophobia, Islamophobia, antisemitism, transphobia, conspiracy theories, spoiler candidates (Hi Kanye!), foreign interference, politicized federal agencies (Hi Bill.), manipulated media, and voting disinformation.
Let's review what's been threatened: postal slowdowns, extra-constitutional action (i.e. moving election day, 3rdand 4th terms), threats of federal occupations, threats of polling place interference, trumped up investigations, and threats of right-wing paramilitary violence. Behold. There you have it, in all its dishonest, anti-democratic awfulness.
Now, let's gather ourselves. This is an exercise in preparedness, not pants pissing.
This election is ours to win. Period.
In fact, progressives are ahead. In 2018, progressives won. In the 2020 primaries, progressives won. In the 2020 polls, progressives are ahead.
There's a good reason for this. We have a vision of the future. We believe in a state where we're better off together. Plus, we have tangible solutions for our common needs: affordable, universal health care; clean, renewable energy; family-supporting jobs; racial & gender equity; excellent public schools; safer, more just communities.
We have ideas and people and passion all over our diverse, dynamic, growing coalition. After the election, we can win a contested transition. Then, we can govern in a people-centered way. It's up to us.
So, this weekend, can you commit to spend less time doom-scrolling and more time phone banking?  Have you picked a candidate to commit to yet? (We have some ideas.)
And this week, peruse the work of a few others who are preparing for the worst and fighting for the best…
Here's what we're reading, watching, and listening to this week:
1. (Manipulated) Media
Cheap Fakes vs. Deep Fakes: Listen to Lawfare for the latest on manipulated media in the Presidential race. Add this to your weekend podcast list. (Note and TW: the podcast discusses how deep fakes in pornography are used to harass and intimidate women. Mature audience advisory.)
2. Chaos as Strategy
Timothy Snyder is the historian we need. On chaos & destruction as a political resource…Read this piece in the Washington Post.
3. Help
When we talk about a multiracial future where we all belong, what's it sound like? Some days it sounds like Duval Timothy. His new album 'Help' is piano-based & sample-rich, part London, part Sierra Leone and quotes Pharrell & Ellsworth Kelly, like it's obvious they belong together. At home everywhere, but totally unique. Genreless & instantly relatable. Listen and check it out here.
4. Belarus
So wait, what's going on in Belarus? Read this explainer. Check out this photo essay. Listen to Stephen Sestanovich.Follow @HannaLiubakova. You won't regret it. It's a movement for Belarusian sovereignty led by a trio of women.
5. Chess
People are watching millions of hours of online chess during the pandemic. Hikaru Nakamura is today's master. Read this culture piece in the New York Times.
6. Next Reconstruction
The Atlantic is out with a thoughtful, lengthy deep dive into U.S. history, race, politics, and the time we're in. Sent to us by a reader. Read it now or add it to your reading list.
7. Protest Art
Activism creates art. Minneapolis street art is the subject of this national piece. Check it out here.
8. Trump Lied
Bob Woodward's new book reports Trump knew the seriousness of coronavirus and downplayed it—of course he did. And tens of thousands of people in the U.S. have died. Trevor Noah unloads on Trump and we're grateful for it. Watch it here.
9. Orange Sky
Our thoughts are with the people and animals affected by fires on the west coast. See these unbelievable pictures of California's sky andread the latest.
10. Mars Rx
Mars is retrograde from September 9 – November 13. Read about it from Chani Nicholas, the movement's astrologer.
That's a wrap. Have a great weekend.
–Kenza Hadj-Moussa & Chris Conry
Subscribe to This Week in Action