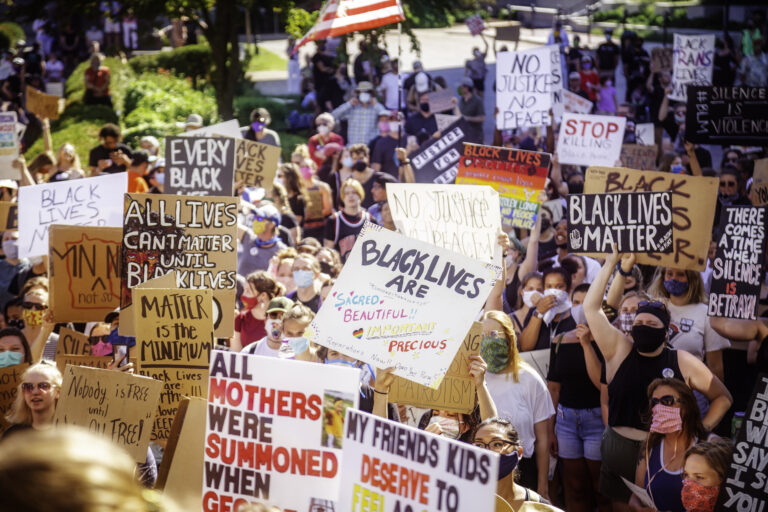 The movement for Black lives—for just, caring communities where we can all be free—exists far and wide beyond the walls of a courtroom. It is in all of us. In our communities, our streets, and our acts of care. It is in our multiracial commitment to defend Black lives and build a brighter future for all of us, because we know our liberation is tied together.  
We continue to grieve the death of George Floyd. Of Daunte Wright. Of Philando Castile. Of Jamar Clark. Of so many others in Minnesota and across the country who should still be with us today. We grieve the compounding harm that Derek Chauvin's trial inflicted on our communities.
As Black, Indigenous, people of color, and allies have been in the streets in grief and rage ahead of the trial, and for Daunte Wright, they have been met with state-sanctioned violence: 'Operation Safety Net.' Over 75 community organizations, local elected officials, thousands of Minnesotans, 100+ doctors and legal experts have spoken out against this violent approach.
Join us in taking action to stop the repression.
Here are 5 ways to act NOW to transform public safety.
Support community on the front lines. Our friends at Reclaim the Block maintain a comprehensive mutual aid guide at bit.ly/fundthecommunity. There you'll find links to donate to memorial funds for Daunte Wright and George Floyd, send aid directly to their families, and support the community members at George Floyd Square and in Brooklyn Center.

On Monday, April 19, the state Senate approved $9 million for out-of-state police for 'Operation Safety Funds.' This is unacceptable. The Minnesota House will vote on a similar proposal soon.

Take urgent action

by sending a message to your legislator now. Make sure to customize your message for the greatest impact.

TOMORROW, April 22, the NAACP will be asking the Minnesota Board of Peace Officer Standards and Training, or POST Board, to create a standard mandatory First Amendment public assembly response to ensure police are held accountable for how they respond to those exercising our right to free speech.

Add your voice to their petition.



The state's militarized 'Operation Safety Net' deployment, preemptively unleashing rubber bullets, tear gas, and arrests on its people, is wrong and causing more harm and trauma in our communities. The use of militaristic tools of oppression against peaceful protesters cannot be tolerated.

Sign our petition

calling on Gov. Walz, Mayor Frey, Mayor Carter, and Sheriff Hutchinson to stop 'Operation Safety Net.'

Attend our

Minneapolis Caucus Training

on April 27. Right now, as our elected officials ramp up the militarization of our city, the people of Minneapolis have a choice. The candidates we've endorsed for Minneapolis City Council know Black lives matter and are ready to act to protect them. Going to caucuses and becoming a convention delegate are critically important steps to electing these progressive, people-centered leaders.

Join our Caucus and Convention training

next Tuesday (April 27) to find out everything you need to know about caucuses, conventions, and being a delegate.