Contact: Kenza Hadj-Moussa, 612-386-9556, kenza@takeactionminnesota.org
NEWS RELEASE
BREAKING: TakeAction Minnesota endorses Sheila Nezhad and Kate Knuth for Minneapolis Mayor
For the first time, TakeAction members vote to back two progressive candidates
St. Paul, MN—TakeAction Minnesota announced its endorsements of Sheila Nezhad and Kate Knuth for Minneapolis Mayor today. This is the first time TakeAction Minnesota, a multiracial people's organization, has endorsed two candidates in a competitive race that will be determined by ranked choice voting. The endorsement of Sheila Nezhad and Kate Knuth unleashes a grassroots powerhouse behind two candidates who are ready to lead Minneapolis in its next chapter and support the ballot amendment brought forward by 20,000  voters to create a new department of public safety and rent stabilization.
"We are proud to endorse Sheila Nezhad and Kate Knuth for Minneapolis Mayor, and to make our first dual endorsement ever." said Elianne Farhat, executive director of TakeAction Minnesota. "This moment is bigger than one person. It's about creating a Minneapolis where all of us have a chance to live happy, safe, stable lives. Our choice is clear. We can have four more years of Mayor Frey's broken promises,  politicking and failed leadership, or we can start a new path forward with fresh leaders strongly positioned to lead the next chapter of our city."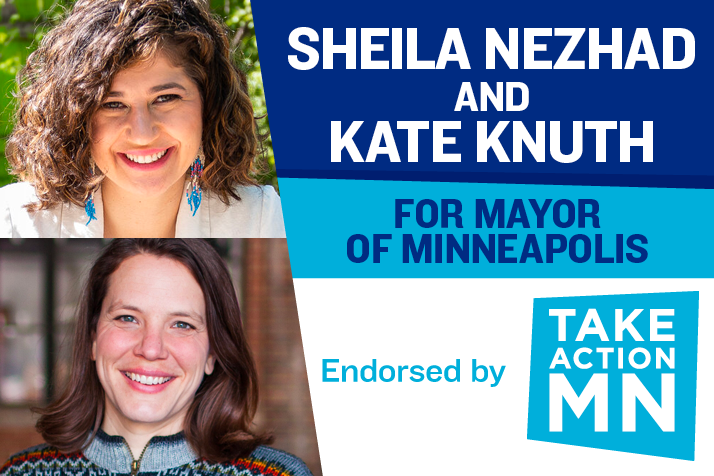 "Sheila is an authentic, passionate leader who has a vision for our city that reflects the hopes and lived experiences of the people," said Claudia Zavala, co-chair of TakeAction's political committee. "She's a visionary, people-centered, deeply respected community leader. She brings unique expertise in policy that supports safety beyond policing and an embodied understanding of what community services and investments we need to create a safe and vibrant city. Her unapologetic vision for a healthy, life-affirming Minneapolis is especially powerful after 2020. Connected to a growing multiracial movement, she knows that change comes from the people, and that's who she's working for. We're proud to endorse her and Kate."
"Kate Knuth is an experienced public leader with a deep commitment to climate action and racial justice," said TakeAction political committee member Joey Giffen-Hunter. "Kate brings unique policy expertise as a sustainability scientist and experience working for the people of Minneapolis, serving as the city's first Chief Resilience Officer and three terms in the state legislature. In addition to her expertise on climate issues, Kate is clear that it's time to establish a new department of public safety through the city's charter amendment. She shares our vision for a healthy, just, equitable future and we're proud to endorse her and Sheila."
TakeAction Minnesota's member-led Leadership Assembly voted to endorse in the Minneapolis mayoral race after a municipal endorsement process that started this spring with city council candidates.
"A better future for Minneapolis is possible," said Giffen-Hunter. "Mayor Frey had his chance to lead and four years later, our city is not better off. As Minneapolis voters, we decide the future of our city. We have two strong candidates, Shelia Nezhad and Kate Knuth, who are ready to shape the future with us."
This is the first Minneapolis Mayoral endorsement made by TakeAction Minnesota since 2013.
If you would like to interview a spokesperson at TakeAction Minnesota for further comment, please contact Kenza Hadj-Moussa at kenza@takeactionminnesota.com or (612)-386-9556.
 ###
TakeAction Minnesota is a statewide, multiracial grassroots organization advancing justice and equity through organizing, policy, and campaigns. Offices are located in St. Paul, Duluth, and St. Cloud.