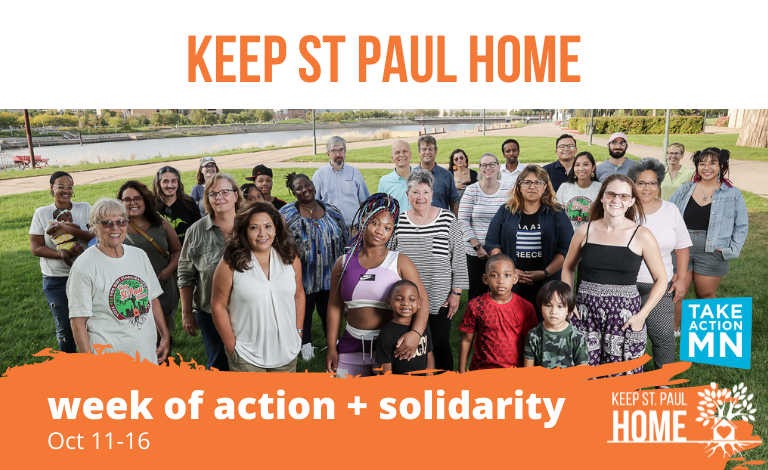 We have a real opportunity to make a difference for St. Paulites — now and in the future. By November 2, we can be YES voters for rent stabilization and ensure that, across race and income, all of our neighbors have a chance to put down roots in the neighborhood they love.
THIS is our moment to act.
Join us for the Keep St. Paul Home Week of Action and Solidarity, October 11-16, to get out the vote and power the movement to #KeepStPaulHome with our voices, our relationships, and our wallets.
We're calling it a week of action AND solidarity for TWO reasons:
✊ Rent stabilization is about cross-racial solidarity. The data is clear. Black, brown, and Indigenous people in St. Paul are most likely to experience egregious rent spikes — and we've had enough. Across race and income, we're uniting against extractive corporate landlords who force BIPOC neighbors out of their homes for a bigger bottom line.
🤝 Renters, homeowners, AND local landlords are united. It's clear that housing stability matters for our families, our schools, and our economy. We won't let out-of-state and predatory landlords pad their pockets with our local wealth. We understand that we need each other for St. Paul to thrive.
Here's the schedule for this week:
ALL WEEK LONG
💸 Donate what you can and encourage your family and friends to chip in, too.
📢 Follow Housing Equity Now St. Paul on Twitter, Facebook, and Instagram and share our content far and wide!
MONDAY
4:30pm: 📺 Tune in for a Facebook Live kickoff conversation on housing and racial justice hosted by TakeAction leader Claudia Zavala with Tara Raghuveer of People's Action, Monica Bravo of West Side Community Organization, and more!
TUESDAY
📖 Share your renter story and/or why you're voting YES to #KeepStPaulHome. Amplify stories you see on Twitter, Facebook, and Instagram. Use and follow the hashtag: #KeepStPaulHome.
4:00-6:00pm: 📞 Join TakeAction for our Tuesday phone bank!
WEDNESDAY
🔎 Get and share the facts about rent stabilization with multilingual videos.
THURSDAY
💸 Invest in the movement. Chip in to get the word out and encourage your crew to chip in, too!
6:00-7:30pm: 📞 Join HENS for our Thursday phone bank!
FRIDAY
✋ Share 5 reasons you love your neighborhood on Instagram and tag @housingequitystp.
SATURDAY
12:00-3:00pm: 📞 Join TakeAction for our Saturday phone bank!