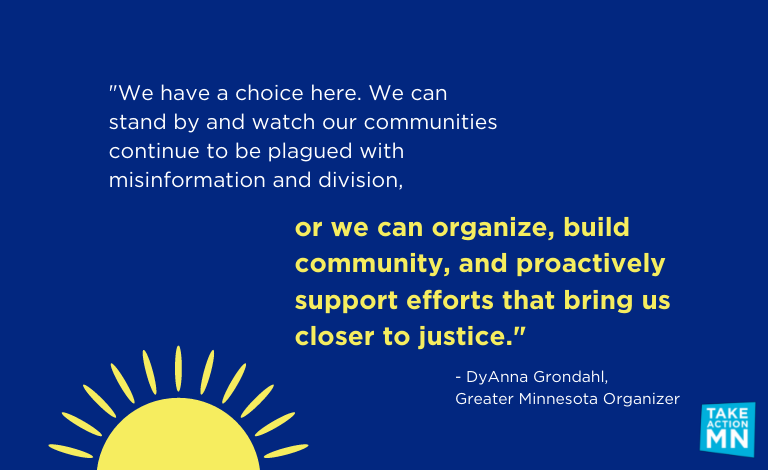 In January, I didn't think the fire in my belly around rural organizing could glow more fiercely. However, as I've seen right-wing operatives attempt to divide Greater Minnesota communities by stoking fear around honesty in education — simply to earn more votes and protect white supremacy — that fire is roaring.
Hearing Suzanne's story (and others like hers), I'm tired of the GOP using our rural communities as pawns. I was born and raised in Roseau, Minnesota, and I've seen how small towns are hurt by the divide-and-conquer tactics that mobilize voters through fear and anger, ultimately distracting from what's most important: choosing leaders who will invest in us and connect us — not turn us against each other.
We have a choice here. We can stand by and watch our communities continue to be plagued with misinformation and division, or we can organize, build community, and proactively support efforts that bring us closer to justice. We have the power to make change, unite our communities, and tell the true story about Greater Minnesota — the one that recognizes and honors the importance of honesty in education.
Here are the four primary reasons I'm organizing around this issue right now:
At TakeAction, we have a vision for a Minnesota where people have what they need in order to live and thrive — and we can't get there without reckoning with harm inflicted in the past and present. That's why honesty in education is so important.
Parents, teachers, and community members across the state are making the choice each day to take collective action, and we should too. Over the life of this blog series, I have received so many brilliant emails from community members, from all over Minnesota, who are organizing their communities in support of issues ranging from honesty in education to racial and gender equity and masking in their schools. Their work is powerful and necessary, and they can't do it alone.
When we let others tell our stories and give our hometowns a one-dimensional label that reads "rural, white, and racist," we give up our power. Just as there are people actively organizing to spread fear, hate, and misinformation, there are as many (if not more) folks organizing to bring people together and fight for what they need — like Suzanne and her comrades in Pequot Parents for Kindness. By reclaiming the narrative about rural Minnesota, we are reclaiming our power.
Rural, urban, and suburban, organizing is in our bones in Minnesota. For generations, from Thief River Falls to Minneapolis,and from Grand Marias to Worthington, people have united across differences to fight for their rights. It's a folk tradition that we're all part of — from organizing for free public high schools at the turn of the 20th Century, to farmers who organized to save each other's land through the Great Depression.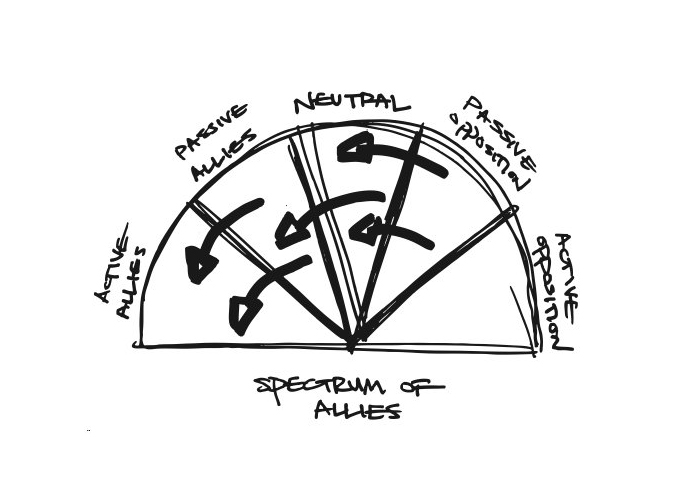 As I work to build power with parents and community members in Pequot Lakes, the spectrum of allies has been a powerful tool, illuminating the options before us:
We can choose to surround ourselves with people who agree with us, feeling good about how right we are. We can try to change the hearts and minds of people who actively oppose us. Or, we can choose another path.
The majority of the spectrum of allies is made up of people who are neutral or passive. These are folks who haven't had the chance (or have actively avoided the chance) to really dig into what's going on and talk to their neighbors about how they're feeling.
Do you think we would have a free public education system at all right now if people didn't talk to each other about how they couldn't afford to send their kid to school?
That's why we're supporting and organizing with folks in Pequot Lakes and across Minnesota to hold house parties where they share their stories and engage in empathetic conversation about honesty in education and what our communities really need. House parties are an opportunity to invite folks in the middle of the spectrum to ask questions, share stories, and build community.
Are you interested in organizing around this issue? Are you intrigued by the idea of a house party? Join us for a house party toolkit training on Tuesday, September 21 from 6-7:30pm via Zoom. We'll share stories and walk through the toolkit developed by parents and community members in Pequot Lakes, which includes meeting basics, invitation planning, outreach, agenda planning, and more. This is the first training in a series, so stay tuned for more opportunities to learn about equity, storytelling, and honesty in education!