In 2022, our democracy and our freedoms were on the ballot. We used our collective power at the polls to make our voices heard on the critical issues and compounding crises that matter most: defending our democracy, protecting our reproductive rights, transforming public safety, addressing the climate crisis, caring for our families and taking on greedy corporations that put profit before people.
We showed up together to make sure every Minnesotan – regardless of race, income, zip code, gender identity, or sexual orientation – has the resources they need to thrive: from clean water and air, to safe and stable housing, to affordable health care and prescription drugs.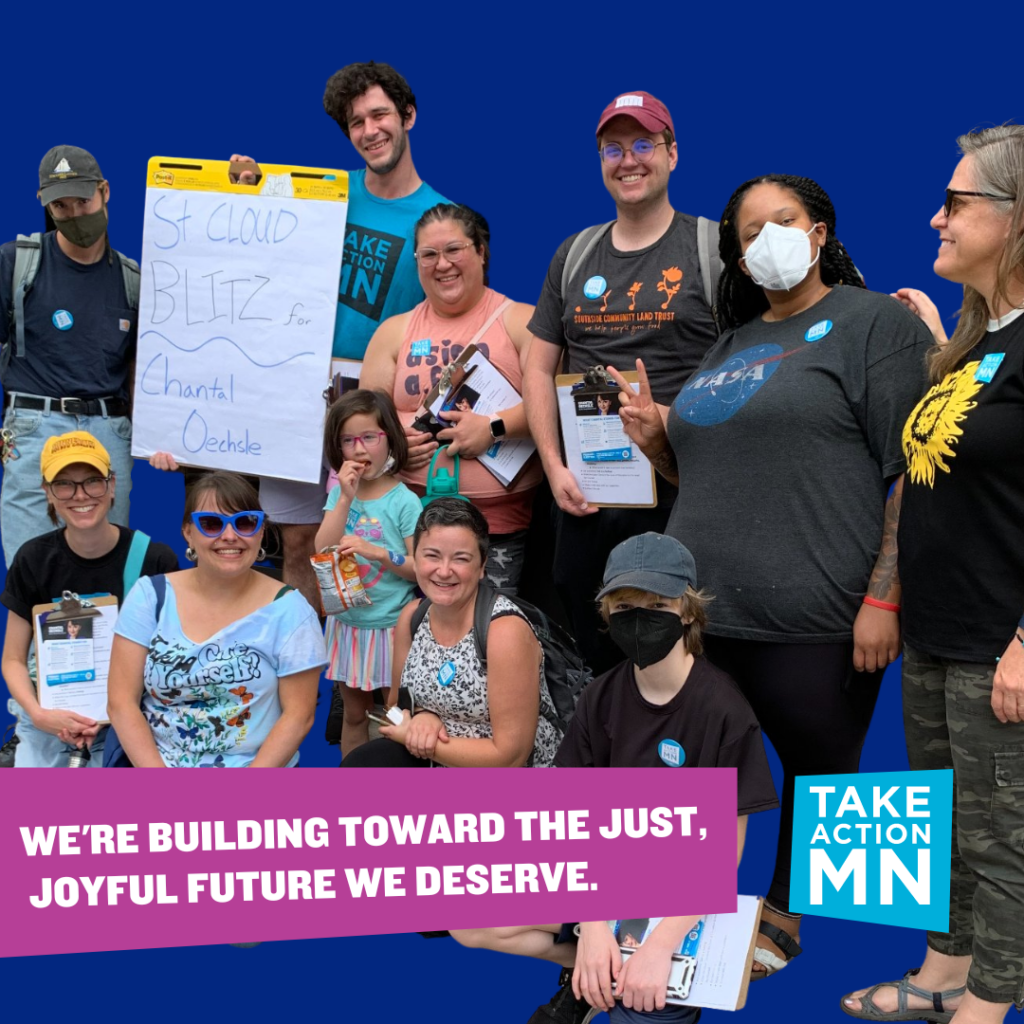 This year, TakeAction ran a robust statewide political program. Our leaders, members, and volunteers joined together to defeat anti-democracy, anti-choice, corporate-funded candidates up and down the ballot.
Here's what happened, by the numbers:
We had 21,103 meaningful conversations that moved and mobilized voters across the state.
In those conversations, 2,242 people decided to join our organization to learn more and take action.
We reached 740,668 Minnesotans online with our vision and message.
Our voter-centered electoral program reached more than 125,017 voters across doors, phones, texts and mail.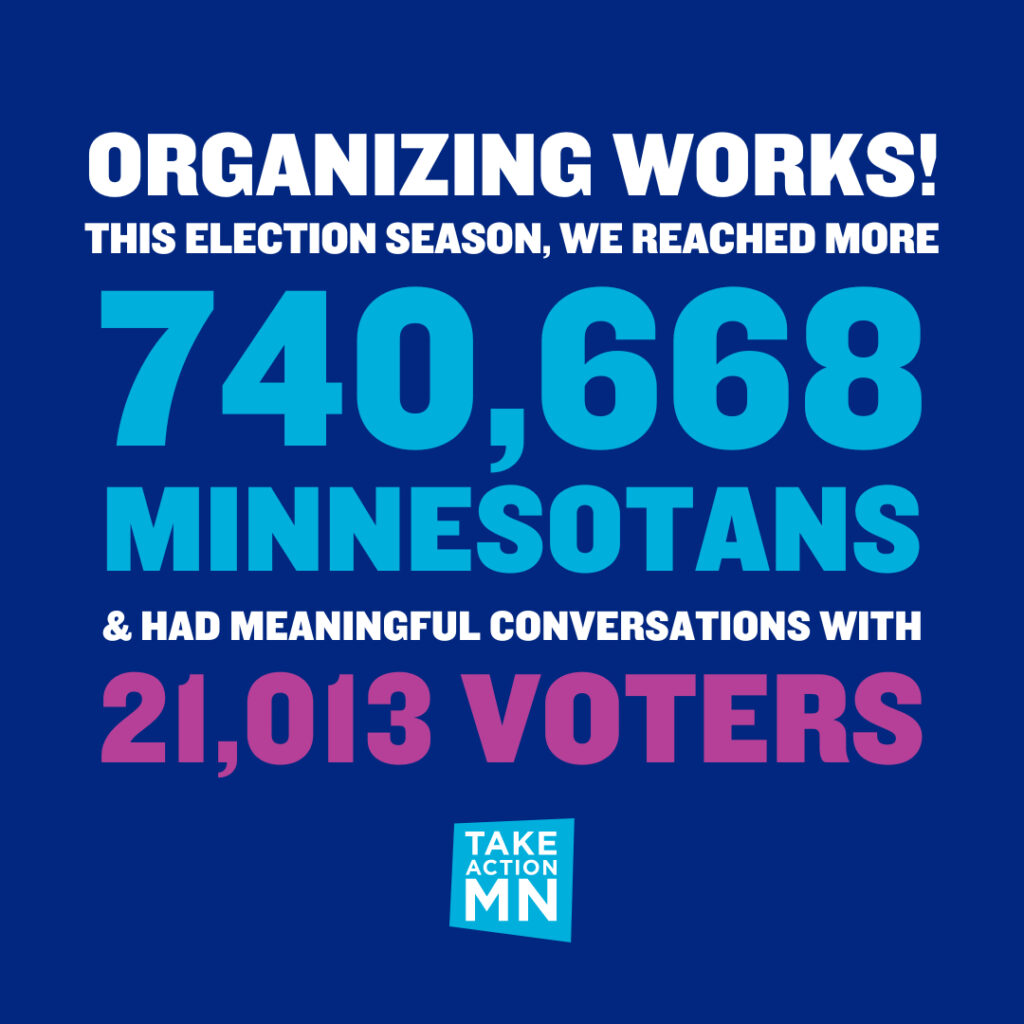 Across Minnesota, we elected champions who are dedicated to working alongside our communities to deliver results that allow people to afford their lives and live with safety and dignity.
We approached this election, not only with clarity about what candidates we would support across the finish line, but also with clarity that voters in our community deserve respect, listening, and ultimately to have their voices heard and their votes counted. Here's what that sounded like:
"Who do you know that's been impacted by the court and jail system?"
"I've been frustrated seeing politicians make excuses for why they can't hold police accountable or build a better system, instead of listening to our stories of how messed up things are."
"Who do you know who has been taken advantage of by an employer or corporation?"
"I know that no politician is going to fix the system on their own, but I want to use my voting power to take a stand. What do you think of that?"
When we treat voters and their stories with respect, we are able to connect and organize people to vote with our shared values and take action. This election, we moved voters in our conversations 48% of the time. In these conversations, we were able to fight back against dog-whistle racist attacks and fear mongering, combat misinformation, and support voters in finding the candidates that best fit their values and priorities.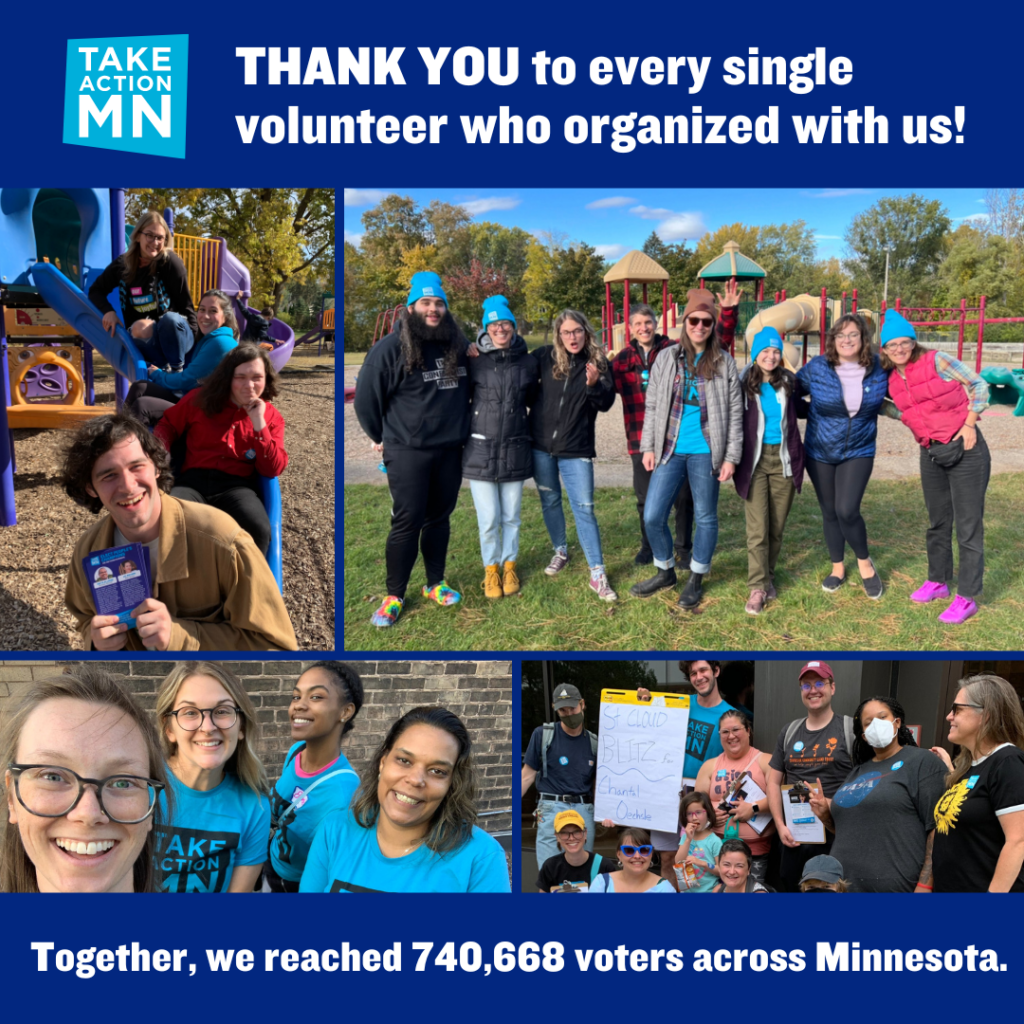 In our work to re-elect Attorney General Keith Ellison, these conversations were key to delivering his win against anti-choice corporate extremist Jim Schultz, who ran a campaign funded by dark money and steeped in fear-mongering and dog-whistle racism. Our Deep Canvass program shared the stories of Keith fighting back against corporate greed, protecting abortion rights, and fighting for the people and invited people to reground away from the fear-mongering in Schultz ads and in their own experiences of the necessity of advocates like Keith fighting for our communities.
In the critical race for Hennepin County Attorney, our endorsed candidate Mary Moriarty won in a landslide, netting nearly 70,000 votes more than her opponent and winning 91.2% of the precincts in the county. Over months of canvassing, calling, and following up, we had conversations with 12,239 voters in Hennepin County and reached a total of 62,956 voters in Hennepin County with offline contacts. Neighbors had a stark choice between more of the "tough on crime" approaches that have resulted in mass incarceration but failed to keep us safe, or people-centered, data-driven approaches that will transform our criminal legal system so that everyone is treated equally under the law, survivors have a say in what justice looks like, and public health is at the center of how we keep our communities safe. After decades of bias in our courts and a dire lack of police accountability, Hennepin County voters were clear: we can't afford more of the status quo. We're thrilled by Mary Moriarty's victory and look forward to working alongside her to transform our courts and hold police accountable in Hennepin County.
We showed up powerfully to support TakeAction members and leaders running in competitive local races, where issues like housing access and honesty and inclusivity in schools were on the ballot. In Ramsey County, TakeAction leader and former board chair Mai Chong Xiong won her race for Ramsey County Commissioner by 213 votes. We reached 6,468 voters in her district, 613 with live conversations. This is more than her total winning voter count of 2,372. This contrast both makes us proud of having such a robust program, and adds urgency to our commitment to investing in the Saint Paul East Side to have the voter engagement they deserve to improve voter access to the polls.
In the Centennial School District, which encompasses the north metro suburbs of Blaine, Centerville, Circle Pines, Lexington and Lino Lakes, we were proud to support TakeAction Minnesota leaders Jessica Schwinn and Laura Gannon in their bids for highly contested – and highly politicized – school board seats. With right-wing extremist opponents sowing fear and division and running on racist and anti-LGBTQ+ platforms, these races were critical to ensuring that every student in the Centennial district has the quality education and supportive, inclusive environment they need to be set up for success in adulthood. We congratulate Jessica on her victory, and we are grateful to Laura for running a courageous, powerful campaign and sending an important message to the Centennial community: Minnesotans see through attempts to divide us through racism, fearmongering, and anti-LGBTQ+ rhetoric; and every person deserves love, care, and the support they need to thrive.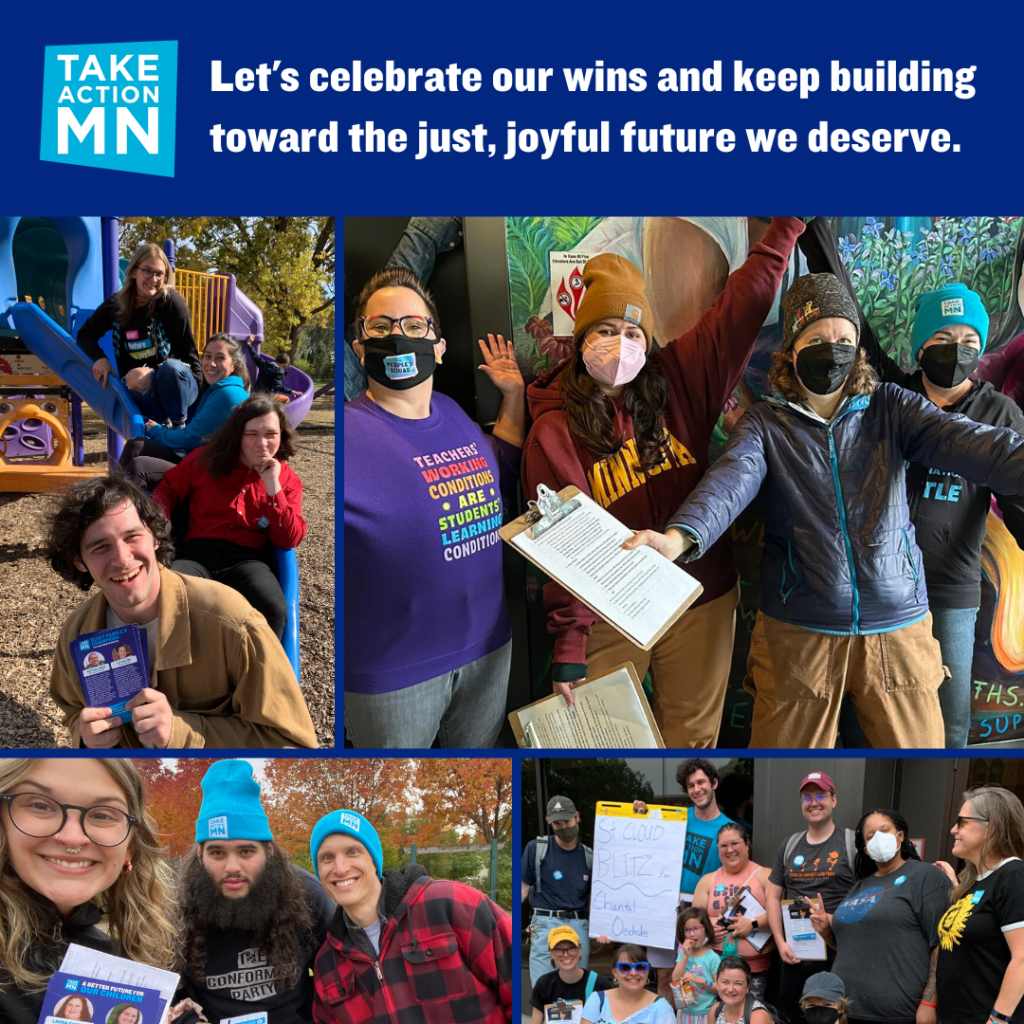 When we organize together, we win.
This year, our program focused identifying a person's voting history and invite them to level up, often by becoming a first-time primary voter, or building a more consistent voting habit in the general election. We also focused on people who we know are most impacted and concerned about our TakeAction community's priorities: accessible health care, climate justice, transforming public safety, and more. That meant we talked to young people, Black and Indigenous voters, people of color, caregivers, drop-off voters, and non-voters. Through our Deep Canvassing program, we found that people we talked to and had a second follow-up conversations with were 28.9% more likely to vote. Compared to traditional voter outreach tactics, our relational, multi-touch, Deep Canvass strategy proved to be incredibly effective at moving and mobilizing voters.
This work is for the long haul. Continued organizing is crucial to building on the momentum of this election cycle. We need to double-down on our investment in proven methods like deep canvassing, narratives that address race and the economy, standing up to corporate power head-on, a commitment to protect the freedom to vote, and the courage to put forward a vision of hope for the future where our democracy includes all of us.
Building a brighter future for Minnesota and beyond
We came into the 2022 midterms knowing that this would be a tough election cycle. Across Minnesota, progressive candidates went up against political grifters backed by an incredible amount of money from corporations and billionaires who fear a true multiracial democracy and a people's economy. We saw a record-shattering level of spending in the midterms fueled by billionaires who invest in extremist politicians they know will govern on their behalf, while we get sicker and poorer as a result.
Despite the steep uphill climb, democrats and progressive delivered wins throughout Minnesota, up and down the ballot. Voters were clear on the high stakes of this election, and voted with vision and determination to let political grifters and their big-money backers know that our democracy, freedom, and health are not for sale.
Tuesday's victories are proof that when voters and candidates take organizing seriously, when they have courageous conversations with neighbors about the sources of pain in their lives, and when they put forward a hopeful, bold vision of a new people's economy and democracy, we can defend our freedoms from the people attacking them. Now it is time to shore up our defenses and deliver the real improvements promised on the campaign trail.
Together, we're ready to build the future Minnesotans deserve.
With Democratic majorities in the Minnesota House and Senate, and a Democratic Governor, now is the time for Minnesotans to unite in our demands to transform broken systems and pass life-affirming policies that protect our freedoms and ensure that each and every one of us can afford to live our lives with safety and dignity – no exceptions.
Guarantee every person has paid time to care by passing Earned Sick & Safe Leave and Paid Family & Medical Leave
Expand MinnesotaCare and create a Prescription Drug Affordability Board so that no one must go without health care or medicine.
Take immediate action to address the climate crisis head-on, and hold corporate polluters accountable by passing the 100% and Frontline Communities Protection bills
Ban no-knock warrants and build community-centered, public health focused safety systems to disrupt harmful patterns of mass incarceration that put all of us in danger.
Fully fund our schools and invest in the childcare families can afford
Invest in affordable housing so that everyone has a safe, stable place to live.
Make Minnesota a national leader in reproductive rights, abortion access and health care access by implementing UnRestrict MN's Leadership Agenda for Abortion Access.