Dear Friends,
Patrick and I started writing this as the intro for TakeAction's Friday news digest (sign up for our email to get on the list) and it got long. Happy to share this on the blog.
It's going to be a long and unknown road to the November election. Make no mistake, we're all in this together.
If there's anything a worldwide pandemic highlights, it's that we truly are tied together. We're interconnected & interdependent. Across the spectrum, so many of us are striving for a politics that's recognizes this, that reflects a deep care for humanity and is grounded in human solidarity.
We woke up again today to heavy news. Vandalism of a Minnesota mosque and Muslim-owned businesses (donate here to help); a Nazi unfurling a Swastika at a Bernie Sanders rally; Nathanial Woods, a Black man executed by the state of Alabama.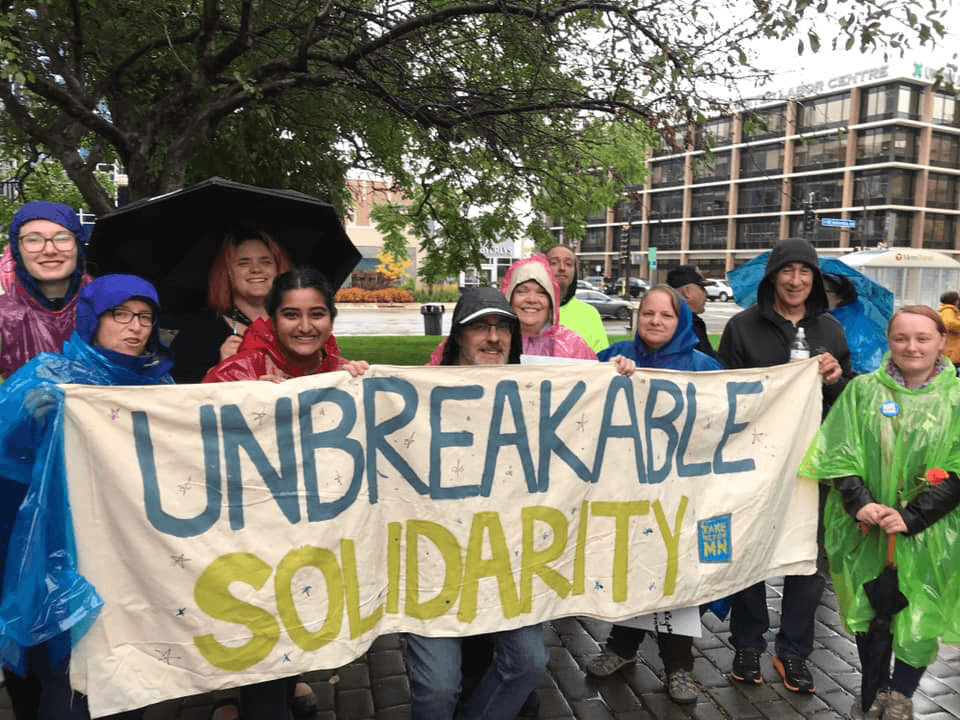 What we're facing in the world is bigger than the presidential election—we're taking on rising white nationalism (in the US and globally), and systems and forms of oppression that concentrate wealth and power in the hands of the few while our neighbors and people around the world struggle for bread crumbs.
The answer is that will carry us forward isn't fear or anger. It's solidarity; something working people in the labor movement know well. We are tied together—this means a harm to one is a harm to all. And we all do better when we all do better.
When we fight for someone we don't know, as Bernie Sanders says, it's not because we're martyrs. Rather, it's because our liberation is tied together.
Mayor Buttigieg, running as the first openly LGBTQ presidential candidate: your struggle is our struggle. To all of the women who ran, Senator Warren, Senator Klobuchar, Senator Harris, and Senator Gillibrand: you faced misogyny at every turn of the race and in your entire careers. Your fight is our fight. Both Senator Harris and Senator Booker should have made it farther, and their candidacies marked and improved the early field (there's still so much love for Kamala on my Twitter feed from Black women I follow). Your fight is our fight. We know how meaningful Andrew Yang's candidacy was to so many Asian Americans and second generation immigrants; your fight is our fight. The list goes on.
As the presidential primary continues, we'll continue working with national partners to elect Bernie Sanders–we're clear he's the only candidate proposing solutions that match the scope of the problems we face and he has the coalition behind him to win. We also know that the presidential race is just one piece of a much bigger political puzzle–one that's going to take time and massive amounts of people and a multiracial movement to solve. We have overcome tough times before; we can do it again.
TakeAction is building progressive infrastructure that's made to last. Text ACTION to 79606 to join us.
With love and solidarity,
Kenza Hadj-Moussa and Patrick Burke