BREAKING: The heads of thirteen climate and environmental justice organizations are on Capitol Hill in Washington, D.C. right now, risking arrest to protect climate justice legislation and denounce Senator Manchin's #DirtyDeal.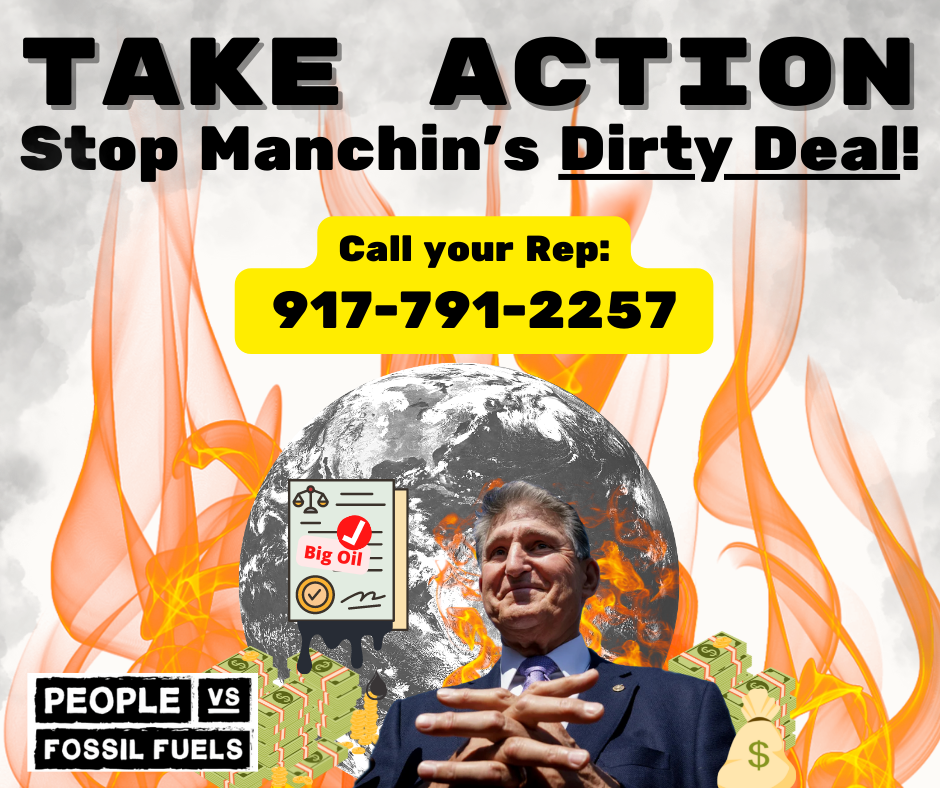 You might be asking "But didn't that just get passed in the Inflation Reduction Act?"
Yes. Some (but not all) climate provisions did get passed just a month ago. But already, some senators – including Minnesota's Tina Smith and Amy Klobuchar – are on the verge of supporting a dirty side deal that undoes the IRA's historic and necessary climate justice provisions.
Our comrades in D.C. are saying 'enough,' and we need to back them up. Add your voice to the chorus of frontline workers and everyday people saying 'enough.'
Call and email your Senators Tina Smith and Amy Klobuchar to reject the Dirty Deal.
Senator Joe Manchin negotiated this side deal behind closed doors in exchange for his support of the Inflation Reduction Act (IRA). It would gift Big Oil with approvals on toxic, costly fossil fuel projects whose emissions would outstrip any of the emission reductions enabled by the IRA.
Minnesota Senators Tina Smith and Amy Klobuchar have supported sweeping climate justice legislation in the past, but right now, they are showing they are captive to corporate interests and Big Oil.
Now, Sen. Schumer is pushing this Dirty Deal forward alongside the government funding bill so climate champions can't oppose it without risking shutting down the government.
Call Senators Tina Smith (202) 224-5641 and Amy Klobuchar (202) 224-3244 to stand with other Minnesota leaders (Congress members McCullom, Omar and Phillips) to oppose the Dirty Deal. We need all our Minnesota leadership telling Sen. Schumer that it's undemocratic to rush forward the dirty deal by tying it to necessary government funding.
Then send an email. It takes five minutes.
Sample Phone Script:
Hi, my name is ____, & I'm from ____.
As your constituent, I'm calling on you to do everything possible to block Senator Manchin's "permitting" proposal, introduced yesterday as the Energy Independence and Security Act. This Dirty Deal should not be attached to the necessary funding to keep the government open. Make it stand alone. We simply cannot fast-track more fossil fuel pollution poisoning our communities, contaminating our water, and destroying our climate. Stand with the communities most impacted by fossil fuels and the climate crisis and stop the dirty deal!"