On Saturday, October 15, join us for a deep canvass door knock blitz in support of Laura Gannon and Jessica Schwinn – two outstanding candidates for school board in the Centennial School District.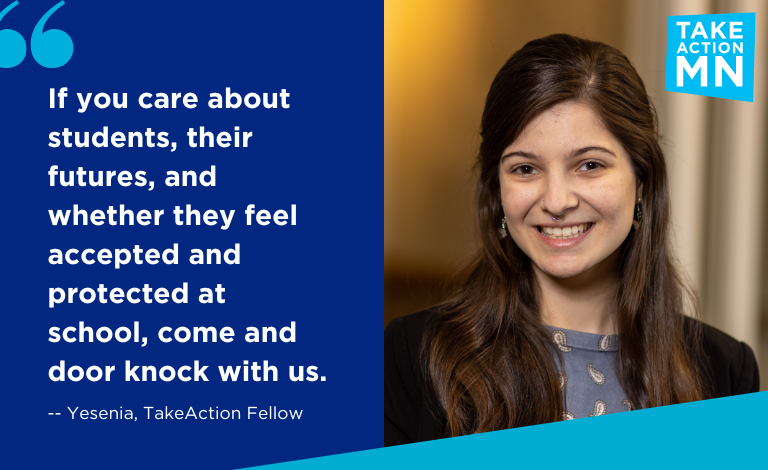 Why sign up? We recently sat down for a Q&A with Yesenia, a Movement Politics Fellow at TakeAction and DyAnna Grondahl, our Lead Organizer, to get their take. Read our conversation below. 
---
LP: Why should folks turn out to this event?
Yesenia: You should come if you care about students, their futures, and whether they feel accepted and protected at school. We're getting out the vote for two incredible candidates, yes. But this is bigger than one election. We're building a movement of people who are passionate about schools and communities that are safe and inclusive for everyone. This event is a great opportunity to connect with other Minnesotans who are ready to act. Also, we're going to have so much fun!
LP: Yesenia, as a TakeAction fellow, you talk with many voters each day. What advice do you have for folks who've never canvassed before?
Yesenia: I've talked to a lot of folks who are very invested, but canvassing feels out of their comfort zone. I tell them: it's all about trying something new. Take on a little bit of a challenge. Be part of something that matters to you. When we push ourselves a little bit and find something meaningful – that's the best feeling. If it's not a fit, that's ok. But show up this one time before you decide.
DyAnna: I'd also note that our approach to canvassing is different at TakeAction. We use an approach called deep canvassing, focused on deep listening and compassionate curiosity. In this framework, conversations with voters aren't transactional. We're there to listen and give folks an opportunity to talk through their experiences and how they connect to the election and our broader movement.
LP: What's at stake in the Centennial School Board election?
DyAnna: The race is incredibly important. You've likely heard the Right-wing fearmongering about Critical Race Theory and curriculum that addresses sexual orientation and gender. That's happening across Minnesota – including in the Centennial school district.
Voters in this area have a choice between candidates like Jessica and Laura who put the belonging and safety of students first – across race, gender, and sexual orientation – and candidates who are more concerned with controlling students and teachers, making sure how they act and what they learn aligns with a conservative agenda. Those candidates try to use fear to divide parents and distract them from key issues that need to be addressed in our schools right now – like making sure classrooms are fully funded and students can feel safe at school.
LP: What makes Jessica and Laura stand-out candidates for school board?
DyAnna: So many things! Jessica and Laura are running on three core values: safety, transparency, and equity. For them, safety means safety from gun violence and ongoing risks related to COVID. It also means students, teachers, and staff feel safe to be themselves at school.
Transparency means being clear with parents about their values, so parents know where they stand on the issues. Jessica and Laura also want to be clear about what they can and can't do as school board members. These two things are essential to building trust with parents and community members and acting powerfully in elected office.
Finally, equity is about ensuring all students feel like they belong and have a chance to succeed – across race, gender, and sexual orientation. Laura and Jessica care about putting forward a proactive vision for equity in the school district – in addition to defending against Right-wing fearmongering, book bans, and the like.
I'll also just say Jessica and Laura are incredible people. I met Laura organizing with the Student Debt Cancellation Crew. She has two kids, one of whom is in the Centennial School District. I saw her get deeply involved in the school district when COVID hit, organizing parents and community members for safety measures at school. When she recognized that fear and division were at the center of school board discussions versus the well-being of students, she decided to get in the race.
Jessica gets it. As a Centennial school district graduate, a certified teacher, and owner of a tutoring business, she's uniquely qualified for this role. Jessica also runs a support group for teachers who have left the profession. She understands the challenges that teachers are up against to provide the best education possible for students, and she wants to do her part to make sure teachers can do their jobs well. When teachers succeed, students do too.
LP: Yesenia, what was your experience in public school? Was there a teacher who made an impact on you?
Yesenia: I graduated in 2019, so it hasn't been very long since I was in school. I went to Red Wing public schools. The teacher that stands out is my AP Language Arts teacher. It was a challenging class, but she made it such a welcoming environment. She wouldn't take any BS from anyone and would make sure that her students were cared for as individuals – more than just academically. In Red Wing, there's not a lot of queer representation – or at least there wasn't in 2019. As a queer person, I knew I could come out to her if I wanted to. She made it known that she was an ally.
LP: Yeah, that's huge. I really wish there had been more safe spaces for queer students at my high school. What comes up for you knowing that there are school boards in Greater Minnesota talking about cracking down on conversations around sex and gender and not allowing teachers to display safe space stickers and other signs of welcome for LGBTQIA+ students?
Yesenia: Those stickers are the exact types of symbols that made me feel safe and welcome in the classroom. I think that if we stop allowing dialogue, or we stop allowing those small symbols, kids are going to be pushed back into the closet. We're going to see higher suicide rates, and we're going to see kids resort to other things when they can't get support from people around them. It's just such a foundational issue we need to address. It shouldn't be political to say that all are welcome here, or that this is a safe space. It's just human decency. These are kids. They're still developing mentally, emotionally, physically. They should be given the space to feel safe and grow into themselves in all these areas. 
LP: What would it mean to have leaders like Laura and Jessica, who prioritize students being included and valued at school – across race, gender, and sexuality and income and all those things?
I think it's a necessity. Everyone deserves to feel like they belong.
A school board position doesn't have the same amount of power as the President of the United States, but who do we see more on the local level? The policies our school boards make affect our families directly. And the people we elect to those school boards reflect our values and priorities as a community.
LP: Thanks, DyAnna and Yesenia. I appreciate you having this conversation with me. Can't wait to knock doors with you! 
---
Sign up now to support Laura, Jessica, and schools and communities that protect, value, and include every person. Knock doors with us on Saturday, October 15!