Contact: Kenza Hadj-Moussa, 612-386-9556
NEWS RELEASE
TakeAction Minnesota releases new podcast on prescription drug prices
(St. Paul, MN)—At some point, nearly all of us will need a prescription drug to be well or stay alive. But out of control drug costs have millions of Americans worried, especially in light of the COVID-19 pandemic.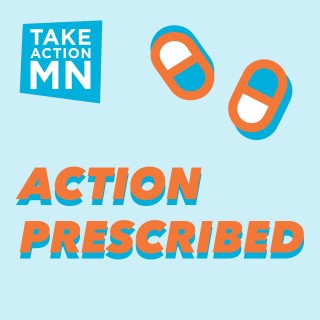 Today, TakeAction Minnesota released Action Prescribed a new podcast available on iTunes. The three-part series explores why drug prices are so high in the U.S., the impact on patients, and what we can do about it.
Produced in an easily digestible format, each episode takes listeners on a journey to a simple conclusion: we can change the rules. After all, drugs don't work if people can't afford them.
Health for Sale explores the game Big Pharma plays to jack up drug prices. In A Day Makes Such a Difference we hear from Ramae Hamrin, a patient advocate whose life turned upside down the day she was diagnosed with cancer. The final episode Action Prescribed looks at solutions.
Interviews took place during the summer of 2020. Guests speak about the publicly funded race for COVID-19 vaccines and treatments, as well as the impact of high drug prices on Black and brown Americans who face compounding health challenges because of systemic racism.
Background
Affordable medicine is a matter of life and death. Minnesota has emerged as a national leader in its commitment to addressing out of control drug prices. In 2020, the state Legislature passed the Alec Smith Emergency Insulin Act and Prescription Drug Price Transparency Act with bipartisan support and internationally recognized advocacy by Nicole Holt-Smith and James Holt. Last week, the House and Senate DFL announced affordable prescription drug prices as a key policy issue next year in the Minnesota Values Project.
U.S. Senator Tina Smith is chief sponsor of the Make Medications Affordable by Preventing Pandemic Price-Gouging Act—critical legislation to ensure that publicly funded COVID-19 vaccines and treatments are affordable, accessible, and available to all.
With travel restrictions to Canada due to COVID-19, many Minnesotans who drove across the border for affordable medicine are scared for their lives. All of us have a stake in sensible policies that put life and health above corporate profits.
About the Guests
Attorney General Keith Ellison is leading work to lower drug prices in Minnesota. In 2020, the Attorney General's office released a 94 page report on the year-long Task Force on Lowering Pharmaceutical Drug Prices. The report, referenced throughout the podcast, received a prestigious national award this week by National Conference of State Legislatures.
Ramae Hamrin is a patient advocate and mother of three based in Bemidji, MN.
Margarida Jorge led the national effort to pass and defend the Affordable Care Act. A campaign veteran, she now leads the Lower Drug Prices Now campaign in Washington, D.C.
Where to Listen
Listen to the podcast on TakeAction Minnesota's website or iTunes.
The podcast was produced by Laura Proescholdt, a candidate at the Humphrey School of Public Affairs.
###
TakeAction Minnesota is a statewide, multiracial grassroots organizing advancing justice and equity through organizing, policy, and campaigns. Offices are located in St. Paul, Duluth, and St. Cloud.