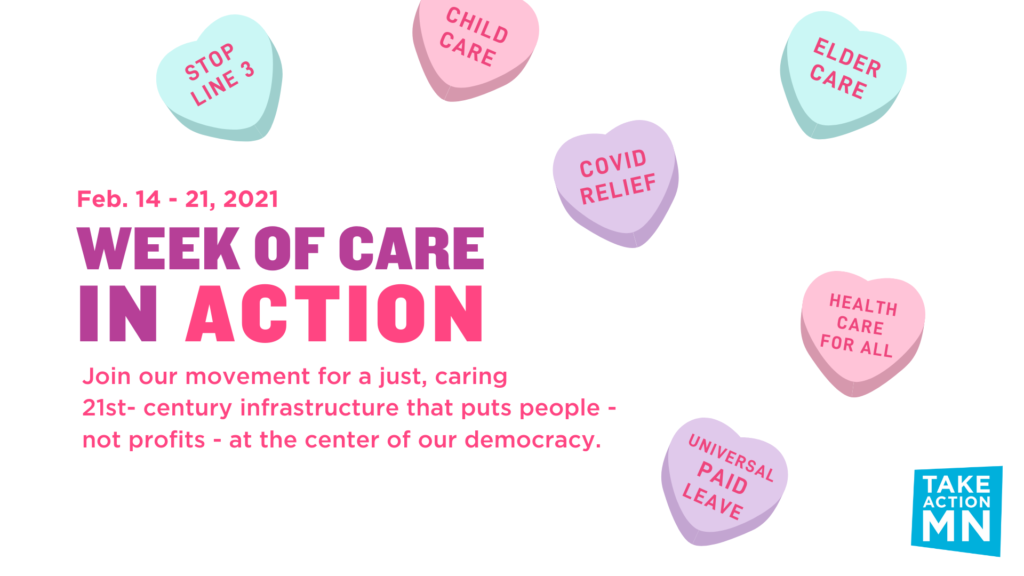 TakeAction Minnesota is excited to expand our people-centered advocacy at the Federal level in 2021. With a Democratic majority and president, we have an opportunity to re-imagine how our government works, and who it works for.
During our Week of Care in Action, TakeAction members will be meeting with elected officials to talk about the issues and hardships Minnesotans are facing right now – and the bold solutions we know are within reach.
We'll push them to:
Halt construction on Line 3
Pass a comprehensive COVID relief bill that includes support for family caregivers
Establish a 21st-century caring infrastructure that includes Medicare for All and Universal Paid Leave
During our Week of Care in Action, we'll have different ways for YOU to take action with us to show our electeds that the people of Minnesota are clear on what we need and what we deserve.
Join our Week of Care in Action to:
Ensure our elected officials hear what we need for a caring economy that puts the people & planet first.
Connect with Minnesotans in Greater MN and the Metro through Deep Canvassing and Textbanking about #StopLine3, and the COVID relief and systems of public safety that we all need.
Confront isolation with Care + Action
Text CARE to 79606 to receive daily updates during the Week of Care in Action.