TakeAction Minnesota Caucus and Convention Training
February 18, 2021 @ 5:00 pm

-

7:00 pm

Free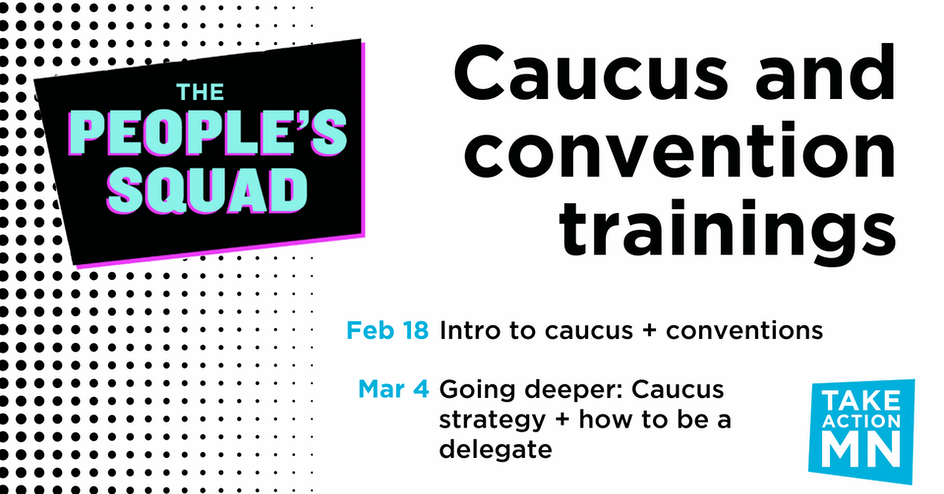 TakeAction Minnesota Caucus and Convention Training
Please join us for a two-part Caucus and Convention training!
Part 1: Thursday, Feb. 18, 5:00 – 7:00 p.m. (sign up here)
Part 2: Thursday, March 4, 5:00 – 7:00 p.m. (sign up here)
Caucuses and party conventions are an essential way to engage in meaningful conversations with our neighbors, participate as decision-makers, support those who will co-govern with us, and ensure direct engagement in our electoral process at the grassroots level.
A caucus is a gathering of neighbors to discuss important issues, meet candidates,  vote on resolutions, and elect delegates and alternates to the Organizing Unit Convention. The Organizing Unit Convention is where delegates will endorse candidates for elected offices, present and vote on resolutions, conduct local party unit business, and influence our electoral process, giving people the ultimate power to impact the outcome directly.
The Caucus and Convention process is vital for folks to influence our electoral process and strengthen our democracy. Participating in organizing units at the local and state level through the caucus and convention process is how we collectively build more people-centered governance. A great bonus is that when you caucus, you'll get to know your neighbors and build robust and lasting relationships with folks who share your values and vision for the future.
At your caucus, there will be elections for those who want to serve as delegates and alternates, and ultimately, represent their precincts at the Organizing Unit Conventions. Important resolutions and issues will be discussed and added to the party platform and action agenda if supported by the majority. You'll have the opportunity to make a presentation and share a resolution or issue for consideration, shaping the conversation and influencing the party platform. Caucus participants will vote on vital issues, elect precinct chairs, and hear from local candidates running for elected office.
Have questions? Email us and we'll sort it out together. We look forward to seeing you on February 18 and March 4 to learn more about the caucus and convention process and build people-centered power together!