Rally highlights and a message to new Bernie Sanders supporters
Dear friends,
Hello and thank you for reading this! My name is Kenza and I'm the public affairs director at TakeAction Minnesota.
Tonight, TakeAction joined striking workers, farmers, teachers, nurses and thousands of Minnesotans at the Saint Paul River Centre to rally with Bernie Sanders and the movement behind him. Read our endorsement statement here.
In the last 24 hours, the presidential field has changed considerably.
On Super Tuesday, TakeAction Minnesota is invites you to join the statewide, multi-racial, multi-generational, gender diverse movement behind Bernie Sanders: let's fight for some we don't know.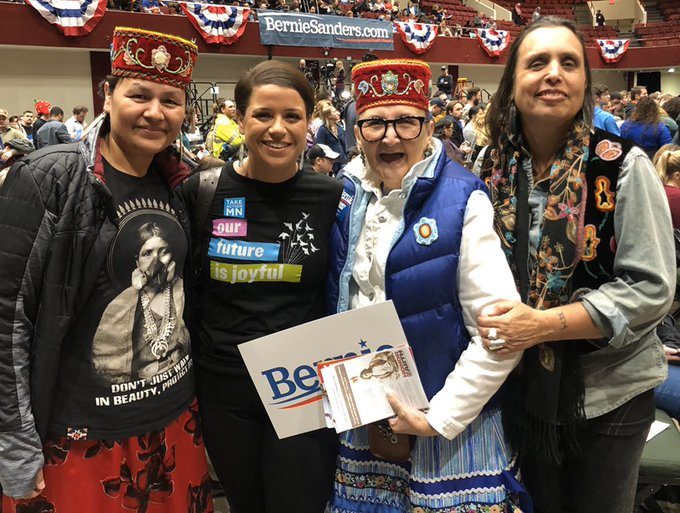 If you're still deciding who you'll support, this is post is especially for you (there's still time before the polls close at 8 p.m.!).
If you've been a part of TakeAction (or are familiar with our work) and you're on the fence, we invite you, with love, hope, and clarity, to join us in voting for Bernie Sander tomorrow.
We invite you knowing how important your vote is, deeply respecting your discernment process.
We're asking you to join us because the challenges we face are bigger than one issue or election, and the solutions require a movement–all of us, pulling together and moving forward.
That's what Bernie Sander's campaign is about. It includes everyone, no exception–and it's never too late to join.
If you're looking for powerful context and analysis from the grassroots, I urge you to read this blog post from Megan Boyle, a leader with TakeAction's Women of Color table, and this thread from our organizing director, Sabrina Mauritz.
If you'd like to have a conversation with a TakeAction Minnesota leader about our strong and clear endorsement for Bernie Sanders, send me an email and I'll connect you: kenza (at) takeactionminnesota.org.
Let's harness the power of an organized, grassroots movement that's bigger than the candidate and is about us. This is what we need to win in November and enact the bold, people-centered change our country needs.
Bernie Sanders has a powerful movement behind him, from state organizations like TakeAction Minnesota to national groups like Make the Road Action, People's Action, CPD Action, Dream Defenders, Sunrise Movement, US Youth Climate Strike and more.
Together, we have what it takes to care for each other and build the better world we deserve.
We need everyone in, and nobody out. Join us on Super Tuesday. Find your polling location and vote for Bernie Sanders and the movement behind him.
Ready to get involved? Text ACTION to 79606.
With love and solidarity,
Kenza
P.S. My favorite clip from last night's rally!