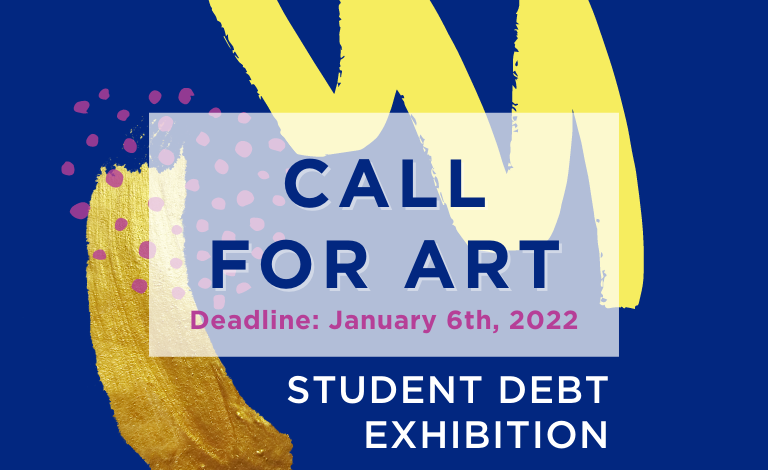 Art is a tool for connection. It elicits emotion while transporting artists and viewers to new realities. Put simply: art shows us what's possible.
That's why the TakeAction Student Debt Cancellation Crew is issuing this Call for Art. In a digital exhibition, we'd like to show the contrast between a country with $1.8 trillion of federal student loan debt and what would be possible for ourselves and our loved ones if our elected officials cancelled student debt.
This exhibition is a way to:
connect with more Minnesotans impacted by student debt
bring more attention to the movement to #CancelStudentDebt
reach others who advocate for student debt cancellation while opening the eyes of people who oppose it
create a sense of community for people with student debt who imagine a world without the burden of never-ending payments and the social stigma and guilt of having student debt.
The COVID-19 pandemic is pulling back the curtain on how predatory education lending impacts our daily lives and the lives of our loved ones. With deferment for student loan payments set to expire in January, we're coming together to demand that President Biden cancel student debt immediately.
Call for Art theme and potential prompts
THEME: Depict the impacts of student debt on you, your loved ones, or your community and/or show what would be possible for you, your loved ones, or your community if elected officials cancelled student debt.
Optional prompts you can use to address the theme include:
How would individual lives or communities change with student debt cancellation? (for example, ability to pay bills, rent, mortgages, healthcare costs, childcare, etc.)
Who does student debt affect? (for example, self-portraits, family photos, groups, etc.)
Artists may also submit what their world will look like if President Biden doesn't cancel student debt and payments continue in February 2022 (fear, anger, experiences, monthly payments, hopelessness, ability to pay bills, rent, mortgages, healthcare costs, childcare, etc.)
Our Crew will accept all submissions as long as the work addresses the theme outlined in this Call for Art.
Selection process
The Crew will accept all appropriate work that addresses the Call's theme and its requirements (see submission checklist below). We'll accept all art forms, including the visual, graphic, plastic, and decorative arts (for example, 2D, 3D, animation, graphic design, video, sculpture, metal, embroidery, textile, spoken work, performance art, dance, and more).
Because the goal of this exhibition is to raise awareness and mobilize for student debt cancellation, with your submission you agree to allow TakeAction Minnesota to share your piece and artist statement on TakeAction's social media and to use these items for promotional activities. All images and media of the art will remain under copyright and ownership of the artist as the artist's property.
The crew will accept and review submissions sent to DyAnna@takeactionminnesota.org by January 6th. The exhibition will be live by January 8th and celebrated officially during the Debt Collective's Student Debt Cancellation Week of Action (January 18th-22nd). Artists have until January 5th to submit any questions or inquiries regarding this Call for Art, after which questions will not be addressed.
Submission checklist
Send your application to our Call for Art via email with subject line that reads: "Digital Exhibition for Student Debt Cancellation Application" to DyAnna@takeactionminnesota.org.
Your submission must adhere to these guidelines:
Include up to 3 high-quality images of ONE of your works that addresses the prompt, made in the last 2 years. All images of 2D work must be cropped to show only the artwork, 3D work must be photographed using a white background.
These high-quality images of your work should be 72 DPI, minimum 800 pixels wide.
Images must be .JPEG or .PNG, and files under 10MB and attached in one email
Images/art may be previously published or submitted
Label images as: LASTNAME_01
Include a statement of interest regarding why you addressed this call for art, and what Student Debt Cancellation means to you (250 words maximum).
Include a short bio with your name, pronouns, town/county. If you're comfortable sharing, include your occupation and your debt amount (250 words maximum).
Deadline for submission: January 6th, 2022 at 11:59 PM CST
If you have any questions, please email DyAnna at DyAnna@takeactionminnesota.org
Join the Student Debt Cancellation crew! Learn more.