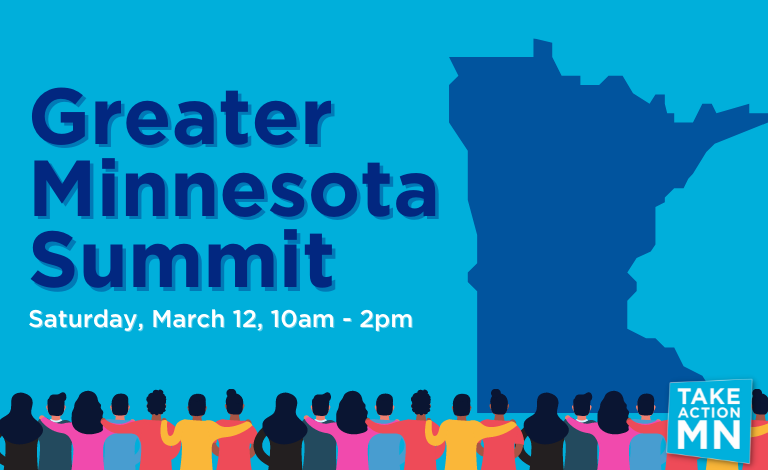 Join us at the Greater Minnesota Summit on Saturday, March 12 from 10am to 2pm via Zoom. As the Right tries to divide us by stoking fear and misinformation in our communities, we know what we need – and we're going to organize for it. Let's build power for a Greater Minnesota where everyone can thrive, no exceptions.
Greater Minnesota Summit
Saturday, March 12, 10am-2pm via Zoom

REGISTER FOR THE SUMMIT
At the Summit, we'll
Connect with people from across Minnesota who share our conviction that all of us – Black, brown, white, young and old – should have access to what we need to live joyful, dignified lives, and a say in our futures;
Tell our stories;
Talk about what's happening in our communities and why; and
Build skills to organize our neighbors, run for office, or support a neighbor running for office.
Together, we'll lay a foundation to win on the issues and races we care about during the 2022 election season.
Who should come to the Summit?
Sign up for the Summit if you live in Greater Minnesota and are
Curious about what it takes to build power with your neighbors
Looking to connect with other progressives
Interested in running for office or campaigning to support candidates you believe in
Angry, frustrated, hopeful, tired, ready, hungry for something better
What's at stake?
Now more than ever, it's critical we build power together in Greater Minnesota.
Right-wing think tanks are targeting our school boards, stoking anger about mask mandates and whipping up fears around school curriculum that teaches our kids to reckon with racism, sexism, and homophobia.
Racially-motivated hate crimes, anti-trans rhetoric, and pandemic misinformation are impacting the wellbeing of our children, loved ones, neighbors, and ourselves.
The GOP lawmakers who represent us at the state Capitol are introducing bills that roll back our reproductive rights and freedom to vote – rather than making sure we have a say in our futures and access to the resources we need to thrive.
We deserve better.
What could we have instead?
A Greater Minnesota where:
👵🏼👳🏽‍♂️👧🏿 All kinds of people – Black, white, brown, young, old, newcomer or native – are safe and thriving in our communities.
🙋‍♀️ You are leading – organizing your neighbors and holding elected office – and we have a say on the issues that impact us.
💗 Love and care drive our decisions – not fear and hate.
📚 Our schools are fully resourced, and our kids learn the truth about our history, reckoning with the past so they too, can lead with love and care.
✨ We are connected, organized, and powerful.
How do we know we can get there?
Organizing is in our bones. For generations, from Thief River Falls to Winona, and from Grand Marias to Worthington, Minnesotans have united across differences to fight for our rights. It's a folk tradition that we're all part of — from organizing for free public high schools at the turn of the 20th Century, to farmers who organized to save each other's land through the Great Depression. Right now, we can see parents and community members coming together to:
Ensure our public schools deliver an honest education and protect and include every student – regardless of race, gender, or sexuality
Denounce hate crimes and support families and individuals who have been targeted by them
Call on our elected officials to deliver on what we need – from affordable healthcare and prescription drugs to cancelling student debt
Together, we are powerful.