We know you care about fighting for our families, communities, and environment. But navigating health care policy can feel as frustrating as actually navigating our current health care system (IOW: really, really frustrating).
We're less than six weeks away from the end of the 2019 legislative session. It's a lot to keep up with—but we've got you covered. We put together a health care cheat sheet to break down what's important this session.
Your health care study guide
Minnesotans voted in 2018 for health care that puts people first. Governor Walz, Lt. Gov. Flanagan, and the House DFL heard us loud and clear. They're standing with Minnesotans who have been calling for more affordable, accessible health care options. But a handful of elected officials are standing the way of the people.
Our health care study guide breaks it down for you.
PROTECTING THE HEALTH CARE PROVIDER TAX
Background: In 2011, the Legislature struck a deal with the Governor to "sunset" the health care provider tax on December 31, 2019—this year. The health care provider tax funds the Health Care Access Fund, the key funding source for MinnesotaCare, Medicare, and other public health programs. Without it, the state would lose nearly $700 million a year for health care programs, putting thousands of Minnesotans' health care in jeopardy.
Current Update: Funding for the provider tax is currently in the House Health and Human Services (HHS) Omnibus Bill. It is cut from the Senate HHS Omnibus Bill. Differences between the Senate HHS Omnibus and House HHS Omnibus will be negotiated in the last quarter of session. (4/10/19)
Take Action: Call your state senator and state representative right now. Tell them to protect MinnesotaCare and Medical Assistance by repealing the sunset of the provider tax today.
STOPPING THE PRIVATIZATION OF OUR HEALTH CARE MONEY
Background: Until 2017, state law required that only nonprofit companies could sell health insurance in our state. Outside interest groups and a handful of politicians changed that law and it goes into effect this year. Minnesotans didn't ask for this. Without legislative action this session, for profit companies will be able to legally walk away with billions of dollars in public health care assets. That's our money, and it should go to our care.
Current Update: H.F. 533/S.F. 1984 would pass consumer protections that would mandate that the Attorney General has to review and approve the transfer of public interest assets if HMOs convert from nonprofit to for-profit. The House has had hearings on H.F. 533, but there have been no Senate hearings to date (4/10/19).
Take Action: Tell your state legislators to stop the #HealthCareHeist.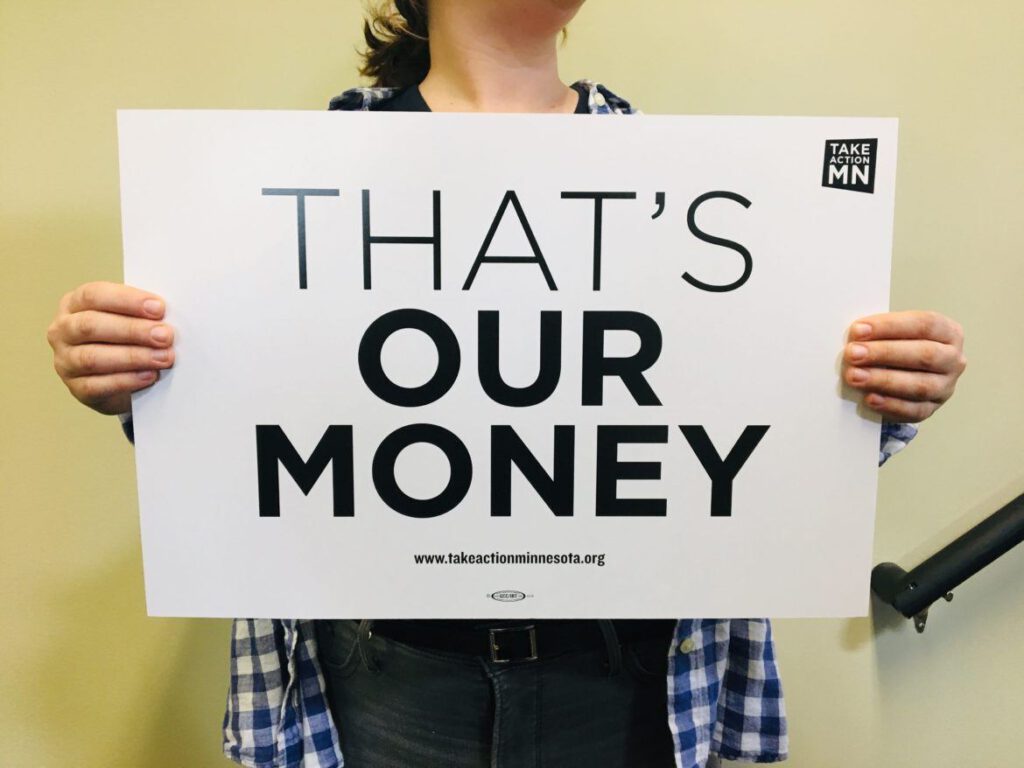 PRESCRIPTION DRUG AFFORDABILITY
Background: Right now, too many Minnesotans are struggling to afford necessary medical care. A recent study by the Healthcare Value Hub revealed that 40 percent of Minnesotans reported cost-related barriers to care, and many reported not filling a prescription (16%) or cutting/skipping a dose (12%).
Current Update: House DFL have introduced a slate of bills designed to address insulin costs, price gouging, price transparency, and Big Pharma. Most of the bills have not had a Senate hearing at this time (4/10/19). *This one-pager from the Minnesota House DFL is a handy shortcut.*
Take Action: Read TakeAction Minnesota member McKenzie's story about why this fight is personal.
ONECARE AND DENTAL CARE ACCESS
Background: In February, Gov. Walz introduced his ONECare proposal. You can read more about it here and why we love it here. A major component of that proposal is providing a health care buy-in option called ONECare. This would be a "platinum-level buy-in" on the individual market that would be accessible to Minnesotans statewide. And get this—it includes dental, vision, and behavioral health services. The proposal would also streamline dental benefits and increase dental care access for Minnesotans.
Current Update: Funding for ONECare is currently in the House Health and Human Services (HHS) Omnibus Bill. It is not included in the Senate HHS Omnibus Bill (instead, it blocks the government from ever setting up a health care buy-in ?). Differences between the Senate HHS Omnibus and House HHS Omnibus will be negotiated in the last quarter of session. (4/10/19).

Take Action: Share with us your health care story and why you believe all Minnesotans deserve affordable, accessible care.
EXPANDING MINNESOTACARE
Background: This one is a little wonky, but trust us—it's important. While the Trump administration attempts to once again rollback the Affordable Care Act (ACA) (yeah, it's ridiculous), Minnesota champions are fighting to strengthen it. Right now, employee-based insurance affordability under the ACA is determined by the cost of insuring one employee. The added cost of family members can push affordability out of reach, but leaves family members ineligible for other options. It's known as the "family-glitch" and H.F. 273/S.F. 940 would fix it.
Current Update: H.F. 273 has been heard in the House. It has not had a hearing in the Senate to date. (4/10/19). It's included in the Governor's revised budget.
Take Action: Have you been affected by the family glitch? Reach out to us and let us know: aliya@takeactionminnesota.org.
SENATE HHS OMNIBUS BILL
Background: In April, the Senate released their HHS Omnibus Bill, S.F. 25452—and we're not impressed. Instead of expanding health care, it sunsets the health care provider tax. Instead of strengthening public health care programs, it cuts vision and dental benefits. It blocks the government from ever setting up a health care buy-in and undermines our government's ability to check the private market.
Current Update: The bill has been heard in the Senate. Differences between the Senate HHS Omnibus and House HHS Omnibus will be negotiated in the last quarter of session. (4/10/19).
Take Action: Read more about our concerns about the Senate HHS Omnibus Bill.
ICYMI Readings
Nobody has time to do all the readings. Here are some articles that you should definitely give a read (or at least a skim). Got other recommendations? Let us know!
Watch and Learn
More of a visual person? Check out some of our recent health care videos on our Vimeo channel.
Who's Who
Here's a tip: want an easy way to stay on top of what's happening in health care this session? Follow these folks on Twitter.
@TakeActionMN
@SEIUmn
@ThisIsMedicaid
@mnhouseDFL
@EducationMN
@ISAIAH
@MainStreet_MN
@mnaflcio
@LSPnow
@mnnurses
@ABetterMN
@GenderJustice
@MNBudgetProject
@cdfmn
@AFSCMEMN5
@ppmn
And join the conversation with these hashtags: #mnleg #HealthCareNOW #MNCare4All #ONECare #ReclaimOurCare #DontLetTheSunSet
Glossary
We are coming together to fight for a system that is easy to understand and even easier to navigate. Let's break down some common terms floating around in health care policy this session.
HMO: An abbreviation for "health maintenance organization." It just refers to health insurance companies in the U.S. that provide health insurance for a fixed annual fee. These, along with "PPO" plans ("preferred provider organizations"), are the most common plans available in the U.S. health care system marketplace.
MNSure: Minnesota's health insurance marketplace, where individuals and families can purchase their health insurance directly.
MinnesotaCare: A public health care program for Minnesotans earning up to 200% of the federal poverty level.
Medical Assistance: Minnesota's Medicaid program and our state's largest health care program, also known simply as "MA."
Omnibus Bill: While not specifically a health care term, an omnibus bill is comprised of more than one pieces of legislation that are bundled and voted on together. Often is tied to budget and spending bills.
Reinsurance: Minnesota program designed to keep premiums down by providing relief directly to health insurance companies. (We think it's a patchwork solution that doesn't address our failing health care system. Read more here.)

Single-Payer: A health care system where all there is a single public system that is accessible to all residents, also known as "universal health care."
---
Learn more by visiting www.takeactionminnesota.org and signing up for our action alerts.