Abortion care is healthcare. But people who want to steal away our reproductive rights want abortion care to be about shame. They want to isolate us through stigma because together, we are powerful.
Join me on Thursday, September 22 at 6pm on Zoom to let go of stigma and shame around abortion. Together, we'll share in political education so that we can mobilize together for our reproductive rights.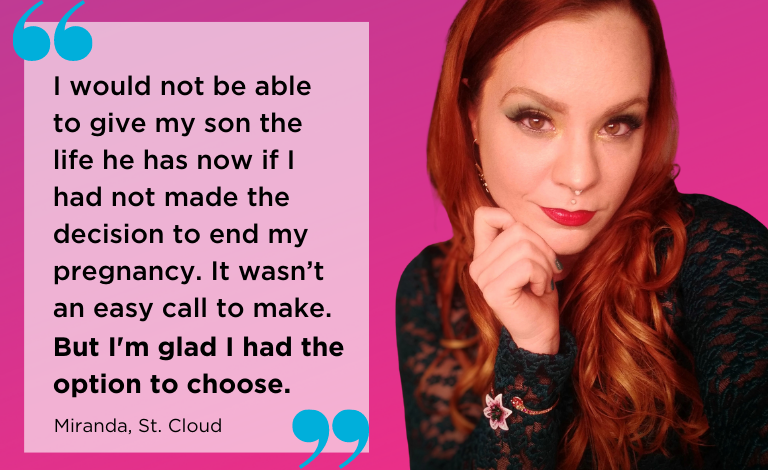 Sharing our stories is a key way to let go of shame. This is mine:
Access to reproductive care – including abortion care – has meant everything to me.
When I was a child, my parents abandoned me and my siblings. Being homeless as a teenager didn't leave me a lot of options. As a minor on the streets, I was so thankful I was able to get birth control. Luckily I never got pregnant, but I could have.
As an adult, I became a single mom. I was continuously denied the assistance I so desperately needed to take care of my son. I had no parents or family to help me. I was on my own.
Several years later, I found myself in a really bad relationship, and I learned I was pregnant. I knew this person would not be there for me or support us in any way. I made the call to end my pregnancy.
My son and I are happier than we've ever been now. We are the most stable we've ever been. And I'm able to take care of the two of us.
I would not be able to give my son the life he has now if I had not made that decision. It wasn't an easy call to make. But I'm glad I had the option to choose. 
Share your story or come and listen. Then, share in political education around Reproductive Justice so we can fight for our rights together. Join me on Thursday, September 22 at 6pm. 
Sharing our stories is understanding we're not alone. That's real power no politician or Supreme Court Justice can take away.
In solidarity,
Miranda Lamar (she/her)
St. Cloud
Miranda Lamar is a mom, artist, performer, gamer, and plant enthusiast living in St. Cloud. She's also a passionate advocate and stands up for human rights like abortion access.
P.S. Read more about Reproductive Justice, a bigger vision for bodily autonomy and dignity developed by Black women.