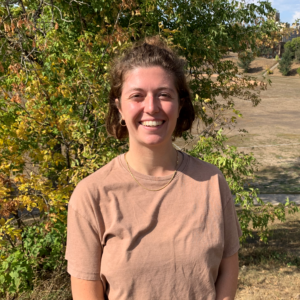 Before I finished high school, I lost both my grandfather and father to terminal illnesses caused by exposure to environmental toxins in their workplaces and homes – that's why I started organizing.
At age 24, I joined the Sunrise Movement to win workplaces, homes, and schools where people like my grandfather, father, and all of our loved ones could be safe and healthy. I organized with other young people to make our voices heard across the country and make the Green New Deal a popular demand of our generation.
Now, I'm TakeAction's Senior Climate Organizer. I look forward to building a movement home for young people with you. 💜
I left federal organizing because I think there are three areas we can build our youth movement right now, push for urgent action, and grow our power to win even bigger later:
💪The union bargaining table: Together, labor and the youth climate movement are a powerful force with real leverage and power to impact the material conditions of workers and make corporations take responsibility for their impact on our community and our climate.
🏛 State and local governments: With a blue trifecta in Minnesota, it's a key moment to pass platforms written by our communities both in municipalities and across the state.
🏘 Our neighborhoods: It's important we're prepared to take care of each other when climate disasters (heat waves, intense cold, and record snowfalls) occur. We can organize together to build a solidarity economy so our communities don't have to fend for themselves in times of climate or political crisis – especially in the face of government and corporate inaction.
I'm hopeful about what we can win, together, in Minnesota. For the next six months, we are focused on three campaigns: Workers Rising, The People's Plan to confront corporate control over the future of Minneapolis, and new possibilities to dismantle the fossil fuel economy now we have a trifecta in state government.
Workers Rising
Led by Amazon workers, the Workers Rising campaign is important for improving the material conditions of workers, and it's a key moment to demand climate action. Amazon is one of the biggest employers, transporters, and sellers in Minnesota. As it threatens to grow its reach into the Midwest, we're organizing to demand they pay and treat people well – and take responsibility for their impact on our climate.
Together we can make Amazon pay for worker safety and a just transition in Minnesota. Join us to rise up with Amazon workers on December 8.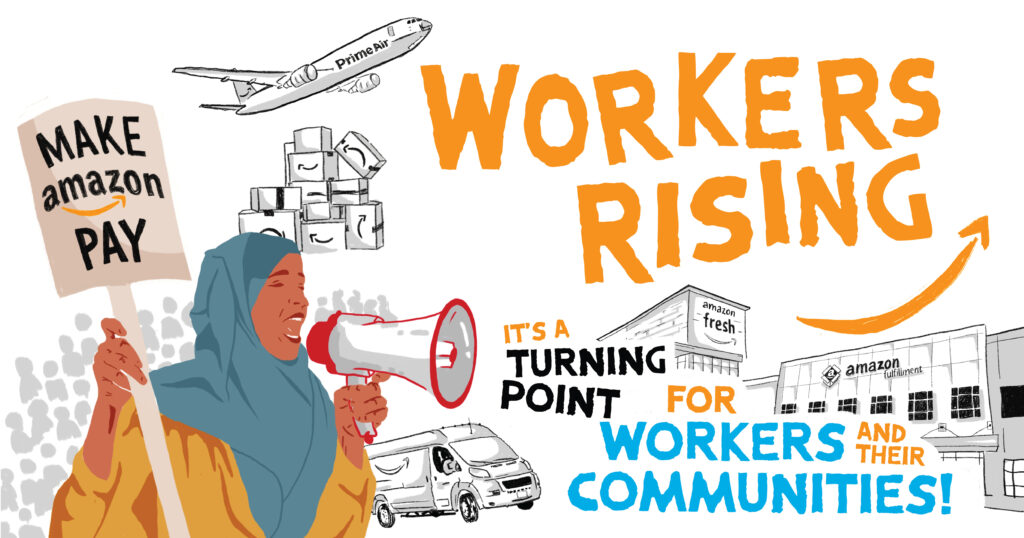 The People's Plan
Led by working people and championed by the Just Transition Coalition (Unidos, Local 26, MN Environmental Justice Table and others. The People's Plan is a Green New Deal-style plan that provides the blueprint and funding to transition Minneapolis to 100 percent clean energy. Starting in January, we'll organize to push the Minneapolis Mayor and City Council to pass the three major demands of the Minneapolis People's Climate and Equity Plan:
💰 The Just Transition Fund: A $110 million funding mechanism that puts the costs on corporations and other polluters.
🏢 🚎 👷‍♀️The Plan: A blueprint to transformatively change buildings, housing, work force and transportation for workers and renters in Minneapolis.
✊ Community Control: A governance model that allows community members and experts to decide where to invest the money generated by the fund – instead of the city government.
Neighbor-to-neighbor organizing for climate resilience and power
In summer 2023, we'll expand our climate organizing to geographies across the state and focus on building "neighborhood unions" led by community members at every city block, tenant building, or country road. These networks of hyper-local organizing will build a climate resiliency and a solidarity economy in the absence of government support. These neighborhood teams will be prepared to support each other through political or climate crises over the next few years. In the next two years, we hope to build enough governing power to win a transformative statewide Green New Deal and block future fossil fuel infrastructure.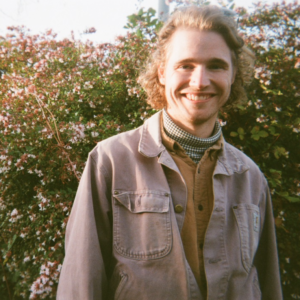 Be part of the youth-led climate movement in Minnesota
I'm joined in this work by Conor, my co-organizer. Growing up in California, Conor watched corporate utilities start forest fires and giant tech companies take over neighborhoods, jack up property values, and ignore their responsibility to own their impact on the climate crisis. Now he's seeing that same corporate domination threaten to displace and deteriorate communities in Minnesota – and he's not down to let it happen again.
What's your reason to fight for a just transition, workers' rights, and healthy communities? I'd love to hear from you and organize alongside you:
👉 Sign up to rise up with Amazon workers on December 8.
👉 Apply for a Climate Justice Fellowship with TakeAction by December 2 or share this posting with someone you know.
In solidarity,
Jesse Meisenhelter (they/she)
Senior Climate Organizer