Hey Minnesota –
The midterm election is coming up November 6.
The Busy Voter's Guide to the Governor's Race is here to help YOU get informed about the Governor's race.
Wondering who else is running in your district?
Get ready with our official Busy Voter's Guide to the Midterm Election.
It's so simple—enter your address and you can read more about each of the candidates running in your district. Like a candidate? Add them to your sample ballot to print or email to help you remember. You can also get a reminder to vote and help finding your polling place.
We know—it's so easy. So awesome.
We Support Tim Walz for Governor. Here's Why.
In Minnesota, we believe that we're better off together and we're #GreaterThanFear. We want a democracy that's inclusive and elected officials who are close to the people.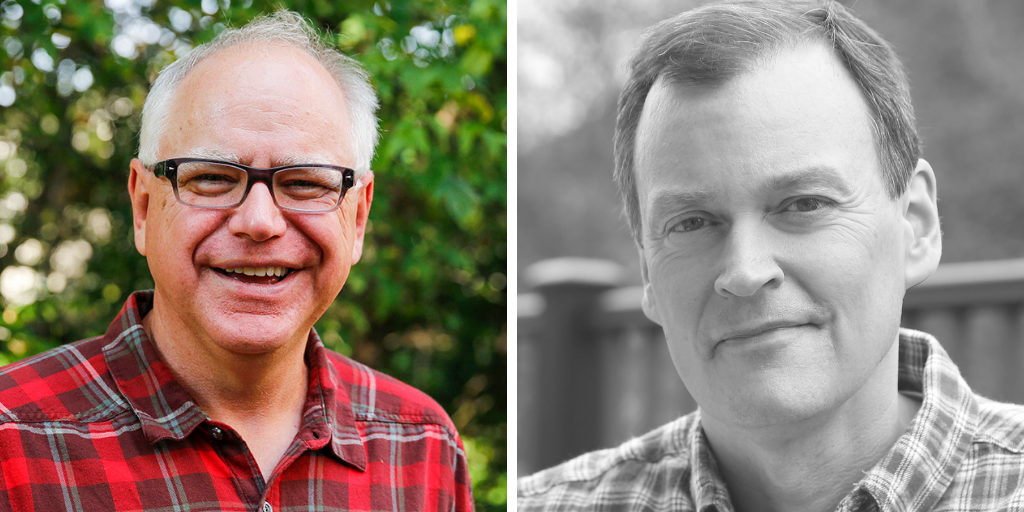 TakeAction Minnesota is a progressive people's organization. Our member leaders endorsed Tim Walz for Governor. His opponent, Jeff Johnson, is a Hennepin County Commissioner who doesn't align with our values. (You can learn more about him on his website. He's a Trump guy. We'll leave it at that.)
Tim Walz is a former 20-year classroom teacher, coach, and member of Congress who served 24 years as a member of the Army National Guard.
His running mate, Peggy Flanagan, is an organizer, change maker, and State Representative from St. Louis Park.
We need progressive leaders like Tim and Peggy fighting to make sure that Minnesota is a state that works for all of us, no exception. They have a vision for #OneMinnesota that includes:
Expanding affordable, quality, health care for all
Investing in public schools, universal pre-k, and two years of free college
Standing up for workers and strong unions
Fighting for transgender rights and LGBTQ equality
Fighting for racial equity and gender justice
Protecting reproductive rights
Standing up for immigrants and refugees
Protecting clean water and investing in renewable energy
Don't take our word for it. Here's a clip from a recent gubernatorial debate between Tim Walz and Republican Jeff Johnson. It's clear what's at stake this election.
We deserve leaders who will work alongside us to make everyone has freedom and community, whether we're white, Black, brown, Indigenous, 5th generation or new American. That's what #OneMinnesota means to us.
In Minnesota, we're better off together and we're #GreaterThanFear. @Tim_Walz and @peggyflanagan get it.

Get ready to vote with us for #OneMinnesota????????https://t.co/znvXSnq7RE #TogetherWeWin #mngov pic.twitter.com/IEqUtI54zZ

— TakeAction Minnesota (@TakeActionMN) October 23, 2018
Real People, Real Issues
Tim Walz and Peggy Flanagan are real people fighting for real issues.
Peggy's a mom, raised by a single mother, fighting for all families and children in Minnesota. It's pretty incredible to have a Lt. Governor candidate who knows what everyday Minnesotans face because she, too, has been there.
As a citizen of the White Earth Nation of Ojibwe, Peggy has dedicated her life to supporting communities of color, Native communities, and working families. She'll be the first Native American woman elected to statewide office in Minnesota.
Read this profile of Peggy in the Twin Cities Daily Planet.
Peggy is a trailblazer, yes. But she's a trailblazer that wants to create pathways for others. She's about a kind of politics that brings everyone along. That kind of politics is contagious.
Tim Walz stands by those same values. We think a having a teacher in the Governor's office – an educator-in-chief – will be transformative.
Tim's students agree. "The best teachers — like the best leaders — don't do all the talking. They listen. They encourage others to think and to speak for themselves. Mr. Walz's classroom was a place where even the quietest students raised their hands — where no one was forgotten." Read the full op-ed in the Mankato Free Press, written by two of his own students.
Forward Vision and Minnesota Values
We know the state of politics in our country. Tim Walz has more than a positive message – he has a vision for #OneMinnesota grounded in values we share as Minnesotans: we have each other's backs, we believe in fairness – everyone in, nobody out – and we know that we're interconnected to the land and each other.
Get Ready to Be a Midterm Voter
The stakes are high, but our enthusiasm and hopes are higher. We care deeply about issues and support candidates who align with our values.
Election Day is November 6. Don't forget to get ready with the Busy Voter's Guide to the Midterm Election we made just for you. It has more information about other candidates that you'll see on your ballot.
Other ways you can spread the word?
Share why you're voting on Twitter and use the hashtag #VoteWithMe and #GreaterThanFear
Share posts using the hashtag #TogetherWeWin
Follow @TakeActionMN on Twitter, Instagram, and Facebook
Be a midterm voter. Get ready to vote by November 6!