Hi y'all! DyAnna here with the Student Debt Cancellation Crew at TakeAction.
I breathed a deep sigh of relief earlier this month when the Biden Administration announced their plans to extend the payment pause for Federal Student Loans. As a person with private AND federal debt, the deferment has been absolutely essential for me to make ends meet these past couple years.
At the same time, I'm continuing to feel a lot of angst about the Biden Administrations' failure to do what's really needed at this moment: cancel all the debt. And, no surprises here, my pals on the Student Debt Cancellation Crew are feeling much the same way. I caught up with them via our group chat a couple weeks ago, and here's what they shared: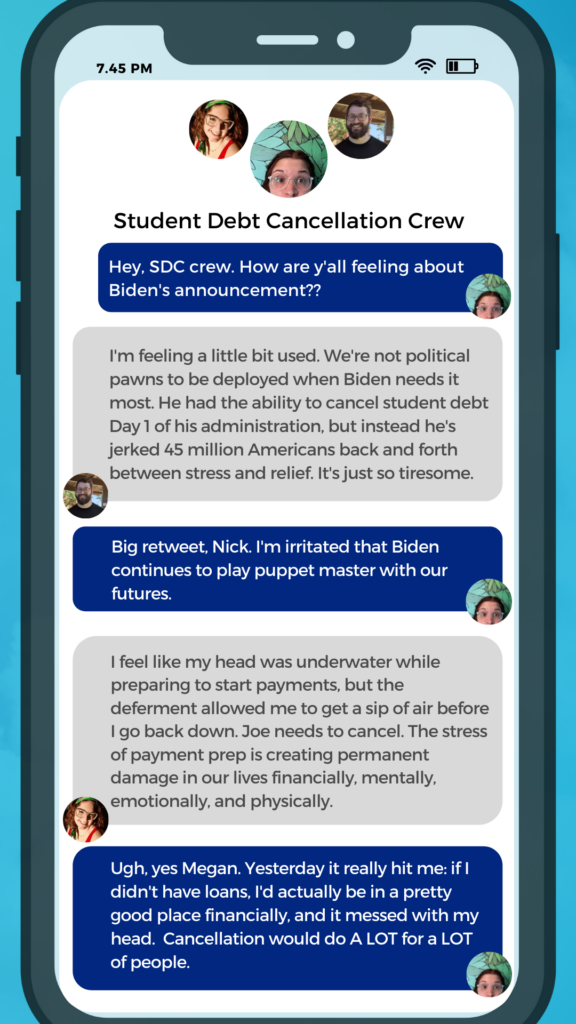 When we were just starting the student debt cancellation campaign here at TakeAction, we talked a lot about political possibilities. Prior to the pandemic, political discourse on Student Debt Cancellation was powerful, but really not getting the air time it deserved (think Bernie's 2016 campaign, and Ilhan's 2019 HR Resolution). Now, two full years into the pandemic (and nearly two years into deferment) later, student debt cancellation isn't just seen as something that's politically possible — it's politically essential. And that's because thousands of people with student debt have mobilized across the U.S., sharing our stories and demanding action from lawmakers. That's people power, baby.
People need real relief from this pandemic, the economic fallout, and, frankly, from this system built on white supremacy and patriarchy. If we value education and equity, student loans shouldn't even be a thing. Full stop.
That's why organizations like The Debt Collective, the ACLU, and so many others (including our small and mighty team here at TakeAction), have been fighting for student debt cancellation — and it's working. We know Biden isn't going to cancel student debt out of the kindness of his heart. He's going to cancel it because we won't let up. So let's keep the pressure on, together.
Take action with me and the Student Debt Cancellation Crew. Sign the ACLU's petition urging the Biden administration to cancel $50,000 per borrower now.
Hungry for more? Join the Debtor's Union at the Debt Collective and check out their debt strike.