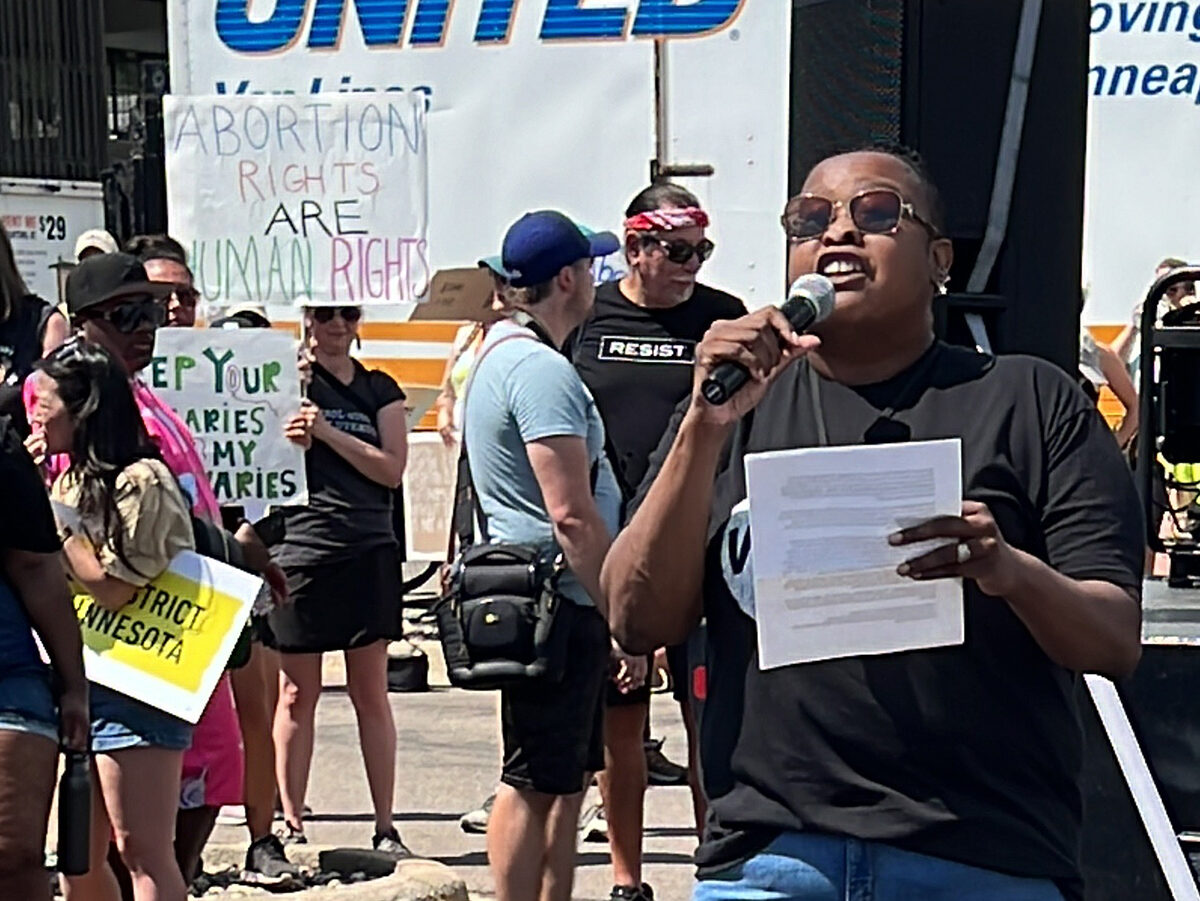 At TakeAction Minnesota, we believe in community care, reproductive freedom, and having a say in our democracy. We are a multi-racial, multi-generational, gender affirming, grassroots political organization and we are mad as hell about the Supreme Court's decision to overturn Roe v. Wade. With this decision, they have thrown down the gauntlet – we now know that none of our constitutional rights are safe.
Demanding leadership from our congressional electeds has never been more important. We need the U.S. Senate to pass the Women's Health Protection Act and the Ensuring Women's Rights to Reproductive Freedom Act, which would codify Roe v. Wade into law and reaffirm the right to travel across state lines freely to access abortion.
Electing a pro-choice majority in Minnesota has never been more crucial. Make your plan to vote.
And do not stop at registering yourself. Register your friends. Register your family. Register your neighbors. Vote for protected and expanded access to abortion care for everyone – especially for those of us who are financially, racially & physically disenfranchised. And between now and November – keep taking action, keep showing up and keep raising your voices.
Text JUSTICE to 66866 to get action alerts and updates from UnRestrict Minnesota, the coalition we're part of that's fighting to protect and expand access to abortion care in Minnesota.
Together, we can ensure that the state of Minnesota is prepared to welcome and care for all those seeking to exercise their right to reproductive freedom. Hand in hand with our siblings across this country, we can undo the harm and injustice being perpetrated by people who put their prejudiced ideology above the human rights of an entire nation.
We are in this together.
We are fighting for more than the rights of those of us who are blessed to have a uterus. The overturning of Roe is just the beginning. From being able to marry who we love to having our votes counted, right-wing extremists and their corporate backers are dead set on dismantling our democracy and rolling back our fundamental human rights.
We're not going to take it – and we need all of us in this fight. Take action right now:
🗳 Make your plan to vote, and bring your friends, family, and neighbors with you.
💸 Support abortion funds and advocacy groups fighting to keep abortion safe, legal, accessible and stigma-free in Minnesota and beyond.
📞 Join us for a Deep Canvass shift to talk to voters across Minnesota about the importance of voting for progressive candidates in this year's primary and general elections.
☕ Email us to set up a 1:1 with one of our organizers and plug into this important work in the way that works best for you.
💖 Take a deep breath and recommit yourself to the fight for our fundamental rights. Repeat after me:
I will never stop fighting for your civil rights.
I will never stop fighting for your reproductive freedom.
I will never stop fighting for everyone to be respected as a whole, complete, and worthy human being.