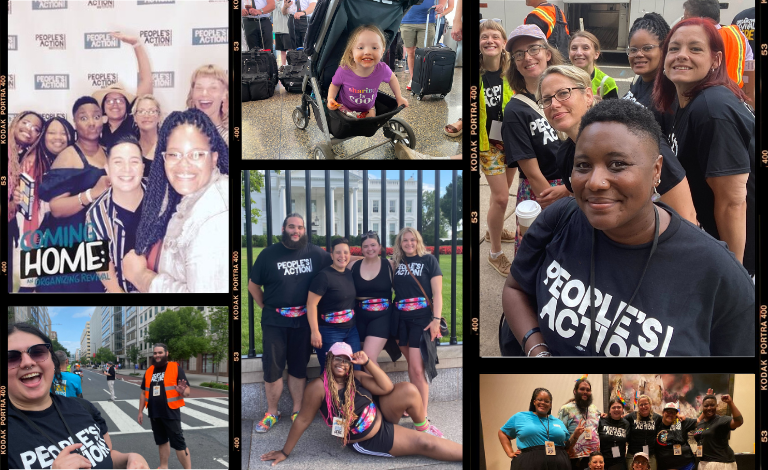 It's almost been a month since our team headed to Washington, DC with 10 TakeAction leaders for the People's Action National Convention, and I'm still reflecting on what this experience meant for us, and our movement.
At the convention, we joined 900+ leaders from around the country in courageously stepping into our power: sharing our stories, building our skills, and taking action together for the world we need and deserve. 
"It was my first time going to a convention, as well as my first time participating in a protest. I had the opportunity to be a chant lead for the protests, and I felt so empowered by the 900 people repeating back what I said. There is power in the people and power in the community."
– Kiera Williamson
We got to share from the Convention stage about the victories of this past legislative session in Minnesota – and be clear about the work to come.
"Convention was an awesome experience of collectively feeling our pain and struggle, passion for organizing, and the elation of wins across the county. We came together in solidarity because we are all the movement. Only together will we shape the world through positive envisioned change."
– Will Richardson
Convention left us energized by the resilience of our movement, and clearer than ever that there is still so much to fight for. I returned home reinforced in the belief that we must commit to our people, and our base building, over and over again.
Thank you to everyone who invested in us to have this experience! We are bringing the energy of convention back to our organizing in Minnesota – stay tuned! 
Onward!
Katie Blanchard (she/her)
Basebuilding Director
P.S. Check out this Instagram reel for more photos of our convention crew!