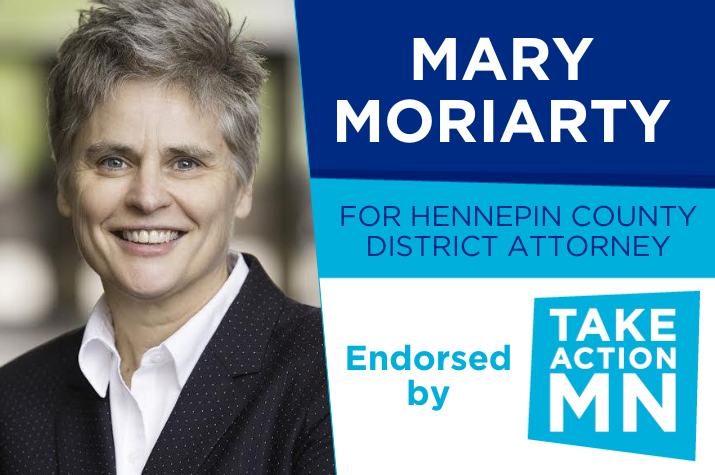 This summer, Hennepin County residents will decide in a primary election which two candidates for County Attorney will be on the November ballot.
TakeAction Minnesota is proud to endorse Mary Moriarty for Hennepin County Attorney, a critical public office with broad authority to advance justice. This primary election matters and there's a clear choice.
Early voting starts June 24. Get the word out now by sharing this endorsement for Mary Moriarty on your Facebook and Twitter pages.  
With over 30 years of service as a public defender, Mary Moriarty is a distinguished leader and candidate who has dedicated her career to creating a more just world and changing the broken criminal justice system.
Endorsed by TakeAction's member-led political committee, Mary Moriarty shares our vision for a criminal justice system that is fair, addresses systemic injustices, and truly brings justice for all. As a massive organization, the Hennepin County Attorney's Office has enormous power to shape our county's criminal justice system, support survivors, address police violence, and reduce mass incarceration and policies that unjustly target people who are poor, Black, Indigenous, and/or people of color, and people with marginalized gender and sexual identities.
TakeAction is organizing across Hennepin County to elect Mary Moriarty as our next County Attorney. Join us. Get the word out now. Share TakeAction's endorsement for Mary Moriarty on your Instagram, Facebook, and Twitter pages.
Make a donation to fuel our political work in Hennepin County and across Minnesota. Together, we're shaping our politics – and our future – for the better.
Have questions? Send us an email.