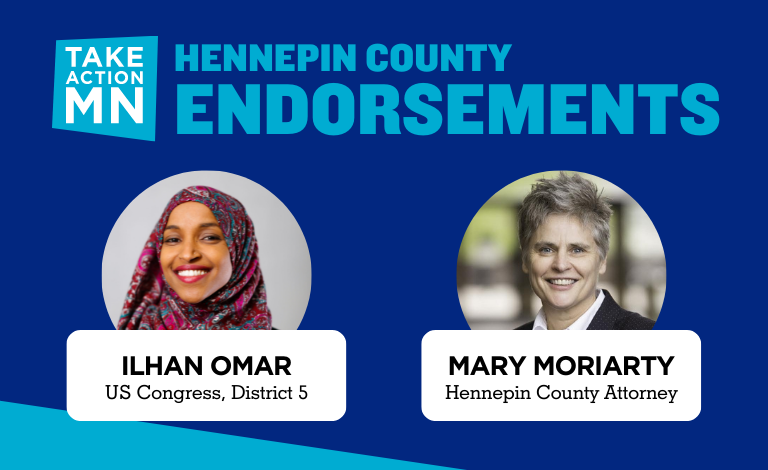 Election season is officially upon us. Early voting in Minnesota's primaries is open and runs through August 8. Primary election day is Tuesday, August 9.
Check out our Busy Voter's Guide and make your plan to vote.
At TakeAction Minnesota, we believe in a politics that is by and for the people – where we care for each other, protect our climate, put community at the center of public safety, and support bold leaders who show the political courage and moral clarity we need to create the future we deserve.
In Hennepin County, our primary elections give us a choice: we can elect status-quo politicians, or we can vote for bold, progressive leaders with the political courage this moment calls for. TakeAction Minnesota's member-led political committee has endorsed two progressive champions running in competitive primaries in our district.
From climate action and reproductive freedom to Medicare for All and the Homes for All Act, Congresswoman Omar is a bold and effective leader on the most pressing issues of our time.
After the police murder of George Floyd, Congresswoman Omar boldly supported a new Department of Public Safety in Minneapolis. In contrast, her opponent aligned with corporate interests to uphold the racist, violent Minneapolis Police Department.
Mary Moriarty is a distinguished leader dedicated to changing the broken criminal legal system and creating a more just world.
The Hennepin County Attorney's Office has enormous power to shape our county's criminal legal system, support survivors, address police violence, and reduce mass incarceration and policies that unjustly target people who are poor, Black, Indigenous, and/or people of color, and people with marginalized gender and sexual identities.
Mary Moriarty shares our vision for a criminal legal system that is fair, addresses systemic injustices, and truly brings justice for all.
Join us in building the just, joyful future we deserve. Make your plan to vote for Ilhan and Mary by August 9.
Send us an email if you have questions about voting. And let us know why you're showing up for the primaries this year – we'd love to hear from you.
P.S. Grassroots power = organized people, organized ideas, and organized money. We need you in this with us. Sign up for a deep canvass shift (they're happening every Wednesday through November) and donate to fuel our political work. Every conversation and every dollar counts.